Today is rather hectic, to say the least. You know, with the election and all. So we suppose it's a good thing that Byredo chose this precise day to launch their new incense-inspired holiday 2016 collection of "Saints" candles online. Though the timing may not have been intentional, we think a soothing atmosphere of holiday scents will perhaps be particularly appreciated right now.
"Incense is one of my earliest memories of smell—it's an important part of Indian culture," Byredo founder Ben Gorham said. "I have very vivid memories from childhood trips to Mumbai where my mother was born and raised. As an adult I learned about the importance of incense in many other cultures." Gorham found inspiration for the new collection from his childhood, largely influenced by his exposure to "the Roman Catholic Church, India, and Japan."
The trio of tall, votive-like candles ($140 each) are encased in red glass cylinders, with their respective names, in the shape of a cross, stamped on the front in old-fashioned, elaborate lettering. As for the actual scents, which all relate back to Gorham's childhood memories of the church? There's Altar; with clove, carnation and payrus, Incense; with notes of eucalyptus, labdanum, amber and patchouli, and Rosewater; with geranium, rose petals, and an all around rosy aroma.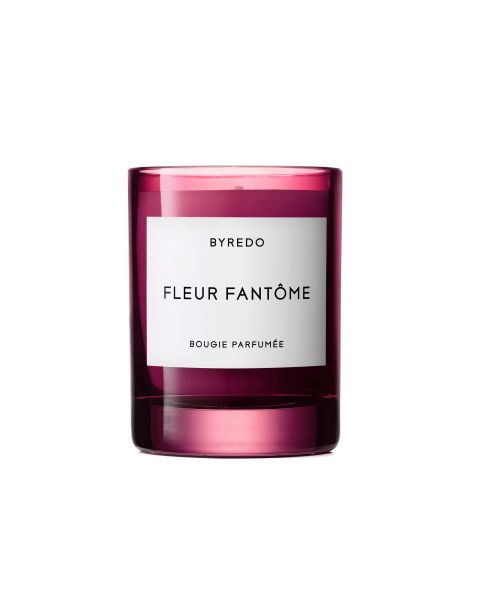 For those not as taken with these incense-inspired scents (though, quite frankly, we can't see why—just one whiff and it's like being instantly transported to a cozy, holiday-infused atmosphere, where eggnog is the only missing component), there's no need to fret! Byredo still has you covered—they've released a trio of signature candle scents (Cotton Poplin, Fleur Fantôme and Bibliothèque) in more holiday-friendly packaging, in pink, green, and yellow ($85 each).
Continuing with the incense theme, Byredo is also launching its capsule collection of Nippon Kodo incense, which is sold exclusively at their Wooster Street boutique in Soho and at byredo.com. And what better way to celebrate an incense-themed collection than with a Japanese incense ceremony? None, apparently, as Byredo brought Japanese incense master Souhitsu Isshiken Hachiya, of the Shino School, all the way to Soho to perform the ceremony.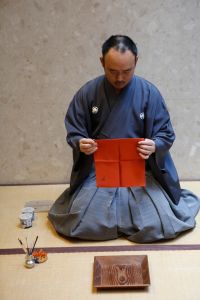 "It's none of that trippy, Woodstock-type stuff," we were assured before heading to the back of the store, where the incense ceremony took place—truth be told, we were not expecting anything too Jimi Hendrix-esque, considering the atmosphere of a boutique in which matcha and herbal tea abounded.
We were seated on round cushions on the floor, and attempted to somewhat gracefully arrange ourselves before the silent ceremony commenced. After the incense guru completed a number of careful preparations that included raking through a small mound of sand-like material and placing a piece of special fragrant wood atop an incense vessel, the vessel was passed around the room—we were instructed to hold it with one hand while covering it with another, so that we may take three breaths of the Nippon Kodo incense. We must say, after the second round of incense made its way across the room, one does, indeed, feel rather blissfully serene.
Since a daily incense ceremony might not be the most feasible or practical of activities, one of the incense-infused Saints candles will simply have to do. With its cheerful red packaging aesthetic, it's an ideal holiday gift, though we recommend picking up one for yourself, too. Plus, the calming ambiance of incense might be especially beneficial today.