And action! During a roughly half-hour visit, Julie Menin, New York City's energetic commissioner of the Mayor's Office of Media and Entertainment, rattles off a slew of statistics and a spate of initiatives: "We're doing a script-writing contest for women," she says in her Broadway office decorated with movie (Annie Hall) and theater (West Side Story) posters. "We've gone from 242 movies shot in New York to 336 this past year," she adds. "Film and TV alone are $9 billion in the local economy…When you add in jobs around the other media portfolios whether it be advertising, publishing, digital, it's 385,000 jobs." Menin, who speaks at a fast pace but in clear sound bites, credits her ready-for-primetime performance not on media training but by serving as chairperson of Community Board 1 in the Financial District during and after 9/11—"a trial by fire," she recalls, allowing herself a rare breath.
You're a lawyer. How does a legal background both help you and hamstring you in government? On one hand, you're able to read a contract, and on the other hand, lawyers can be overcautious. I practiced law for close to eight years and then ended up opening a restaurant, a catering business and a market in Lower Manhattan. Being a small business owner really gives you that perspective of getting things done. So it's that balance between the legalistic side and then the more practical side of rolling up your sleeves and plowing through. And I think having both of those jobs has been a huge benefit just in terms of my ability to get things done. We are actually the largest municipal public broadcasting entity in the country. We own five TV stations and a radio station, so simply from a regulatory standpoint, being an attorney is, I think, a very important skill set to have.
Name the person you most credit for your career success. My mother, who recently passed away, was a huge influence on my life. She grew up in Budapest, lived through the Holocaust. But she and my grandmother, who is also deceased, basically hid in a basement during the Holocaust. Her father was killed, all of our relatives were killed, but she was able to survive. And that perseverance, that story of survival against all odds, forms me every single day. They stayed in Hungary after the Holocaust. They then had to escape in the middle of the night when the borders were sealed, when the Communists were there.
My grandmother, who was a Holocaust refugee from Poland, used to share all sorts of wisdom that I repeat to my own child. Can you recall something your mom told you? She would always tell me to put things in perspective because sometimes, particularly when I was younger in the beginning of my career where I thought things might have been a mountain but were really a small issue, and she would always say, "Honey, really in the scheme of things, that is a smaller issue."
Pick your favorite film shot in New York. The Departed, Scorsese.
The Departed? I thought that was shot in Boston. I'm so glad to hear you say that. It was filmed in New York. It was supposed to be Boston. That's exactly the kind of response that we want to get. We want situations where people say "Wait a minute, I thought that was," but people are choosing to film their movies in New York.
Well, Boston's a crappy city I'm not gonna say that! Not gonna say that! We think New York is the best place to film for myriad reasons. 

Pick the most cinematic locations in the city that are infrequently filmed. So I am on a mission to try to increase production in the outer boroughs. Snug Harbor in Staten Island is such a phenomenal space. The historic Richmond district in Staten Island has cobblestone streets and historic buildings. One of the things we're trying to do is we're bringing location scouts to tour these areas, whether in the Bronx, Queens or Staten Island.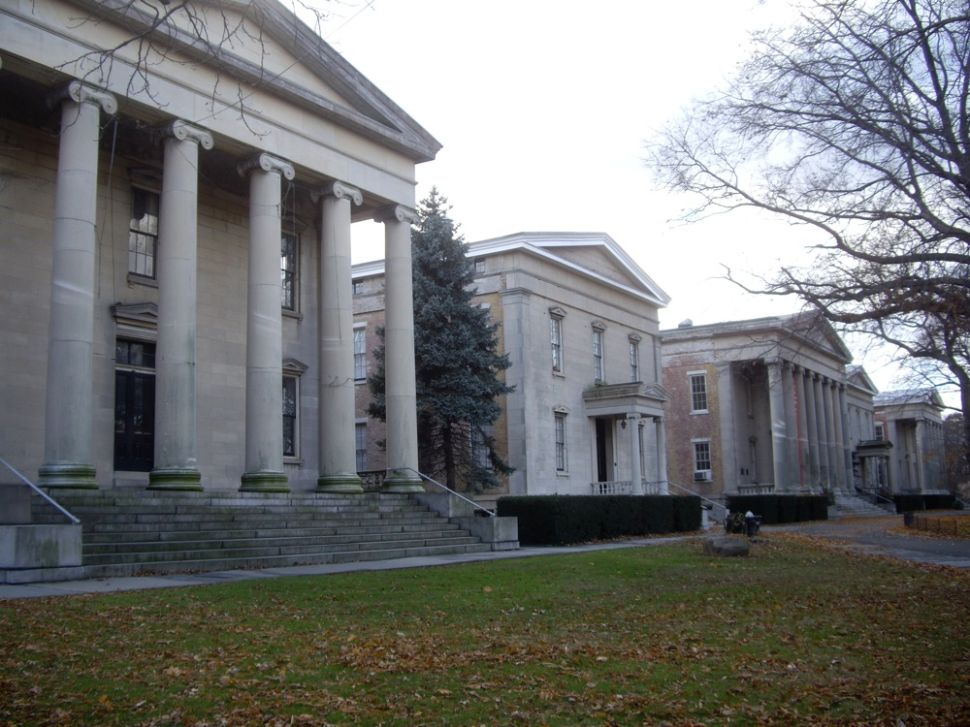 Broadway is often called "The Great White Way," because it lacks diversity. You once told ABC that you are working with labor on Broadway to change its image. How's that going? We're doing a number of different things. Over the summer we launched Broadway in the Outer Boroughs, performances in public parks. That was about increasing access to underserved communities. The other way that we're really focused on diversity is we announced a couple weeks ago five women's initiatives. We have a $5 million dollar film and theater fund for women. This is for women filmmakers or works of theater, and these are grants to finance that work.
The concern is that the grips and the stagehands are a very monochromatic bunch. We started the Made in New York production assistance program. It's a free five-week training program. And we're working very closely with the unions too so the graduates of that have a pipeline in.
The film industry in New York is doing really well. The advertising industry is making money. The newspaper industry and publishing industry are not doing so well. What are you doing about it? So we are about to launch in the next month to two, a very significant project in the publishing world that we have been working on for the past six months.
Do tell. Well, I can't announce the program. But I can say this is going to be an incredibly important initiative that focuses on independent bookstores. We also helped save the Queens Book Fair…
No offense, but that's small bore. Oh, if you're a parent and you cannot afford to go to the store and buy your children books, these book fairs are vital.
But the publishing industry is hemorrhaging jobs? I have another. We gave a million dollars to CUNY's J-school. And we did that to help independent newspapers—community and ethnic newspapers. There are a little over 350 of these newspapers throughout the city of New York. Over half of New Yorkers derive their information from those newspapers, and many of those newspapers are facing challenges of literally going out of business. So what is this million dollars going to do? The million dollars trains over 1,200 journalists from these newspapers to come in, get social media training, learn how to do TV because for many of these newspapers now they're doing video, and we want to be able to give them the most up to date digital, online, social media training because, as you know, many journalists are now wearing a lot of hats.
You share a building with The Late Show. Have you ridden the elevator with Stephen Colbert? No! I haven't seen Stephen.
Maybe he uses a special elevator. Would you like a special elevator? No, I would not [laughs].
This interview was edited and condensed.