Ever since the paywall model for online journalism was introduced about five years ago, news consumers have spent just as much time figuring out how to avoid paying for content as they have paying for it.
But what if you only had to shell out a measly quarter to read one article instead of paying an expensive monthly subscription fee?
Blendle is betting that readers will embrace this approach. The Dutch media startup, which is funded by The New York Times and Axel Springer Digital Ventures, combines a curated collection of noteworthy content with micropayments to help readers find relevant stories without breaking the bank.
Founder and CEO Alexander Klopping told the Observer that Blendle was inspired by Spotify's Discover Weekly playlist, which uses an algorithm to help users find music—he thought this model, which "took users by the hand and told them what's best for them" while avoiding paywall charges, would work well for journalism.
Blendle launched in the Netherlands in 2014 and in Germany last year—the service already has over one million users combined in those two countries.
The platform has also been in beta in the United States since March, with 10,000 users—over 25,000 people have pre-registered for its full launch. Blendle's American partners, in addition to the Times, include The Wall Street Journal, The Washington Post, Mother Jones, The Economist and Newsweek. The startup's clients can read full online editions of each of these publications.
There are three ways to find relevant content on Blendle: First, a group of journalists act as curators recommending articles in specific fields. The site also employs 15 editors, who read through newspapers and magazines and spotlight content in an email newsletter. Finally, Blendle's data science team recommends stories based on individual users' profiles—this algorithm "fills in the holes," Klopping explained.
Klopping believes the use of the company's journalist-guides sets Blendle apart. "We looked for people who we wanted to hear from ourselves," he said. "What they consider interesting is a measure to find good stuff to read."
Kim Ghattas, a Washington correspondent for BBC News, curates Blendle's politics section.
"I thought it was an interesting effort to encourage more people to read actual news," she told the Observer. "It seemed like they were onto something."
Ghattas recommends content on the politics channel every morning—her main interests include foreign policy in the Middle East and the aftermath of the presidential election. While she acts as a curator, she said that one of her favorite things about Blendle was that the news was presented in an "uncurated" way.
Users are "not being siloed into one channel or another," Ghattas said. "They can break away from consuming news on Twitter or Facebook and read the paper."
One thing Klopping discovered early is that Blendle users are more interested in reading investigative reports and analysis than straight news stories.
"There's a sea of information that's very hard to sift through," he said. "People only want the very, very best of journalism from the very, very best journalists in the country."
To ensure that the news stays paramount, Blendle doesn't feature ads on its site—it currently uses the Times/Axel Springer funding to pay its operating costs.
Blendle's primary revenue stream comes through its use of micropayments. It costs between 20 and 40 cents to read an article on the site (each individual publisher sets the price) and the site prompts users to pay before they start reading—70 percent of the money goes to the publisher and 30 percent goes to Blendle.
The payment software (which is built in-house) allows users to read $2.50 worth of articles for free, and then it prompts them to set up a digital wallet that deducts the requisite amount of money for every subsequent story they read. According to Blendle's internal data, 20 percent of users pay to use the service following the free trial.
"We take away friction to make it as easy as possible," Klopping said.
If a user pays for an article and it ends up not interesting them, they can get their money back—Blendle removes frequently refunded articles from the site to cut down on clickbait.
Felix Salmon, a senior editor for Fusion who curates business stories for Blendle, endorsed its economic structure as a whole.
"Micropayments are in principle a much better solution to the problem that subscription rates are quite high," he told the Observer. "It's better to pay as you go."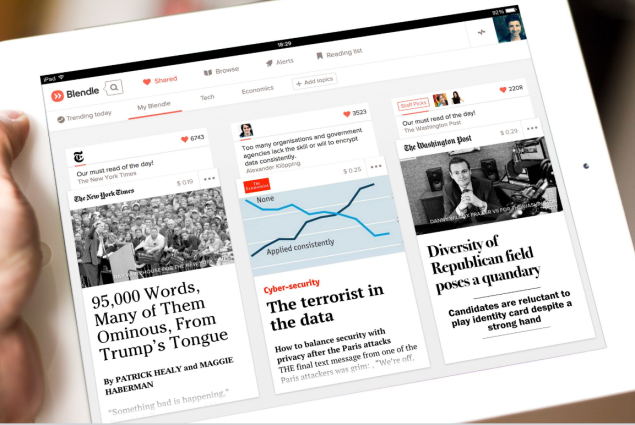 However, he cautioned that a model where users pay for stories after they read them instead of before might be more successful in the long run.
"If you're OK with people asking for refunds or not paying, you should be OK with just letting them read the thing and then send a bill at the end of the month," Salmon said. "It's a lot less painful than having to pay upfront for a story that you don't know if you wanna read."
Micropayments will never replace the subscription model, according to Klopping—indeed, he hopes that people who read digital editions on Blendle end up subscribing to the print publications they like.
However, he also said Blendle provides a happy medium between getting news for free and paying online subscription rates at multiple news sites.
"There's a group in the middle that has a willingness to pay for journalism, but a subscription to one newspaper doesn't satisfy their need," Klopping said.
Blendle will remain in beta in the U.S. for the foreseeable future—Klopping said he wants to add more sources and expand the site's catalog before opening it up to the whole country.
The early reaction, however, has been positive, especially for the email newsletter—users like having an online new platform that syncs up with their interests, according to Klopping.
That was no surprise to the BBC's Ghattas, who said being a curator had given her extra appreciation for Blendle's approach
"It makes substantive, reported, good quality journalism available to people who are interested in the news," she said. "Boy do we need that today."