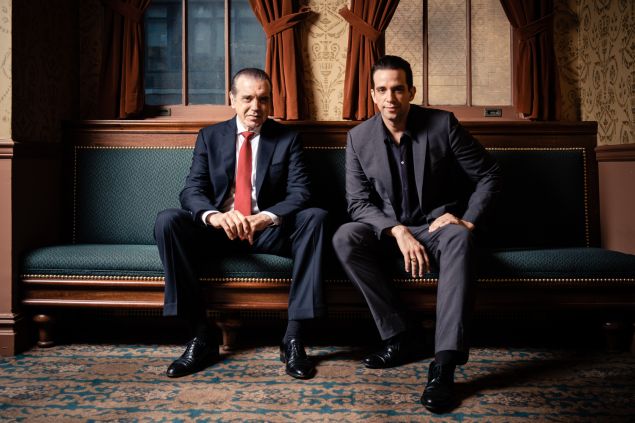 Chazz Palminteri's budding career as a nightclub doorman slammed swiftly shut the night he refused admission to super-agent Swifty Lazar, but another door sprang open, and it's still open 28 years later. In fact, truth to tell, it never really closed.
He took pen in hand and dashed off the story of his formative early years, growing up in the shadow of the neighborhood wiseguy in the Belmont section of the Bronx.
A Bronx Tale he called his autobiographical one-man show when he premiered it in L.A. in 1988, playing all 18 characters himself (among them, himself and his hitman-father figure). What bonded them together was simple: the boy saw the capo zap a guy and didn't rat on him. The mobster, Sonny, recognized the criminal potential in the kid but paternalistically tried to keep him at arm's length from a career in crime.
Film producer Peter Guber called the play "the greatest audition and the greatest pitch for a movie" he'd ever seen. Reaction was equally hot on the East Coast when it had a sold-out run at New York's Playhouse 91. "My career just exploded with that play," Palminteri remembers. "Every writer, producer, director, studio head was interested in it. The problem was they wanted to put a star in the role of Sonny."
What to do? He "pulled a Stallone" and refused to sell the script unless he starred in the movie version. "They say that happens once every 15 or 20 years—Stallone, me, then My Big Fat Greek Wedding—where they wanted it so bad that they let you do it.
"First they offered me $250,000 to walk away, then $500,000, and finally $1 million. At the time, I had $200 bucks in the bank, my hand to God, and I still walked out."
One night a month later, Palminteri found Robert De Niro waiting for him in his dressing room with an offer he couldn't refuse: "'You should play Sonny–you'll be great as Sonny–and you should write the screenplay because it's about your life and you'll be honest. I want to direct it and play your father. We'll go partners. And if you shake my hand, that's the way it will be.' I shook his hand, and that's the way it was."
De Niro, who had done his share of gangster roles by this point, saw in the story a father-Sonny conflict—a moral wrestle for the boy's soul—and wanted to even the scale by playing the upright, blue-collar bus-driver dad, fearful of Sonny's influence.
This was the first of two films that De Niro felt strongly enough about to take on the direction himself. Fourteen years after the film's release, Palmintieri did A Bronx Tale on Broadway in a revival directed by Jerry Zaks. Then he did the national tour. He did Vegas. He did Foxwoods. It's The NeverEnding Bronx Tale, and it's not stopped.
Currently, on West 48th Street, across from the Walter Kerr Theater where A Bronx Tale played nine years ago, the Longacre Theatre has A Bronx Tale: The Musical, which is "This Is Your Life, Chazz Palmintieri"-with a doo-wop flip from Little Shop of Horrors composer Alan Menken and his lyricist, Glenn Slater. Palmintieri did the "book," and the dueling directors are familiar with the turf: De Niro and Zaks.
How do two Hannibals and one Alp work out on the Broadway stage? Quite nicely, according to Palmintieri: "I have the best of both worlds. With Bob, I have the authenticity of the movie. He is very articulate with the way certain things look and where the truth is in the characters. Jerry is the real musical-comedy guy. He knows stage movement and all the nuts-and-bolts stuff. They actually get along really well."
Tommy Mottola, co-owner of Casablanca Records, was the first to detect a musical in A Bronx Tale, and, putting his money where his mouth is, he is now the show's lead producer. "He came over to me after one of the shows I did and told me straight out,  'You gotta make this a musical–it'd be a great musical,'" Palmintieri recalls. "He's the one who got the ball rolling. It always takes one person to champion you—to take money out of his own pocket and make it happen. Tommy Mottola made it happen."
But it didn't happen easily. Several passes were made before the story was synched to the right '60s sound. The score was right under Palmintieri's nose. "Alan wrote the music for a movie I directed, Noel with Susan Sarandon and Robin Williams. He and Stephen Schwartz did a couple of songs for it. I just loved working with him. He knows doo-wop. He knows R&B. He knows Sinatra. He's old enough to know all that. A Bronx Tale is, after all, a fable, and I have always said, 'Alan Menken does fables.' They're animation fables, but they're fables. He just had a feel for this kind of thing."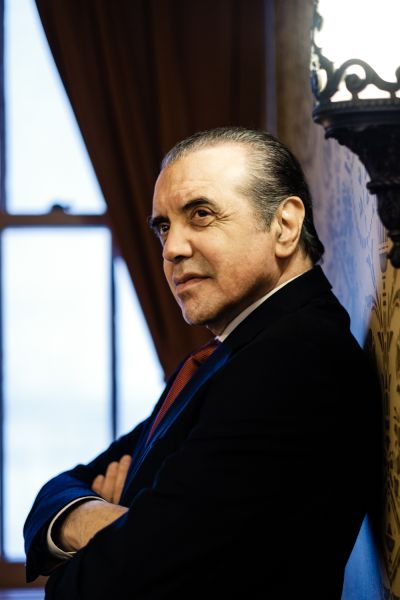 It's wryly ironic that A Bronx Tale isn't the first Palmintieri movie to be turned into a Broadway musical. Woody Allen took the example of Palmintieri himself—a playwright with a poet's soul and the look of a club bouncer—and fashioned the character of Cheech, a creative goon who would kill (literally, unfortunately) for his artistic vision in 1994's Bullets Over Broadway. The part won Palmintieri a supporting Oscar nomination, and, when Allen moved the story with the vintage tunes intact to Broadway a decade later, it got Nick Cordero a shot at the Tony.
Cordero was sweating out that race on Tony night when, right before the telecast started, opportunity in the form of Tommy Mottola tapped his shoulder, and said he was "working on A Bronx Tale: The Musical and would be in touch with me about playing Sonny. 'Have a good evening,' he said, then the lights went out, and I lost."
The prospect of following one Chazz Palmintieri role with another was not initially exciting for Cordero.  "I was a little apprehensive at the beginning, just because it was so That Type," he admits. "The idea of creating a new musical with this group of people was certainly alluring. It's just that it was so close to what I was doing at the time that it really took Chazz coming to the theater and saying, 'It's a different guy.'
"He came to see Bullets, and we talked afterward. We swapped stories about what it was like to work for Woody, and he was very complimentary about my Cheech, but, to be honest, he was all business. He wanted to talk about Bronx. He had heard that I was sorta weighing whether I should play Sonny or not, and he was there to tip the scale a little bit, which he did very well. He said you get more opportunities to show different sides of Sonny, and you do. I think the beauty of Cheech is he's so singular in thought. He's got one thing on his mind. It doesn't matter what gets in his way.
"Sonny is a Machiavellian character. He's clearly made a choice in his life to live in the dark, and that comes with certain sacrifices. It's a lonely existence, but he's still a human being at the end of the day, still charming. It's nice to show shades of who he was before he made those decisions. I don't think anyone's born that way. That's something you learn in the world. I like showing sides of him that are a little softer, more vulnerable, than you expected. That adds to the complexity of the character. It's more interesting. People walk away with something they didn't expect of him."
With one exception, all of Cordero's New York stage credits have been in musicals, most of them based on movies. He arrived in town as The Toxic Avenger, got more seasoning in Rock of Ages and, between A Bronx Tale at the Paper Mill Playhouse and the one on Broadway, earned hisses as a wife-beating lout in Waitress. Labyrinth Theater Company gave him his one dose at straight acting via Melissa Ross' Nice Girl.
"I consider myself a musical guy first, but I love performing straight plays," says Cordero. "I love just telling stories. I write songs as well so performing with music is something I've always done. I've found music can be a great tool for storytelling."
The Menken-Slater score won him over on first hearing. "They do a great job of establishing the period, harkening back to those doo-wop days." He starts the show shooting crap with a song called "Roll 'Em" and does a number with a Sinatra swing called "Nicky Machiavelli."  "Then, in the second act, I have a great song I think will become an American classic. It's called 'One of the Great Ones,' and it's Sonny telling the kid he gets just three chances to meet great women in his life so don't screw up."
Palmintieri, in Cordero's view, is a great guy to work for, with and as. "We've hung out a lot in Jersey," he says, and at Chazz Palminteri Ristorante Italiano in midtown Manhattan. "He's taken the whole cast there many times. He's really involved in the lives of the cast. As for me playing a role that he created, he has been very generous in letting me do my own thing with it. I've never felt pressure in any way to replicate what he's done. He has advised me here and there, but predominately it's been him just encouraging me and saying, 'You got this guy in your bones, so just feel it out.'"