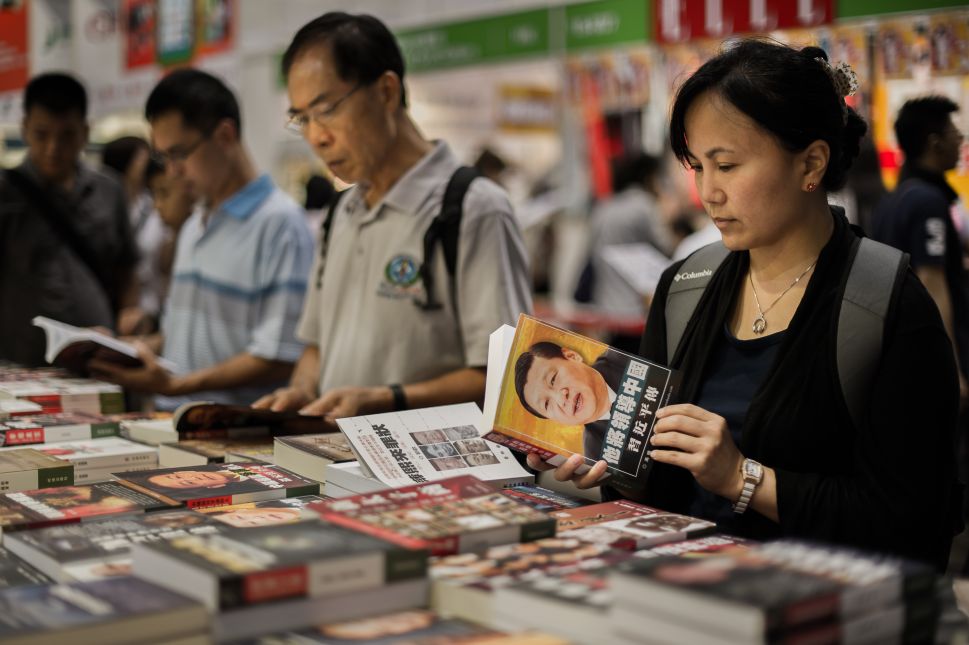 In our last column, we discussed a few Chinese fiction writers who have gained recognition in the West over the last several years, defining a new paradigm of contemporary literature in the country that ignores or outright rejects Chinese literary stereotypes. We mentioned the young novelist Hao Jingfang, who took home a Hugo award for her web novelette Folding Beijing, a compellingly-wrought tale that addresses class distinctions, wealth inequality, surveillance technology, and urban stratification in an unspecified-future version of China's capital. In an interview published after the English edition of Folding Beijing was released, Hao describes her inspiration to capture the opaque social structure that characterizes the city today.
"One morning, I was shopping at a street market just like the one described at the start of the story: Crowded, chaotic, dirty, lively, full of cheap goods piled up everywhere. Everyone was devoted to the task of bargaining. I thought then that Beijing was a city divided into multiple groups who did not interact at all in daily life. They had completely different lifestyles, habits, and socializing spaces—in fact, they rarely even met. My friends and I… had good educations and comfortable jobs, and we could see the results of our efforts and dream of advancement. But this city also had two other groups we usually didn't get to see. One group consisted of the mysterious, powerful figures who were rarely seen in public but who could decide the fate of the city, even the entire country. The other group consisted of the laborers who lived in the nooks and crannies and borders of the city."
Hao's story is told as an incredible science-fiction parable, shining an alarming light on the present through a depiction of its future. Some of the most interesting Chinese literature coming out today, however, sidesteps such need for narration, depicting a surreal, post-modern Chinese reality that comes across as so unlikely that the everyday realities of China jostle aggressively with a writer's ability to imagine fiction.
Novelist Yu Hua, best known for his 1993 novel To Live, exemplifies the challenge. His tumultuous novel was set during the Chinese revolution and was quickly adapted into an award-winning film directed by Chinese film luminary Zhang Yimou. Approached by the Los Angeles Review of Books to discuss Chinese literature, he told them, "The biggest problem facing Chinese literature is how to express today's realities. Reality is more preposterous than fiction. It's a difficult task to convey reality's absurdity in a novel."
While many authors have turned away from a contemporary China that often seems too implausible and even outrageous to fit within the familiar worlds of socialist realism or magical realism, others have adapted, and out of these a loosely defined genre has evolved, sometimes referred to as "ultra-unreal." Five months ago, writer Ken Ning wrote a piece headlined "Modern China is So Crazy It Needs a New Literary Genre," noting he chose the Chinese word chaohuan for its reference to mohuan, which means magical, as in the magical realism of mohuan xianshizhuyi. Instead of mohuan, the magically unreal, he explained that China has become chaohuan, or ultra unreal.
"In the 1980s," he says, "when China was starting to open up to the world, Latin American literature, with Gabriel García Márquez as the representative, poured into China. When we read 'magic realism,' it seemed familiar, it seemed close to us, and that is because in their suffering and their difficult, incredible histories, Chinese people and Latin Americans have a lot in common. Indeed, in the 1980s we often spoke of China as a place of 'magic realism.' But since the 1990s, and especially in the past dozen years or so, China is no longer that place; it is now a place of the 'ultra-unreal.'"
So many of the realities of the China of the past three decades seem absurdly impossible, and yet have actually happened, distorting the concept of what is and what isn't realistic. Ning provides, as an example, the recently-arrested official with so much money stuffed away in an unused apartment that the police, unable to count it, were only able to provide after several hours the total weight of the illicit cash. Ning describes China's economy as growing so quickly from abject poverty to the world's largest that "it's as if China has escaped gravity." He is wrong about the size of China's economy, but while China's rise to global economic hyper-power seemed inevitable until 2008-10, the force with which perceptions turned—so that economists now worry about China's economic collapse—merely confirms Ning's description of China's ultra-unreality.
China is so improbable that Ning suggests it is hard to comprehend, making it the monumental task of fiction writers today to define their generation by expressing its improbability: "The fiction writer incorporates all ways of looking at the world into one. It is a compound eye. If Magic Realism was the way in which Latin American authors presented their view of their reality, then Ultra-Unreal Realism should be our name for the literature through which the Chinese regard their reality."
Ning's vision recalls that of Jingfang's Folding Beijing, in which three separate classes live in folded, parallel cityscapes occupying the same time and space, suggesting that this feverishly imagined scenario is already becoming real before our eyes. "Whether it is the economy, fashion, popular culture, entertainment, or sports," Ning writes, "in just thirty years China has gone through what took several hundred years in the West." Time in China has been compressed, he says. "This compression not only folds into the current moment a few hundred years of Western history but also several thousand years of Chinese history. Because time is going too fast, China's cities are now strange things. They all look exactly alike, as if they were a series of exact computer copies."
Ning concludes his manifesto with a rallying cry: "At the present moment, only literature can help us understand China. No other method will work. The biggest question on the planet right now might be, 'Whither China?' It is possible that the only way we can address this question is through literature."
Ning exaggerates the role of literature. Urban youth culture in China has played a major role in defining the hybrid, ultra-unreal character of the country today. We have referred often in this column to Beijing's music scene, shaped partly by the massive influx of over a century of Western alternative and avant-garde music in a 1-2 year period early in the last decade, as young Chinese signed on to the internet in massive waves unlike anything seen abroad; and partly by the rejection of a mainstream culture that emerges from a reality barely comprehensible to the young. But rather than undermine Ning's argument, China's underground music and its urban youth cultures merely confirm how strange the story of Chinese art must be if it is to explain China today.
Josh Feola moved in 2010 from the US to Beijing, where he is a writer, musician, and former booking manager at two of Beijing's leading live music venues. He has written about Chinese music and art for a variety of foreign and Chinese publications, operates the net-label Sinotronics, curates Sally Can't Dance, China's leading experimental and avant garde music festival, and plays drums in Beijing band SUBS.
After fifteen years on Wall Street as a trader and banker, Michael Pettis moved to Beijing in 2002, where he is an economics professor at Peking University, a senior associate at the Carnegie Endowment, and the owner of 20 Percent Picture House, a private art gallery.