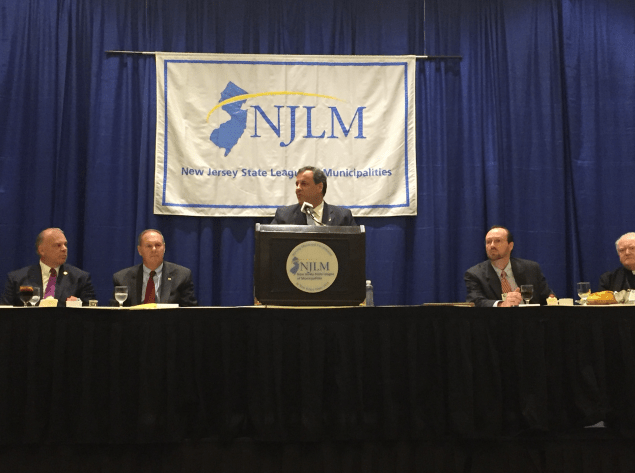 ATLANTIC CITY — In the biggest snub of this year's League of Municipalities conference, New Jersey governor Chris Christie assumed the spotlight after bumping Lieutenant Governor Kim Guadagno from the agenda at the closing luncheon Thursday. Christie said from the podium, in his first speech since the election, that he will serve out the rest of his term.
Guadagno, who stands to take Christie's place in the governor's mansion if he accepts a position in the incoming administration of president-elect Donald Trump, was relegated to throwing the press a bone about the timing of her 2017 gubernatorial campaign announcement. 
Whether Guadagno runs as an incumbent or not when Christie is term-limited out, Christie's legacy in the state will loom large when she faces off against Assemblyman Jack Ciattarelli in the primary. The subtext of Thursday's speech skewered his second in command for their recent disagreement on the recent gas tax hike.
Guadagno had diverged from Christie on certain aspects of that plan just before voters weighed in on its final component: the ballot question that dedicated the funds from that gas tax hike to transportation projects. It marked the first time that Guadagno has opposed the governor on a controversial policy decision, and her first step toward distancing herself from Christie and his dismal 19 percent approval rating in the state following the conviction of two top aides in the Bridgegate trial.
Christie boasted that whoever his successor is, that person will not have to decide what portion of revenue to dedicate to the state's ailing Transportation Trust Fund on an annual basis because of the gas tax compromise he reached with Democratic majorities in the State Senate and Assembly.
"I have every intention of serving out my full term as governor. I have said that from the beginning," Christie said. "I hope that you notice the words that he used on election night. They were his and he chose them carefully. He wants to unite this country and bring people together," he added of Trump.
"They refused to raise the gas tax," he said of his predecessors and his decision to allow the gas tax increase to go through. "Now this is a lofty goal. New Jersey is an expensive place to live. That's why I laugh when I hear people say infrastructure hasn't been invested in."
Christie's options in Washington have dwindled since the election, with Trump replacing him as head of his White House transition team. In his closing remarks, Christie left the possibility open that he will eventually accept a position in the Trump administration. Conflict within the former Atlantic City casino magnate's inner circle has reportedly played into the uncertainty about Christie's future.
"I'm not worried and I'm not nearly as preoccupied as the people who cover me and some of the people who are attempting to follow me about where exactly this will go," he said.
Disclosure: Donald Trump is the father-in-law of Jared Kushner, the publisher of Observer Media.