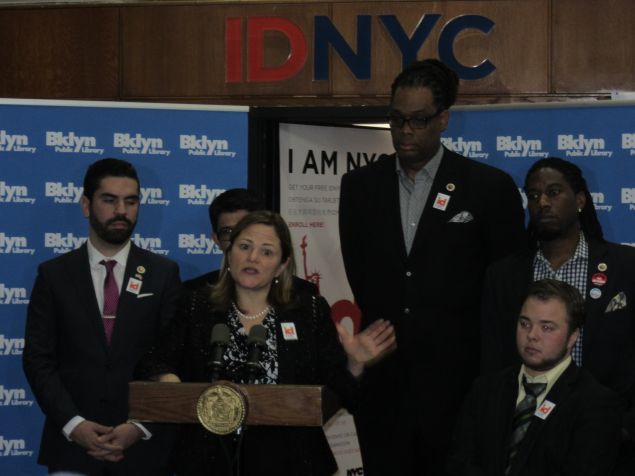 Council Speaker Melissa Mark-Viverito offered a curt retort today to two Staten Island Republicans preparing legal action against the city over its plan to flush municipal identification records and to shield undocumented immigrants from President-elect Donald Trump: "go ahead and sue us."
A legislative trap door in the bill that created the IDNYC program almost two years ago enables the city to trash the data files on its applicants, many of whom are foreign nationals lacking other forms of government paperwork, should a nativist president assume office. Assemblyman Ronald Castorina and Assemblywoman Nicole Malliotakis contended yesterday that this option, if  Mayor Bill de Blasio utilizes it as proposed, could make it harder for federal law enforcement to track potential terrorists and criminals.
The two GOP lawmakers said they gearing up to take the city to court to force it to retain the documents.
"Go ahead and sue us," Mark-Viverito, a fierce advocate for both IDNYC and the undocumented, spat out when the Observer asked about the potential suit at an unrelated press conference at City Hall today.
The speaker, a prominent surrogate for Hillary Clinton, has attacked Trump repeatedly on Twitter and vowed that New York City will remain a sanctuary city in spite of Republican threats of economic sanctions. She echoed the mayor today in pledging that the city will do whatever is necessary to protect the program and its applicants from federal incursions.
"There's a law in place and the law is very explicit about how information is to be handled," Mark-Viverito said during the City Council's monthly pre-stated meeting. "We are looking at exploring those options and so we are gonna exercise whatever rights we have as the city. They want to raise the funds and they want to sue the city, they have every right to do so if that's what they choose to do."
And Malliotakis, for her part, caught wind of Mark-Viverito's comments. She delivered an equally terse response.
"Arrogant," she tweeted. "I guess as long as taxpayers will be footing the bill to defend her shady policies in court, it's ok."
The de Blasio administration, along with Mark-Viverito and advocates, has argued that IDNYC enables undocumented immigrants to partake in simple, run-of-the-mill activities that require proof of identification, such as opening a bank account. And while the mayor is still encouraging people to sign up for IDNYC, Mark-Viverito isn't ready to do the same.
She said the city is reviewing its legal options.
"I have not taken that position," she added. "Obviously we are very concerned about the [issue] now—between now and the end of the year and now and January 20—so we're very clearly engaged in a conversation as I've indicated before about one, the data is secure right now and we're going to retain a confidentiality."
A City Hall spokesperson told the Observer yesterday that its staff carefully verify personal information used to obtain the municipal identifications, and that an IDNYC an cannot be used to get a driver's license, board a plane or cross a border. The spokesperson also said the city relies on the NYPD to "set the bar for security."
This story has been updated to include a comment from Assemblywoman Nicole Malliotakis. 
Disclosure: Donald Trump is the father-in-law of Jared Kushner, the publisher of Observer Media.