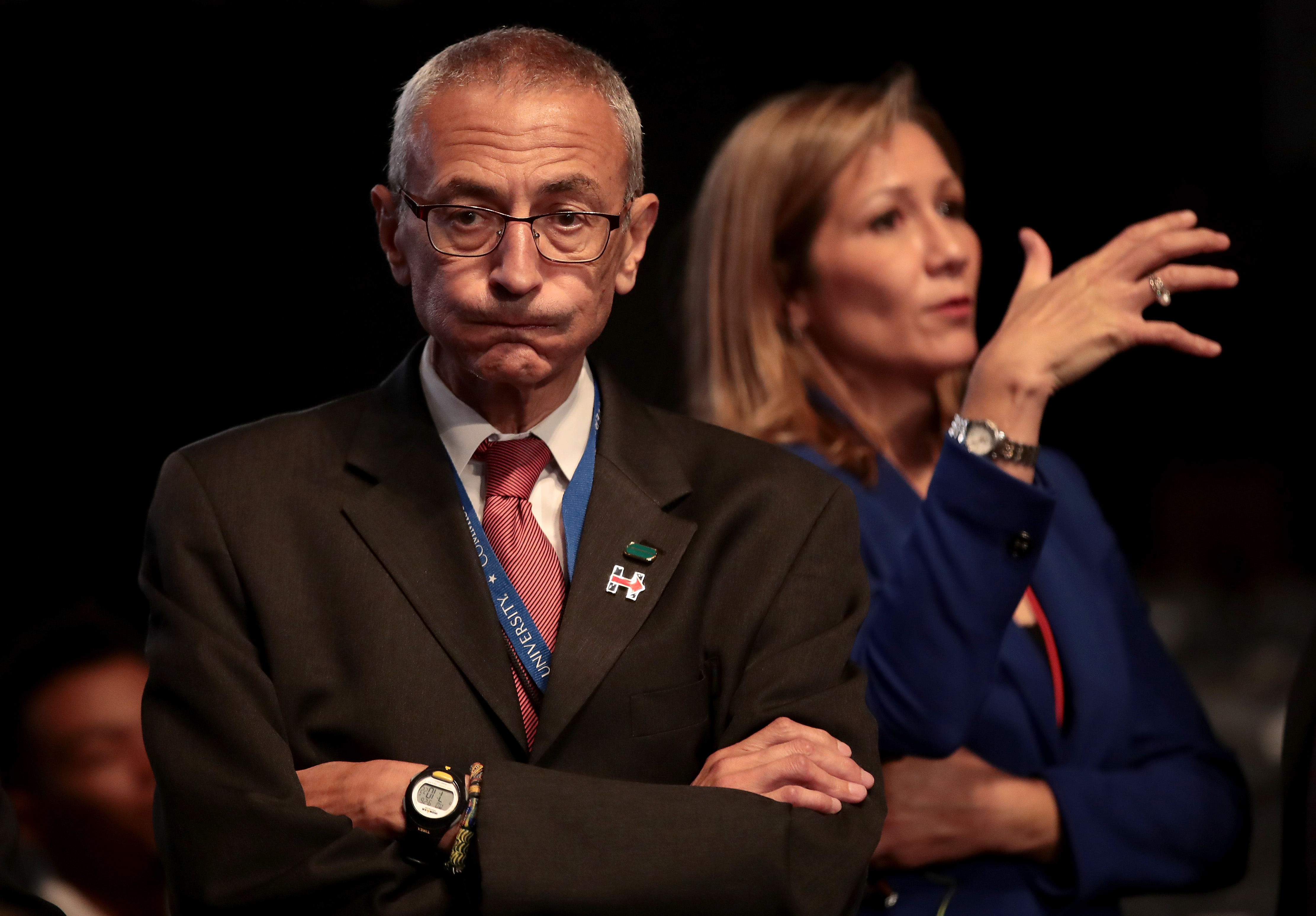 As a victory in Pennsylvania left Donald Trump inches for electoral victory, Hillary Clinton sent campaign chairman John Podesta to her party at the Javits Center in her stead with a simple message: "we'll have more to say tomorrow.
After perhaps the ugliest 19 months in recent political memory that included fruitless federal probes, a fierce primary fight, the constant leak of stolen campaign emails and the constant name-calling of her boorish Republican opponent, it appears Clinton was ultimately unable to prevail in her quest to become the country's first female president in its 240-year history. Trump's surprise triumphs in usually Democratic states like Wisconsin and Pennsylvania appears to have proved her undoing.
Republican presidential nominee Donald Trump is a bare handful of electoral votes away from winning the 270 electoral votes necessary to attain the White House. 
"It's been a long night and it's been a long campaign, but I can say we can wait a little longer, can we?" John Podesta, the campaign chairman, said as supporters cheered him on. "They're still counting votes and every vote should count. Several states are too close to call so we're not gonna have anything more to say tonight. So listen, listen to me, everybody should go home, you should get some sleep, we'll have more to say tomorrow."
On the eve of the election, Clinton delivered a two-minute national closing message in a TV ad that aired to roughly 20 million people. In the ad, she asked if "America is dark and divisive or hopeful and inclusive," saying that the election is testing people's core values. And she promised to "be a president for all Americans."
Through the primary and general election, Clinton's campaign focused on winning traditionally Democratic African-American votes as well as support from Latinos and Asian-Americans, communities that had historically voted in low numbers. It also targeted educated suburban white women, a group Donald Trump had alienated with his long history of crude remarks—including a 2005 tape in which he claimed women let him "grab them by the pussy"—and mounting allegations of sexual assault.
Trump focused on winning working class white voters—and particularly working class male voters—in parts of the northeast and Midwest, some of whom had backed President Barack Obama in 2012. His campaign focused on attacking undocumented immigration from Mexico and trade agreements with China, in crude rhetoric critics assailed as racist.
Surging Hispanic participation and support for Clinton from affluent women more than compensated for the loss of blue collar Caucasians and depressed turnout among African-Americans in certain states.
Clinton's achievement as the first female president would have come eight years after then-Sen. Obama made history as the first African-American to be elected president. The only person to have come close to achieving both was the late Congresswoman Shirley Chisholm—the first woman to run for the Democratic Party's presidential nomination and the first African-American to run for president in 1982.
She led for much of the campaign but had to vault multiple hurdles that time and again called into question whether the Democratic nominee would ultimately prevail—and it appears that those obstacles may have had an effect. 
More than Trump's taunts of "crooked Hillary" and "nasty woman," what haunted the ex-secretary of state most was her use of a private email server during her tenure in the Obama administration. In July, Federal Bureau of Investigation Director James Comey announced that the nominee would not face any charges, although he described her behavior as "reckless."
Then, a mere 11 days before the election, James Comey shocked the country when he revealed to Congress that his agents discovered previously unknown emails "pertinent" to the probe on a device belonging of disgraced former Congressman Anthony Weiner and his estranged wife Huma Abedin, a close Clinton aide and confidante. 
The Clinton campaign lashed out at Comey, saying he had "no reason" to send such a vague letter to Congress and demanded he release the full details right away. They even accused him of sitting on information linking Trump to Russian President Vladimir Putin.
The campaign, as well as Clinton surrogates, blasted the revelation as politically motivated while Trump seized on the announcement to boost his flailing bid for the presidency. Polls showing Clinton with a confident lead abruptly tightened.
But the controversy finally died when Comey announced Sunday that the bureau's summer decision had not changed.
Clinton also faced an FBI probe of potential conflicts of interest involving the Clinton Foundation last year—an investigation that caused disagreement and conflict within the FBI. There have been no formal accusations of misconduct, and the foundation has denied allegations of wrongdoing. 
And then there was the nonstop Wikileaks dumps of Clinton campaign chairman John Podesta's emails. This led to the discovery that Democratic National Committee Chairwoman Donna Brazile found to have given questions to the Clinton campaign ahead of a CNN town hall, and the leak of key excerpts of the former first lady's private speeches to financial firms.
Though the Clinton team has yet to verify the authenticity of any of the leaked emails, it has accused the Russian government of being behind the hacks.
In the earlier stages of the race, she faced a tough challenge from her opponent for the Democratic nomination, Vermont Sen. Bernie Sanders. Sanders, an independent socialist who has held public office for 30 years, rocketed to prominence in 2015 as the leader of the self-proclaimed "political revolution that drew millennials great numbers.
His calls for tackling corporate greed,  his commitment to free public higher education and a shift to clean renewable energy appealed to supporters, who had an immense mistrust of Clinton dating to her 2003 vote in favor of the Iraq War. Others objected to her use of the phase "super-predator" to describe inner-city youth in a 1996 speech lauding her husband, former President Bill Clinton's 1994 Violent Crime Control and Law Enforcement Act. Sanders had voted for the bill at the time, but criticized it for leading to mass incarceration, which disproportionately impacted minorities.
After losing the primaries, Sanders ultimately endorsed her.
Indeed, despite the hiccups throughout her campaign, Clinton was lucky to have a number of prominent surrogates who spent a great deal of their time campaigning on her behalf. Khizr Khan, the father of a Muslim soldier killed at war, blasted Trump at the Democratic National Convention in July over his plan to ban Muslims from entering the country. 
Clinton also enjoyed support from Obama, whose popularity shot up in the months ahead of the election.
Here in New York City, where the two candidates held parties in Manhattan, the NYPD deployed a record 5,000-plus police officers throughout the city and at the two events—the first time two major party nominees were in New York City at the same time since 1944.
Disclosure: Donald Trump is the father-in-law of Jared Kushner, the publisher of Observer Media.