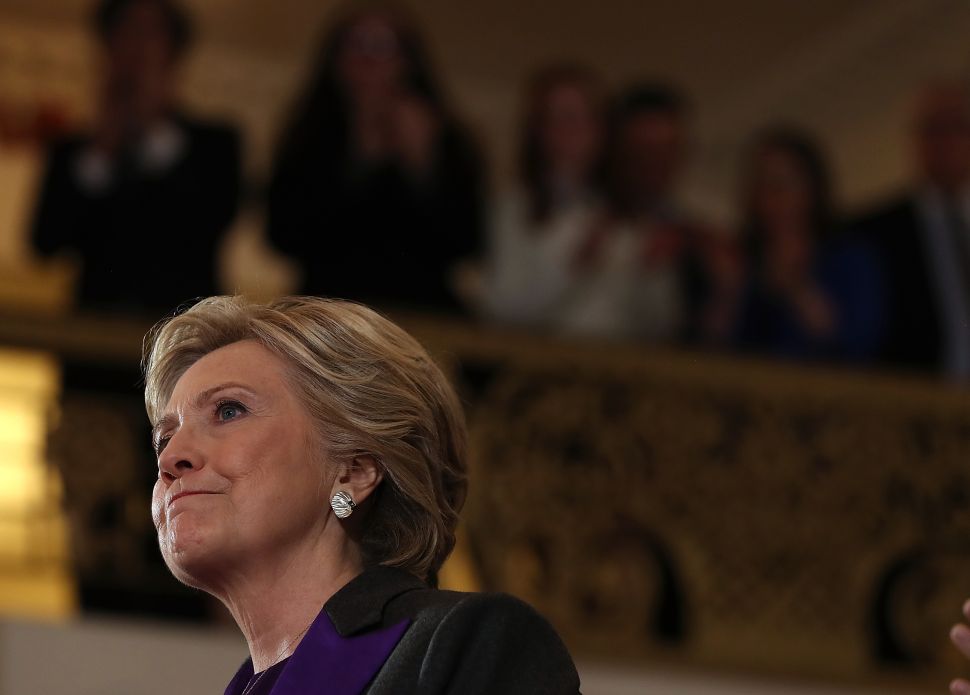 If the recount efforts weren't a partisan effort being pushed by Hillary Clinton and her supporters—or a publicity stunt led by Jill Stein to subvert attacks claiming her candidacy is the reason Clinton lost—then Michigan, Pennsylvania and Wisconsin wouldn't be the only states where a recount is being demanded.
Trump won those states by small margins: Michigan by just over 10,000 votes, Wisconsin by over 22,000 votes and Pennsylvania by over 60,000 votes. But Trump lost New Hampshire by under 3,000 votes, Delaware by just over 50,000 votes, Nevada by just over 26,000 votes and Maine by roughly 20,000 votes—and no recounts have been demanded in those states. The rest of the Green Party and Jill Stein's running mate, Ajamu Baraka, have not joined Stein as plaintiffs in pursuit of the recounts.
On November 28, Ron Fournier, associate publisher of Crain's Detroit and contributor to The Atlantic, tweeted:
When pressed on what his sources were to corroborate the claim, Fournier said, "by talking to people who talk to her." Fournier also pointed to an article he wrote on the Clinton Foundation that appeared in The Atlantic and National Journal, in which he cited anonymous Clinton loyalists, as a source.
The resurrection of Clinton is inevitable given her strong ties to the Democratic Party establishment and her vast network of corporate and wealthy donors. The focus on recounts, and the touting of Clinton's popular vote victory over introspection and working to reform the Democratic Party are indicative of the establishment's refusal to relinquish any semblance of its political power and privilege to the more popular Bernie Sanders wing. Rep. Keith Ellison, Sanders' pick for Democratic National Committee (DNC) chair, is facing aggressive pushback from the Clinton wing of the Democratic Party, who prefer another Clinton surrogate to run the DNC. Not that that worked well for former DNC chair Debbie Wasserman Schultz, and current DNC interim chair Donna Brazile, both of whom were embarrassingly revealed to be by Clinton shills by WikiLeaks.
Thousands of disenfranchised voters were brought into the political process because of Sanders—because his campaign connected with their struggles in ways Clinton and establishment Democrats weren't. But Democrats have shown they intend to continue repeating the party's failed strategies. A potential 2020 presidential run for Clinton is a continuation of the Democratic Party refusing to evolve with a more progressive and diverse electorate.
Clinton partisans' insistence that the blame for her election loss lies with Russia, WikiLeaks, mainstream media, fake news, Jill Stein, Bernie Sanders, millennials or FBI Director James Comey reveals their pathological refusal to acknowledge the realities of her failed campaign. Given these delusions, the sentiment that Clinton may—or should—try to run for president again in 2020 isn't surprising. But if Democrats ever want to win another presidential election and recoup their losses in Congress and state legislatures across the country, they need to face the reality that Clinton's brand of politics has been an abysmal failure for the party.
The embrace of corporations and focus on fundraising over connecting with voters has degraded the Democratic Party. As Sanders has reiterated throughout his diagnosis of why Clinton lost the election, "It is in my view not possible to be a candidate of corporate America, of the insurance companies or Wall Street, not take huge amounts of money from powerful special interests and then say, 'Well, I'm going to champion the needs of the declining middle class working class people or low-income people.' " It's also not possible for Democrats to continue running candidates who belong to corporate America and corrupt industries, yet somehow start winning elections again.