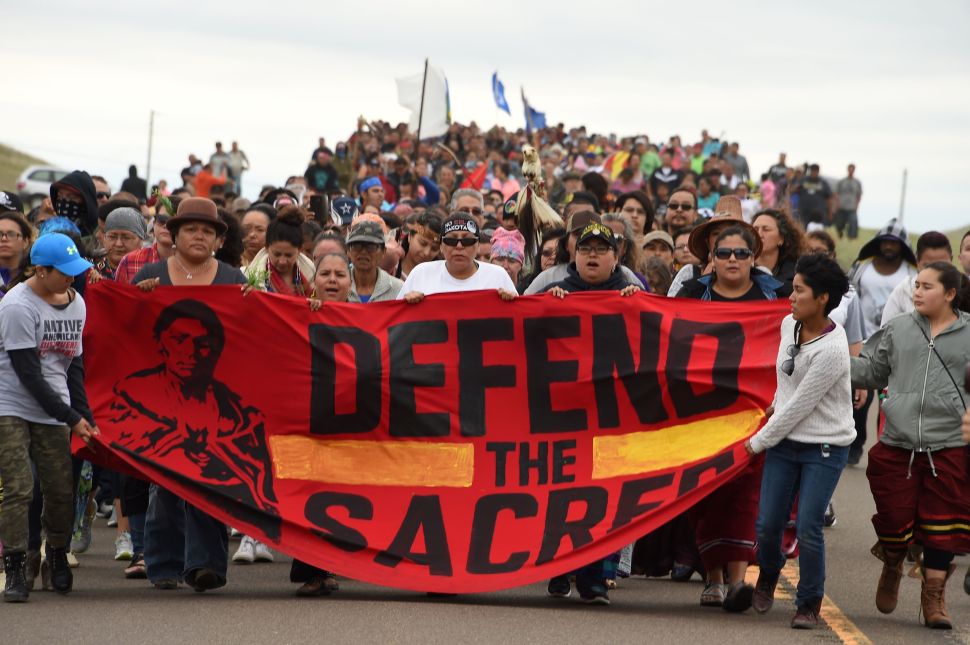 On November 19, North Dakota State Police and the Morton County Sheriff's Department used water cannons on the water protectors at Standing Rock, despite below freezing temperatures. Videos surfacing of the ordeal show unarmed protesters being pummeled by water cannons while tear gas and mace were streamed into the crowd.
Sophia Wilansky, 21, was hit in the arm by a concussion grenade fired by police at the scene. Photos of the injury are circulating on social media. Wilansky's friend Michael Basillas noted in his latest Facebook update that she is at a hospital in Minneapolis undergoing a series of surgeries. It is unclear at this point if she will lose her arm.
Several mainstream media outlets, including CNN, repeated a statement from the Morton County Sheriff's Office that the water protectors were armed, and the water cannons were used to put out fires they had started, yet the evidence captured on video shows otherwise.
The Young Turks reporter Jordan Chariton cited several other injuries reported from the medic tent at Standing Rock:
"[Three] seriously injured patients were transported directly by ambulance from the scene, and another 23 patients were transported by ambulance after initial assessment and treatment in camp. Injuries from the mass casualty incident include: an elder who lost consciousness and was revived on scene; a young man with a grand mal seizure; A woman shot in the face by a rubber bullet with subsequent eye injury and compromised vision; a young man with internal bleeding who was vomiting blood after a rubber bullet injury to his abdomena; a man shot in the back near his spine by a rubber bullet causing blunt force trauma and a severe head laceration; multiple fractures secondary to projectiles fired by police."
In an interview with Observer, Chariton said, "There are countless numbers of video that show oil police—what these officers are—firing off grenades, rubber bullets, tear gas, and pepper spray at unarmed water protectors. The notion that protectors igniting propane lacerated Sophia's arm is a complete fabrication that defies all basic logic. The oil police have been able to perpetrate war crimes at will, with their allies in the corporate media cloaking them in justifiability by reporting whatever police tell them as fact. It's a disgrace to journalism and the media's dereliction in covering this story—I've been there five times—is disgraceful."
The limited media coverage, and the biased, inaccurate reporting included in what coverage the Dakota Access Pipeline has received in mainstream media is a microcosm of the endless denigration Native Americans suffer. The New York Times, Guardian, The Daily Beast and some other print outlets have provided ongoing coverage. However, the lack of an on-the-ground presence from major TV media outlets at Standing Rock is a result of CNN and most of the mainstream media's lazy preference for propagating false narratives based on secondhand sources.