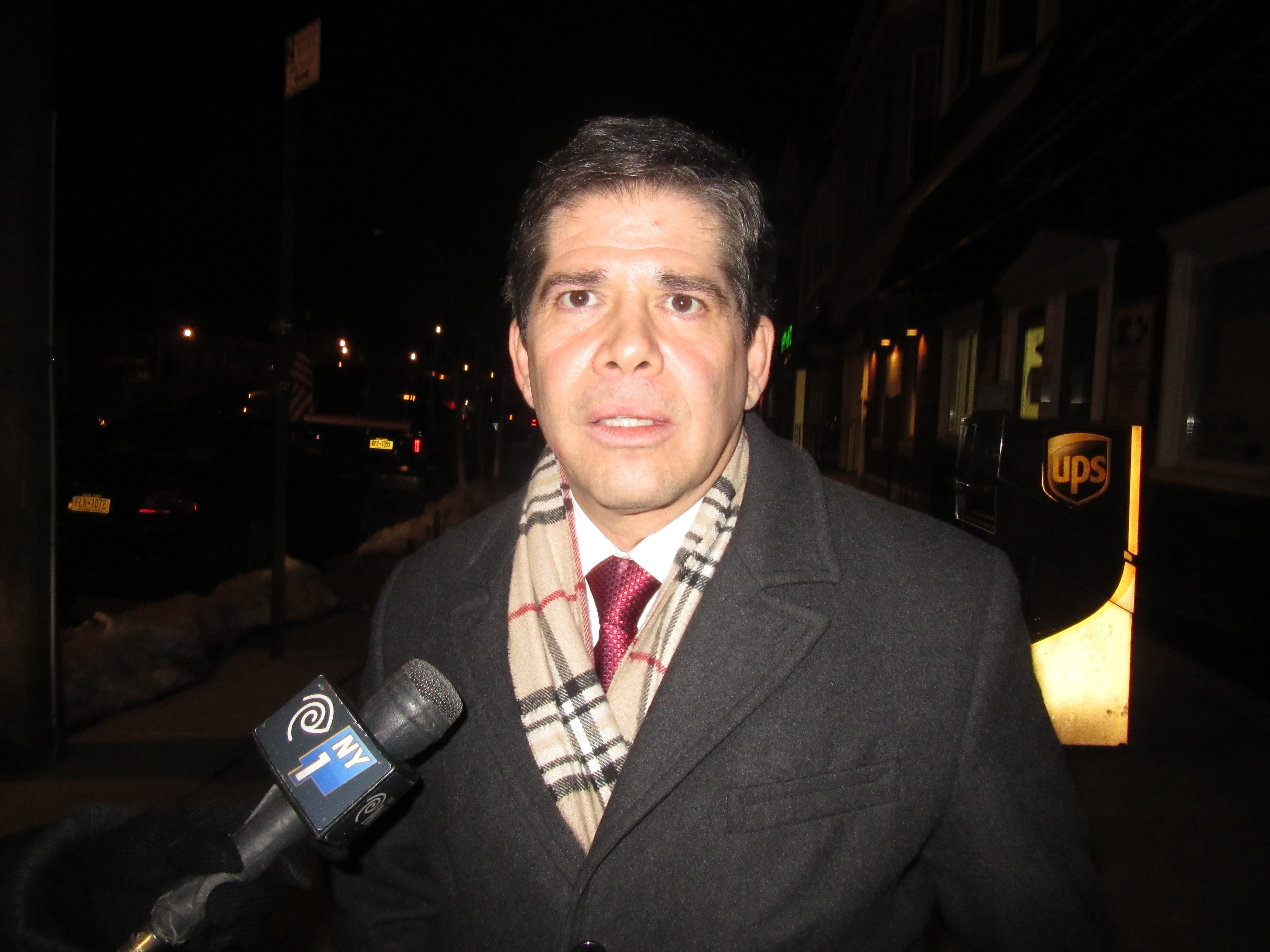 Brooklyn Councilman Vincent Gentile is considering a run to become his borough's top prosecutor, insiders say—a post that up till last month belonged to the late Kenneth Thompson, who passed away suddenly from cancer at age 50.
Two sources close to Gentile told the Observer the 13-year councilman, who faces term limits at the end of 2017, is eyeing the Brooklyn district attorney seat. A third source pointed a eulogy for Thompson the politician published in the Brooklyn Reporter at the end of last week, in which Gentile recalled his 11 years as an assistant district attorney in Queens and hinted at a possible return to his roots.
"Ken and I have always been on the same page here and I hope to continue to honor and uphold the integrity of our city's criminal justice system now and in my future years of public service," he wrote, in particular praising a special bureau the late district attorney created to reconsider and vacate many of his predecessor's cases. "Our goal should be that the Conviction Review Unit that D.A. Thompson constructed remains the best this nation has to offer."
The councilman is also known to have in the past harbored hopes of becoming a judge. His office did not respond to repeated requests for comment.
Gentile first entered public office as a state senator representing parts of Brooklyn and Staten Island in 1997, but lost his seat to then-Councilman Martin Golden in 2002.
Gentile then entered the special election for Golden's southern Brooklyn Council seat. He won, and has held the position ever since.
Last year after the abdication of convicted Congressman Michael Grimm, whose Staten Island-based seat also encompassed Gentile's Brooklyn turf, the councilman ran for the vacant House seat in a special election in May.
Despite a strong performance in Brooklyn, he lost by a large margin to then-Staten Island District Attorney Daniel Donovan.
Gentile is popular in his district, which comprises his native Bay Ridge plus Dyker Heights and Bensonhurst. He bested his 2013 GOP challenger John Quaglione by 27 points, and performed even better against Donovan within the confines of his home base a year and a half later.
But that area leans more conservative than the borough as a whole, and some of Gentile's past stances could haunt him in a race for D.A. As a state senator battling for re-election in 2002, he voted against the Sexual Orientation Non-Discrimination Act, which barred business and property owners from firing or evicting gays and lesbians on the basis of their identity.
Running for Congress last year, Gentile professed regret for that vote.
In 2013, the councilman opposed the Community Safety Act, which made NYPD officers legally liable for stops made on the basis of race. That year, he supported then-incumbent District Attorney Charles Hynes over Thompson in the Democratic primary, then switched his allegiance to Thompson after the challenger triumphed in September and Hynes carried on his campaign on the Republican line.
Thompson ultimately became the borough's first black D.A. One source the Observer spoke with noted that Hynes's base was also in Bay Ridge, and doubted another southern Brooklyn white ethnic could capture the district attorney's office—especially since Central Brooklyn Democrats Congressman Hakeem Jeffries and former Councilwoman Una Clarke, who helped elect Thompson, have grown possessive of the position.
Gov. Andrew Cuomo decided in mid-October not to exercise his power to appoint an interim D.A.. This left Chief Assistant District Attorney Eric Gonzalez, Thompson's favored successor, in charge.
Some have speculated Gonzalez will run to keep the seat in 2017. Besides Gentile, other potential candidates bandied about have been Publica Advocate Letitia James, Department of Investigations Commissioner Mark Peters—who sought the job in 2005—and Hynes-era First Assistant District Attorney Anne Swern.
At least one person was enthusiastic about Gentile's chances: Brooklyn lawyer John O'Hara, who was one of Hynes's most prominent political enemies.
"Most people don't realize that in the '80s and '90s Gentile had an impressive record as a prosecutor in the Queens D.A.'s office," he said, pointing in particular to the now-councilman's prominent case against three white St. John's University lacrosse players accused of sexually assaulting a black classmate in 1990.