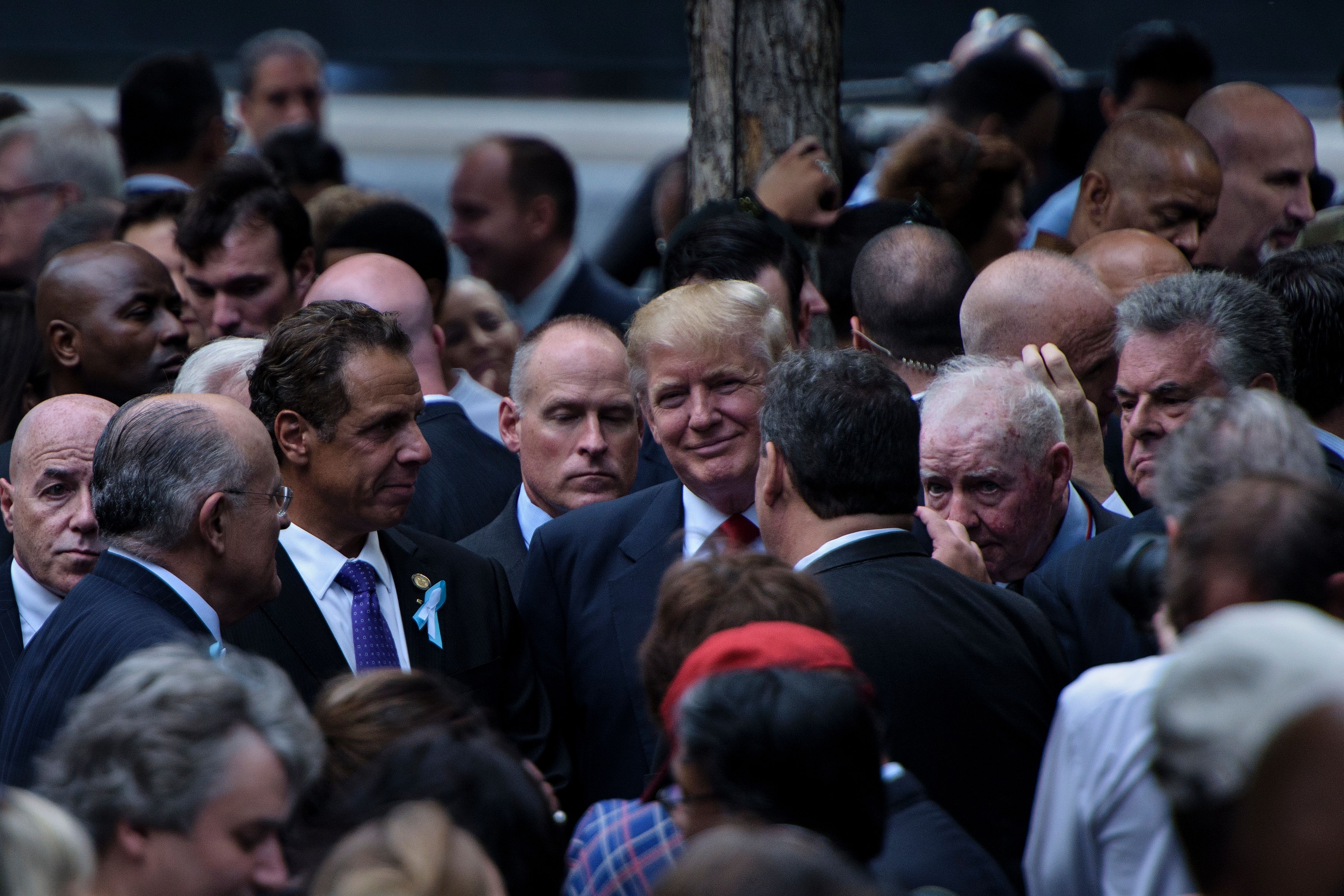 Gov. Andrew Cuomo launched a statewide emergency call-in system today to deal with a burst of racially and religiously-motivated incidents following the incendiary election of Donald Trump to the presidency.
The Democratic governor rolled out the toll-free number—(888) 392-3644—in Rochester this afternoon, and encouraged New Yorkers who think they may have been the victim of a bias crime to ring. Since Trump's shocking victory one week ago on a fiercely anti-immigration platform, spray-painted swastikas have proliferated at college campuses like the New School and the State University of New York at Geneseo, in the ultra-Orthodox Jewish enclave of Crown Heights in Brooklyn and in upstate Wellsville.
That last graffiti attack also featured the note "make America white again," a reference to the Manhattan developer's "Make America Great Again" campaign slogan.
"There has been an explosion recently in the number of hate crime instances," said Cuomo, a recipient of Trump's political contributions and a supporter of Hillary Clinton's candidacy. "We want to make a very clear statement in this state: that there is no place for racism, there is no place for hate, there is no place for swastikas, there is no place for racially-inflammatory and divisive rhetoric or acts. This is New York. This is America. We are all immigrants and the way this state and this country works is we are a diverse population."
Trump seemed to flirt with white supremacists and anti-Semites throughout the campaign, repeatedly sharing their tweets and content on social media. He received the endorsement of famed white supremacist David Duke—which the Queens-born businessman initially refused to disavow—and branches of the Ku Klux Klan, among other hate groups.
But the president-elect called on his supporters to "stop" their acts of violence and vandalism in an interview with 60 Minutes on Sunday. That same day, though, he incited outrage by naming his campaign CEO Stephen Bannon as Chief Strategist and Counselor to the President. Bannon previously ran the site Breitbart, which he advertised as a "platform for the alt-right"—an Internet slang term for loosely confederated anti-Semites, misogynists and rank racists.
"We are people from all difference races, from all difference countries, different religions, but we are one community at the end of the day. Hateful rhetoric or hateful slogans are not just immoral, unethical, not nice, they're also illegal in the state of New York," Cuomo said. "I understand the political environment out there, and I understand the sentiments that have been raised, but the law is the law. The hate crimes legislation and the hate crimes laws will be enforced."
Curiously, the day after the election, Cuomo phoned into NY1 to describe how Trump's win would be a "bonus" for New York. Over the weekend, he backpedaled, penning a Facebook post in which he pledged to defend the undocumented immigrants the Republican has targeted for deportation and sexual minorities who may fear having their rights abridged.
Cuomo's chief rival in the New York Democratic Party, Mayor Bill de Blasio, held a roundtable with clergy this afternoon to discuss the outbreak of apparent hate incidents.
Disclosure: Donald Trump is the father-in-law of Jared Kushner, the publisher of Observer Media.