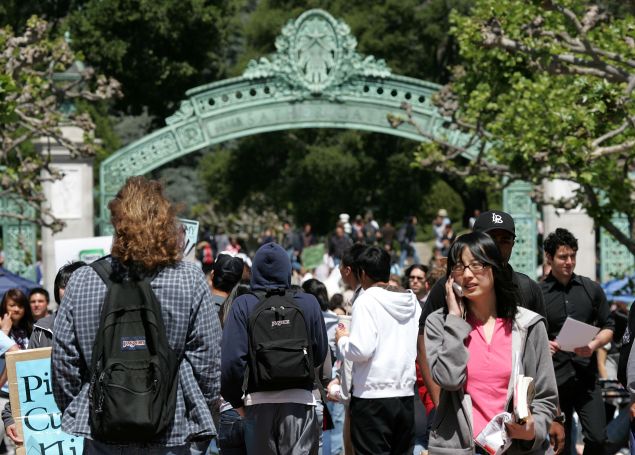 Schools in the University of California system are "hotspots" for anti-Semitism, according to a recent study conducted by Brandeis University. Making headlines for the past decade, incidents of anti-Semitism on UC campuses are a trend that appears to have recently crossed the line, resulting in civil rights groups, faculty, alumni and students declaring they've had enough.
Two letters were sent this week to UC system president Janet Napolitano, urging her to address the rise of anti-Semitism on campus, especially the use of the classroom by professors and student educators who use their positions to indoctrinate students with an anti-Israel agenda.
The first letter was issued by the anti-Semitism watchdog group AMCHA Initiative. Signed by 176 faculty and 47 religious, civil rights, education and research organizations and copied to the UC regents, chancellors and political leaders, the letter expressed concern about "improper behavior of anti-Zionist faculty and student instructors" who use the classroom for political activism and advocacy to vilify the Jewish state.
"UC students have long shared personal anecdotes of teachers who engage in anti-Zionist and anti-Semitic advocacy and activism in the classroom," stated AMCHA director and UC professor Tammi Rossman-Benjamin. "However, the corruption is now public and can no longer be ignored."
The day after AMCHA's letter was sent, nearly 600 UC alumni signed a letter spearheaded by Alums for Campus Fairness (ACF), in partnership with the Israel advocacy group StandWithUs, addressed to the same UC leadership, focusing on two student-led courses at UC Berkeley and UC Riverside.
According to an ACF press release:
The letter focuses on two student-led courses at UC Berkeley and UC Riverside that offer "absurdly one-sided reading lists, and rosters of speakers who are uniformly anti-Israel."  It further points out that these courses "violate specific UC policy, including the Regents Policy 2301: Policy on Course Content," which mandates that "the University remain aloof from politics and never function as an instrument for the advance of partisan interest" and describes how allowing classrooms "to be used for political indoctrination…constitutes misuse of the University as an institution."
This is not the first time the courses in question have come under fire.
"Palestine: A Settler-Colonial Analysis" first made national headlines this past September when Haym Salomon Center distinguished fellow Abraham H. Miller took the university to task in an Observer editorial titled "Cal Berkeley's Latest Effort to Erase Jewish History From Israel."
Less than a week after the editorial appeared, UC Berkeley suspended the course after a "mandated review."  One week later, the class was reinstated.
But according to the AMCHA letter:
An examination into the vetting process for the student-taught course "Palestine: A Settler-Colonial Analysis" at UC-Berkeley revealed that the Regents Policy on Course Content was either ignored or breached by the course's sponsoring department, Ethnic Studies. Even after Dean Carla Hesse asked Ethnic Studies to re-review the syllabus in light of the Regents Policy, the department chair approved the course, denying that it had any particular political agenda or that it crossed the line from education to indoctrination.
The letter continued:
We find it hard to believe that a course with an obviously one-sided anti-Israel reading list, exclusively anti-Israel guest speakers, and a clear intent to justify the elimination of the State of Israel, is considered to be consistent with Regents Policy.
The second course of concern is described as "a virtually identical class" titled "Palestine & Israel: Settler-Colonialism and Apartheid." This course was taught at UC Riverside during the previous academic year.
"Such courses are obvious efforts to delegitimize Israel and advocate for the anti-Zionist cause that has taken root among many UC faculties," states the ACF letter. "These exercises in propaganda sully UC's proud history as an institution that provides the highest quality of education.  Instead of encouraging and fostering critical thought, these classes simply proselytize for a partisan cause."
Both letters cite violations of Regents Policy 2301: Policy on Course Content, requiring the university to "remain aloof from politics and never function as an instrument for the advance of partisan interest." The signatories are troubled that the classroom is being used for "political indoctrination" and "activism," raising concerns that proponents of the anti-Israel Boycott, Divestment and Sanctions movement (BDS) will use their position as professor or student educator to promote the delegitimization of the Jewish state.
"There can be no doubt that university faculty and administration across the country are aiding and abetting the BDS movement.  Some are guilty of sins of commission, typically faculty who use their authority to recruit for BDS," explained David Brog, executive director of the Maccabee Task Force. "Some are guilty of sins of omission, typically administrators who are afraid to confront anti-Semitism with the vigor with which they respond to all other forms of hate.  We must call out both types of sins wherever and whenever we see them."
Anti-Semitism on UC Campuses has come to the attention of political leaders representing California. Congressman Brad Sherman this week sent a letter to Napolitano expressing "serious concern" for the Berkeley class. He advised the Regents that failing to prevent antisemitism in the classroom and on campus "violates federal law."
Sherman also expressed concern that the schools were not upholding Regents Policy 2301. He even went as far as to attach a copy of the 1970 approved rule in his letter to Napolitano.
Claire Doan of the UC Office of the President told the Observer:
The University of California takes allegations of intolerance extremely seriously. In fact, the UC Board of Regents this year adopted Principles Against Intolerance to guide chancellors of our campuses. This statement of principles articulates our abhorrence of intolerance and conveys, at the highest level, our values of respect, inclusion and academic freedom.
Doan explained that President Napolitano had not seen the letters as of Friday morning but assured the Observer that the "letter writer" will get a response.