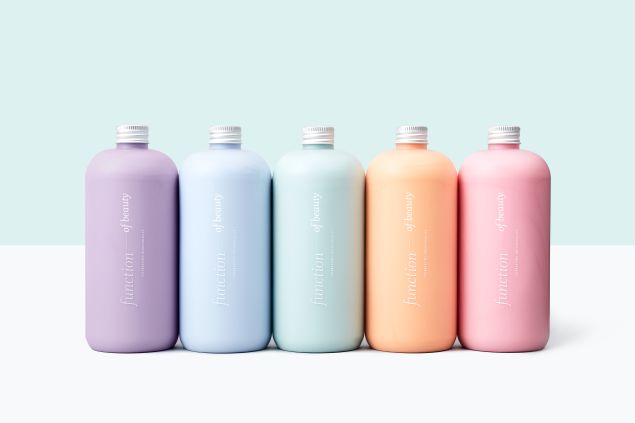 Do you love the effects of your shampoo, but hate the scent? Or do you just wish you could target your dry scalp, need for anti-frizz and protect your color with one formula? With Function of Beauty, you can do it all.
This customizable shampoo and conditioner brand is making your haircare dreams come true, with over 12 billion possible combinations. And while their specialized formulas were once only available online, the haircare startup is popping up in New York from November 11 to 16, and you'll want to stop by to make a concoction of your own.
In order to get your order right, Function of Beauty presents you with a little quiz. To start, they ask about your hair type, structure and scalp moisture, then, they ask you to select five of your top hair goals. From shine to oil control, curl definition, volumize and thermal protection, almost every hair ailment is considered here. Next, choose the name printed on the bottle and a pretty pastel hue for your shampoo and conditioner. Finally, it's time to select the fragrance: essential oils, cucumber mint, grapefruit hibiscus, sandalwood violet, white tea jasmine or passion fruit papaya. While that's a robust scent selection, perhaps the best part of Function of Beauty is that they offer three different fragrance strengths: light, medium or strong.
The brand has seriously taken everything into consideration, as they offer 8 oz or 16 oz bottles, plus a variety of package options. Do you use significantly more shampoo than conditioner? Buy a big shampoo and a small conditioner, for $32. Or vice versa. Or just buy a large shampoo for $22 or a small shampoo and conditioner for $26. Seriously, the options are nearly endless.
Further, the formulas will make your conscious feel clean, as they're all vegan, cruelty free and gluten free. Function of Beauty is also free of parabens, sulfates and toxins. Plus, every time you place an order, either online or in-person, your shampoo and conditioner will be freshly mixed. As holiday season lurks ever closer, a Function of Beauty gift card is definitely a fool-proof gift for mom, your sister or even your coworker. Just don't forget to snag some bottles of your own.
Function of Beauty will be located at 219A Mulberry Street, open from Friday, November 11 to Wednesday, November 16, 11 a.m. to 9 p.m.