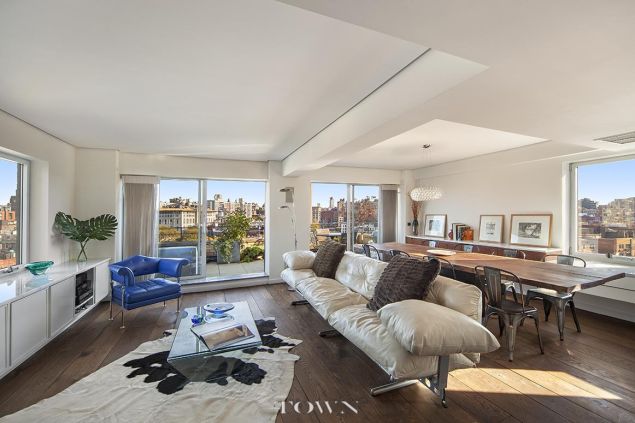 The phrase "something blue" is an apt description for the interior aesthetic of the West Village apartment owned by Silvano and Marisa Acocella Marchetto.
It's not that the three-bedroom, two-bathroom co-op is entirely azure—no, it's more about the deliberate blue accent pieces dotted around 180 West Houston, as Acocella Marchetto, a cartoonist for The New Yorker (as well as a bestselling author, for her graphic novel, Ann Tenna­—she also wrote Cancer Vixen and Just Who the Hell is She, Anyway?) showed the The New York Times last year. There's the Yves Klein chair in the living room, a blue bedroom and, though not shown in the current listing photos, apparently quite a few blue make-up products and pieces of clothing. We imagine those won't be included in the listing, though.
Perhaps those particularly drawn to the color will find themselves especially taken with the apartment, which was just listed for $3.75 million with Town Residential brokers Susan Singer and Laurie Gilmore.
Considering he is the owner of Da Silvano, the famed 40-year-old downtown Italian restaurant, the open kitchen is as decked out as one would expect, with with double Miele wall ovens, a Gaggenau vented cooktop, Liebherr refrigerator and Sub-Zero wine fridge, all of which overlooks the entertaining space. As fancy as the kitchen may be, it's apparently barely ever been used.
"The kitchen is spectacular—it's gorgeous and brand new," Gilmore told the Observer. "It's basically never been cooked in," she laughed. "It's set up to be a professional chef kitchen." We suppose that when one owns a restaurant just two minutes away, the kitchen in one's apartment perhaps doesn't hold up.
There are rough-hewn wide-plank floors and oversized windows throughout, and an entire wall of floor-to-ceiling glass doors in the living area, which opens to one of two terraces.
"The most outstanding thing about the apartment are views," Singer told the Observer. "There are very few pieces of artwork on the walls, and we did that deliberately—the views are the art,"" she declared.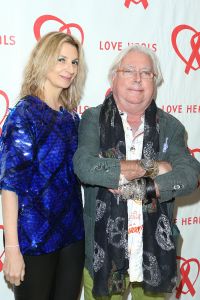 The master suite features a Jacuzzi soaking tub surrounded by marble, as well as a massive dressing room.
"He's lived in the building for over thirty years, and in this apartment for about eight," Gilmore said. "It was combined from different units." As for why they're leaving now? "They're just downsizing," Singer said. "It's a very large apartment for a couple—they're using one of the bedrooms as a walk-in closet," she laughed.
We must say, it'll be difficult for Marchetto to find an apartment that is more convenient than this when it comes to his work commute­—Da Silvano is located one block away.