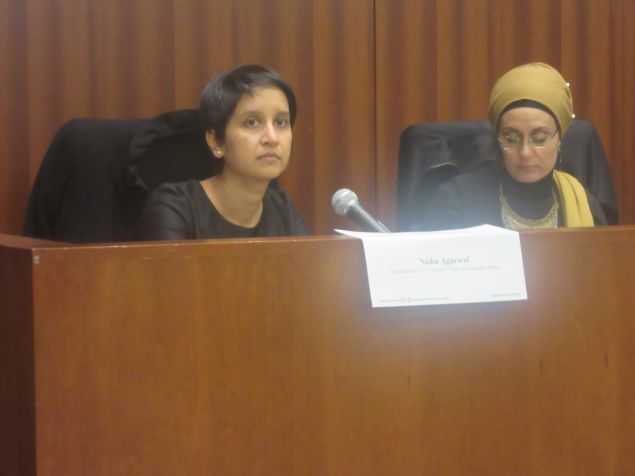 Immigrant Affairs Commissioner Nisha Argawal said the city will have to "wait and see" what kinds of policies President-Elect Donald Trump actually tries to implement once he's sworn in, but vowed the city would continue to support and advocate on behalf of Muslims and immigrants generally.
Agarwal—a public interest lawyer whom Mayor Bill de Blasio appointed to head the Mayor's Office of Immigrant Affairs in February 2014—was part of the panel last night on how the election results would affect Muslims in the United Stats and how to combat discrimination at the New York Law School that included professors and advocates. The event was organized well before the election actually took place, when few foresaw an electoral triumph for Trump and his campaign promises to bar people from Middle Eastern countries from entering the United States.
"I don't think that President-Elect Trump had the most detailed policy platform so to some extent, we will have to just wait and see what he decides to do," Agarwal said. "A really important thing that we've been thinking about, we have power to impact that. That's the reality of democracy: we can impact that at the local level in terms of how we behave."
She said Trump's proposals lack depth but that the city can leverage its partnership with affected communities and other American cities to determine "what we bring to D.C. when we need to fight back and if we need to fight back."
De Blasio told reporters Wednesday and Thursday that he was willing work with Trump but pledged to protect the records of the city's municipal identification program, which gives I.D.s to undocumented immigrants and other marginalized groups. Agarwhal said that 900,000 New Yorkers have signed up for the IDNYC program since it launched last January.
Among the other issues discussed during the panel event were whether a Trump presidency would mean yield a tougher stop-and-frisk policy, the deportation of people lacking proper paperwork, the potential for a spike in hate crimes and and the institution of a Muslim registry and immigration ban.
Trump's proposed Muslim ban—which was first published on his campaign website in December after the 2015 killings of 14 people in San Bernardino, Calif.—briefly disappeared from his campaign website today, perhaps putting the proposal's implementation into question. But by the afternoon, it was restored, with his staff calling it a technical issue.
More than one out of three New Yorkers were born outside of the United States—and when their children are added to the tally, that comes out to 60 percent of New York City, according to Agarwal. The city is also home to tens of thousands of refugees who have fled difficult situations in their home countries.
Indeed, Agarwal says the administration has undertaken a variety of steps to create a more inclusive atmosphere for Muslims and other minorities.
"The bottom line here is I think that what the city has been doing, I think, is a good sign of sort of how we will continue to respond post-election: is investing in immigrant and refugee communities and fighting against rhetoric that is perhaps sharper now but frankly is something that we've been dealing with historically so it's really about inclusion—not just in words, but in action," Agarwal said.
She touted the fact that two Muslim holy occasions, Eid Al-Fitr and Eid Al-Adha—are now public school holidays and the city's "I Am Muslim, I am NYC" social media campaign.
She also noted that in June, the three offices organized an Iftar dinner with 400 people outside on the Lower East Side. The event, she noted, coincided with the Supreme Court's split decision  that left in place a lower court's ruling that blocked President Barack Obama's plan to keep at least 5 million undocumented immigrants from being deported. She also recalled the mayor's recent forum on how to build inclusive and progressive cities with London Mayor Sadiq Khan, the city's first Muslim mayor with whom he enjoys a friendship that started in 2014.
And the mayor co-leads Cities for Action, a coalition of more than 100 mayors and municipal leaders throughout the country advocating for immigration reform.
"They drafted a letter to the Obama administration calling for increases in the number of Syrian refugees that we're accepting," Agarwal said. "During the time, it was a considerable debate, if you could call it that."
Disclosure: Donald Trump is the father-in-law of Jared Kushner, the publisher of Observer Media.