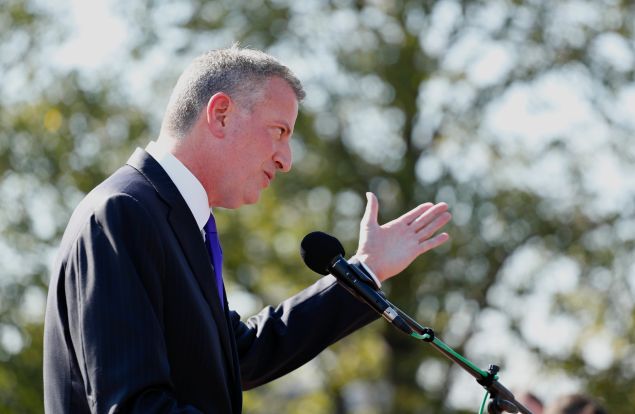 Mayor Bill de Blasio said last night that Hillary Clinton's platform—which he once praised "most progressive of any Democratic nominee in many decades"—wasn't liberal enough after all.
During the late days of the campaign, de Blasio said he was confident that delaying his endorsement of the ex-secretary of state helped to push her in the direction of taking a "more progressive stance" and "a vision we could believe in." But six days after Trump clinched the electoral college , even though Clinton won more popular votes, de Blasio claimed the Democratic nominee didn't go as leftward as she should have.
"The primaries were all about that and the platform resulted from these primaries and then the discussion of the powerful ideas, raising taxes on the wealthy, increasing wages and benefits, things like paid family leave, paid sick leave, things that really would have resonated with so many people hurting in this country," de Blasio told NY1's Errol Louis in his weekly "Mondays with the Mayor" segment. "That really got put in the backseat."
The mayor said he's still in the process of organizing his thoughts, but he's certain that the platform lacked a "much more central focus on the economy" and a "progressive populist economic message," calling it "amazing" that neither was present.
And he argued his party has repeatedly refused to offer such a message, seemingly suggesting that Democrats should have learned from previous mistakes.
"It did not have to be and it isn't the first time the Democrats have failed to put forward a strong, powerful progressive economic message so this is something that's gonna be crucial to the discussion in the party about where do we go from here," de Blasio continued.
Indeed, de Blasio asserted that should be the party's main focus right now. He declined to endorse any candidate for the Democratic National Committee chair position, saying he has not seen enough of the list of credentialed candidates yet and that he does not "have a vote in that."
But he did call Minnesota Congressman Keith Ellison—the first Muslim elected to Congress—"fantastic" and former Vermont Governor Howard Dean was "great" as DNC chairman from 2005 to 2009, referring to both candidates for the chairmanship "change makers."
And he seemed to take a jab at former DNC Chairwoman Debbie Wasserman—who he said needed to go when she resigned over Wikileaks' release of damaging hacked emails—and interim chairwoman Donna Brazile, after another Wikileaks dump revealed she shared questions with the Clinton campaign ahead of a CNN town hall.
"I think the important thing is that, be a clear progressive with a vision for restoring this party at the grassroots and pushing an economist populist platform," de Blasio said. "And I think that we cannot do is have a chair who will keep us in the same paradigm as we were before, which just will not work anymore."
And the liberal Democrat admitted that he sensed defeat as election night continued after speaking enthusiastically and confidently about a Clinton victory at a block party outside Javits Center.
"Well later on I was in the Javits Center as results really started to come in and I think between 10 and 11 p.m., I became very worried 'cause I just didn't see anything good happening in the key states," de Blasio said. "And then I don't remember the exact time—it was certainly between 11 and midnight—it was clear to me that there was almost nothing left that could happen right. There was almost no path."
The mayor also said he had a "brief" and "respectful" conversation with Trump today in which the two agreed to get together but still acknowledged that they have very different views.
He said as time goes on, he will inform Trump more deeply about the concerns and fears New Yorkers have about what could occur under his administration and "make very clear that we in this city are gonna stick to our values."
"I think in a brief initial phone call, Errol. my job is to be respectful and to seek dialogue," de Blasio added. "In an actually sit-down, I think there has to be a blunter conversation."

Disclosure: Donald Trump is the father-in-law of Jared Kushner, the publisher of Observer Media.