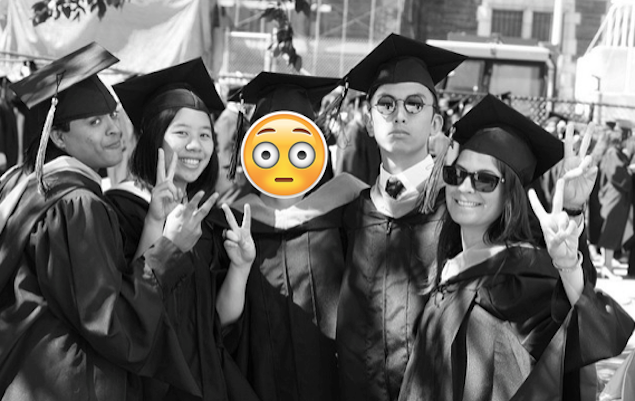 Welcome to "Dear Stranger," the Observer's new advice column.
Who am I? Well, I'm Dana Schwartz, a girl who spends too much time on Twitter, and who orders in too often when she should really cook the vegetables she bought at the grocery store the other day that are slowly rotting in the fridge. But, more importantly, I'm also a stranger. And sometimes you need advice from a completely unbiased party (who just happens to always be right.)
Email DSchwartz@Observer.com with your questions or concerns, big or small. Put "Dear Stranger" in the subject line so I pay attention to it.
Dear Stranger,
I'm about to graduate college with a Bachelor's Degree in English (Lit and Writing) and Women's, Gender, and Sexuality Studies in a terrifyingly short SIX MONTHS!? I have no idea what I'm doing post-grad. I know I'd like to go to grad school eventually but I really honestly want to write right now.
 I've considered different arms of Americorps, like City Year or Teach for America, but I'm not sure if that's exactly what I want. I know I should freelance and apply for internships and jobs but I'm scared of not getting anything. All of my friends seem to have concrete plans, back up plans, and I don't yet. I'm petrified of graduating and feeling lost.
Please help!
C
I remember one afternoon my senior year in college, sitting upstairs in the campus bookstore café with my laptop, desperate to do anything except my homework. And so, even though I wasn't an English major, even though I was a pre-med student who had only interned in labs, even though I had no real experience, I sent dozens—literally dozens—of emails to the places I only dreamed of working, asking if they offered internships or freelance opportunities.
I thought of it like a game: First, pick the targets. If I could choose anywhere to work, where would it be? My answers turned out to be late night comedy shows and magazines. Next, find email addresses for people who work there. Finally, send the email—not a mass email copy and pasted from the last inquiry, but an earnest, honest note about why I wanted to work there and what I could delivery.
For maybe 30 emails, I got one nibble, but it was enough. I got an internship at CONAN, and I was able to use that experience to get the next internship, and then an assistant job, and then a real job.
I know it's easy to say, "Just don't be scared of rejection!" because rejection is awful. It is the worst and it makes me want to cry. When I get rejected, I delete the email as quickly as possible and then pretend it never happened. I am not emotionally mature. But the not-so-secret secret is the more rejection you get, the less it hurts. Being rejected builds the armor against itself. It's like magic. And by the way, your friends who already have jobs? I'll bet you $50 those jobs are in banking, or consulting, or tech, or tech consulting. Sure, they're already employed, but would you want to switch places with any of them? They're going to have to wake up at like 5:30 every morning and wear pantyhose. I have hives just thinking about it.
So, my advice is, don't do Teach For America or City Year if you're not passionate and excited about them. You deserve to do something you love, at least until you have a mortgage to pay off, or age 30 when, by law, you have to give up on your dreams.
Even with all of my aggressive emailing and a burgeoning reputation as that girl who made that parody twitter account, I graduated college without a job, and so I spent 10 weeks traveling through Europe for as little money as possible.
Apply aggressively to everything — getting a job can feel like playing the lottery and you might as well get as many tickets as you can. Ask people you admire how they got to where they are. If you want to be a writer, write. If you want to be a director, direct something. Use all of the resources your college has to offer (video equipment, professors who have to read everything you turn in) while you still can.
And then, if you graduate and still don't have a job, I recommend the Castle Rock Hostel in Edinburgh, where the rooms literally overlook the Edinburgh Castle. There's a place around the corner that sells hot chocolate floats: hot chocolate with gelato. If you do some work there, they discount your room, and if you get a job you can stay for free.
If you do Teach For America or something, you're still going to be you, and you're still going to be confused, just doing a job you don't really care about in a place that you don't know anyone. If you're going to do that, do it with a view overlooking a castle.
Have a question? Email DSchwartz@Observer.com. Have a very short question? Tweet @DanaSchwartzzz