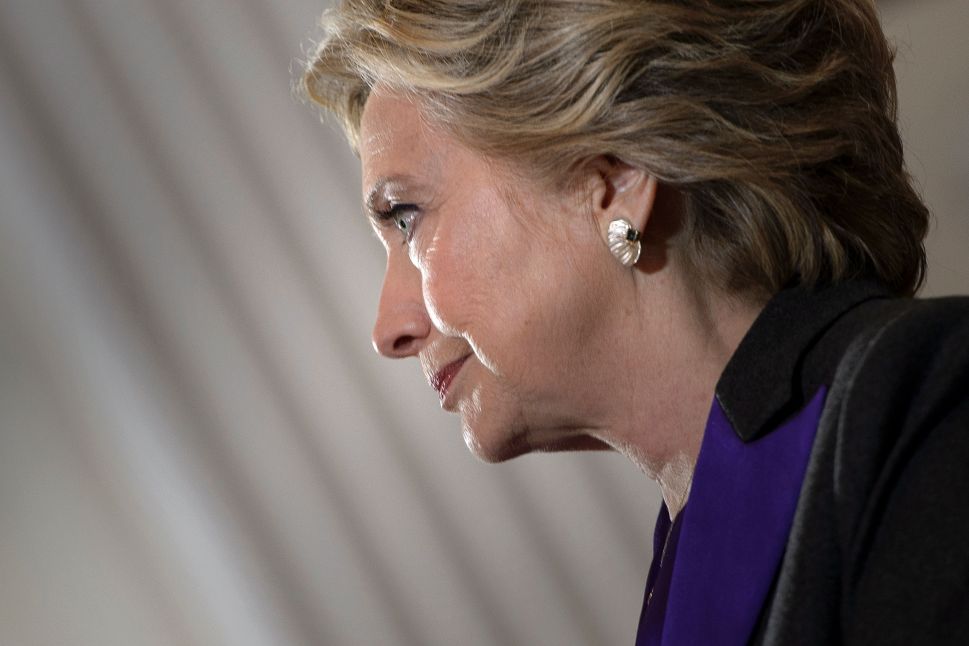 In the wake of Hillary Clinton's loss to Donald Trump, the Democratic establishment has strongly resisted calls for reform from progressives. Corporate-friendly Dems are slated to assume leadership roles in Congress. The fight for the new Democratic National Committee (DNC) chair involves staunch establishment opposition to Bernie Sanders' choice, Rep. Keith Ellison. Though Sanders has been placed in charge of the Democratic Party's outreach to capitalize off his popularity with disenfranchised voters, it's going to take a lot more than exploiting Sanders as a marketing tool to save the Democrats.
The solution for the Democratic Party's recovery won't be found in editorials published by pro-Clinton mainstream media outlets who propped up her candidacy and relentlessly smeared those who challenged it. The Democratic establishment is popular with the journalism elites—as evidenced by a recent list published in The Washington Post on potential Democratic presidential candidates for 2020.
The Washington Post cited Sen. Cory Booker as a likely front-runner for the 2020 Democratic primaries. What they didn't mention about Booker was that hedge funds and Wall Street love him. Nor did they mention his record of desperate publicity stunts.
"All politicians are to some degree wannabe celebrities, but it has been a while since we have met a showman as narcissistic as [Booker]: a man who makes Chuck Schumer look camera-shy, who makes Michele Bachmann seem like a subtle media operator," wrote Jason Farago for the Guardian in 2013. He added Booker is "a neoliberal egomaniac who sees government as nothing more than a charity for billionaires and corporations to support as they please."
Booker served on the board of an anti-union, pro-charter school education organization Alliance for School, with Trump's pick for Secretary of Education Betsy Devos. He shared 74 of the same wealthy donors in 2014 as Republican Majority Leader Mitch McConnell. Gawker's Hamilton Nolan wrote earlier this year that Booker's name is now synonymous with "sellout," making him an ideal candidate for the Democratic Party establishment but another bust for progressives who will be pining for a Sanders 2.0 in 2020.  
Though Sanders will likely be too old to run for president again, his input, and who he ultimately endorses for president in 2020 will likely emerge as the front-runner for the party's nomination. But The Washington Post failed to acknowledge any influence Sanders would have on the 2020 primaries. For many voters, where a particular candidate's support fell during the 2016 primaries will serve as a litmus test for whether they can be trusted to stand up to the powerful wealthy influences that have taken over the Democratic Party.
Sen. Kirsten Gillibrand was cited as a rising star in the Democratic Party and a possible candidate in 2020. Reports claimed she has already begun reaching out to Clinton donors in preparation for a 2020 run. Gillibrand owes her Senate career to Clinton, whose seat she inherited. The Washington Post noted, "it remains to be seen whether that is a good thing." It's not a good thing, and nothing Democrats do over the next four years will ever make being tied to the Clintons a good thing again.
Newly elected California Sen. Kamala Harris was listed as a potential presidential candidate. Harris' sister Maya Harris served as the Clinton campaign's senior policy advisor. California Lt. Gov. Gavin Newsom, who co-founded the Ready for Hillary Super PAC, was also listed as an ambitious 2020 presidential prospect.
Virginia's Tim Kaine and Terry McAuliffe, who both closely orbit Clinton World were cited as two possible contenders for the Democratic presidential nomination. Yet there is nothing appealing about either of them. Kaine brought very little to the Clinton ticket, and McAuliffe is scandal-ridden, thanks to his role with the Clinton Foundation and various suspicious campaign donations. Sens. Chris Murphy and Claire McCaskill were some of the other Clinton campaign surrogates thrown on the WaPo list.
Many possible candidates listed by the paper have been discussed by other mainstream media outlets as potentially viable. Still, the lack of originality, and the obsession with highlighting potential candidates with Clinton ties goes to show that the mainstream media—along with their Democratic Party establishment counterparts—have learned absolutely nothing from the 2016 presidential election.