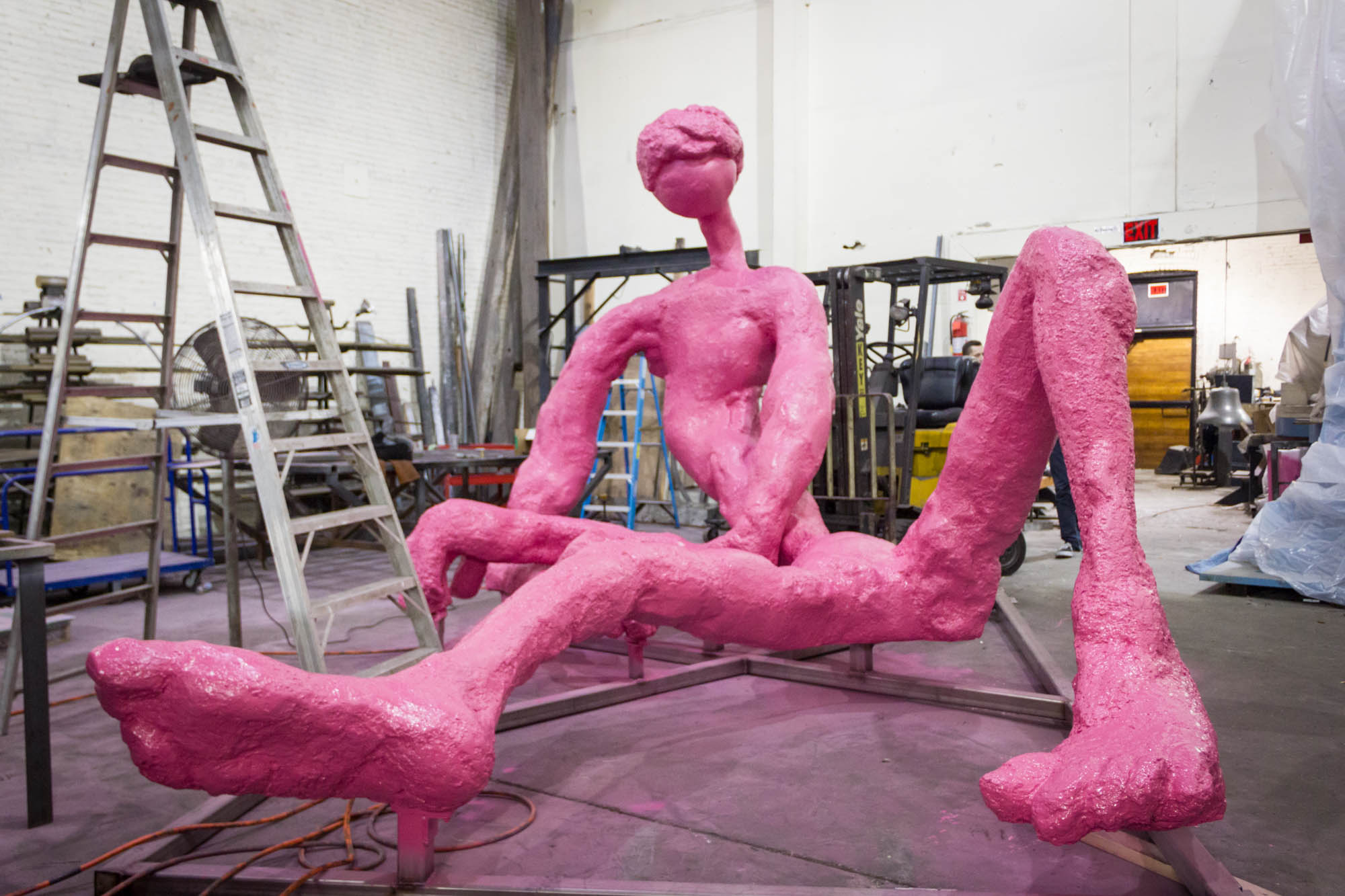 A bright pink public artwork that initially sparked public outcry among some Queens residents when it was first proposed two years ago is finally being unveiled. Tomorrow, New York-based artist Ohad Meromi's nine-foot-tall bronze sculpture of a reclining figure, titled The Sunbather and painted an unmissable shade of bubblegum, will be installed at the intersection of 43rd Avenue and Jackson Avenue in Long Island City.
The work was commissioned by the Department of Cultural Affairs through its Percent for Art Program, an initiative that reserves one percent of the budget from eligible city-funded construction projects each year for large-scale public art. But while public art is primarily meant to beautify neighborhoods, The Sunbather's lumpy form and bold color has made it an unlikely catalyst for transparency, igniting calls for better communication between the city and residents.
This week, The Sunbather was given its final polish inside the Serett Metals, a spacious garage along the Gowanus Canal, before it would be carried off by truck to be installed on a bed of shrubs on Saturday morning. The 4,000-pound work, according to Meromi, may be pink but it's neither male nor female. "The main thing is the gesture," he told the Observer.
"It's a monumental sculpture—laying down," Cultural Affairs commissioner Tom Finkelpearl said, marveling at the finished work during the last minute inspection from the Percent for Art team.
"When this piece goes up, it's going to make a splash. It's going to be noticed," added City Council Member Jimmy Van Bramer.
When installation is complete, the sculpture will be a new iconic landmark for the Council Member's district, Long Island City and the borough of Queens.
Selection of the work was decided by a panel comprised of arts professionals and representatives from city agencies, the Council Member's Office and Community Board 2. But when the Department revealed plans for Meromi's sculpture in 2014, a few Long Island City locals made it clear they were less than thrilled about the giant bronze. In an article by the local blog LIC Post one board member said, "This looks like you dug up Gumby's grandmother and threw it on the median." Commenters echoed those concerns in the comments section, using phrases such as "ugly piece of pink poop," "used bubble gum" and "Carnival type art" to describe the proposed work.
Among residents' complaints were claims that the Department had moved forward on plans for the artwork—which cost near $515,000 taxpayer dollars—with little input from the public. "In the beginning, the outcry was confusing," Meromi told the Observer. "But after speaking with community, I enjoyed having an opportunity to talk about ideas."
Meromi got a chance to discuss the work with residents when city officials invited the public to attend a town hall-style meeting at MoMA PS1 on March 18, 2015. Close to 300 people showed up, as did Finkelpearl and Van Bramer. Community involvement, Finkelpearl said, was the main topic of discussion during that meeting, in addition to Meromi's concept for the work.
The sculpture is just one part of a longterm vision for Jackson Avenue. Van Bramer noted that amid the low-lying residential brownstones and arts institutions (MoMA PS1, Sculpture Center and the Noguchi Museum) of Queens' 26th District, glass towers are rising—and fast. The Jackson Avenue Streetscape Project will place The Sunbather at the center of a newly installed traffic median, dividing Jackson Avenue into a wide boulevard that has been improved by new lighting and road design, according to a release from the New York City Economic Development Corporation.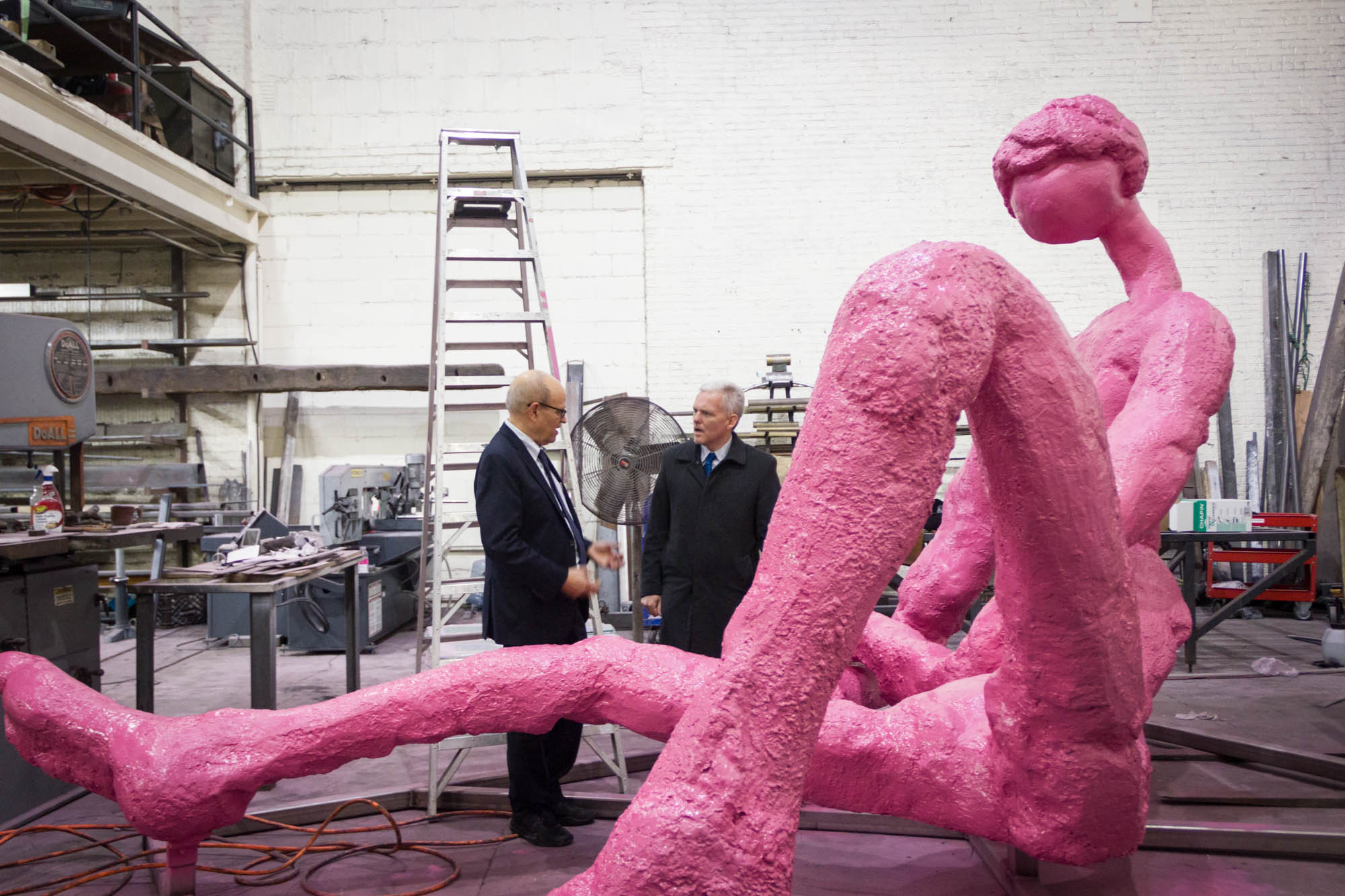 The initial backlash over Meromi's sculpture has inspired Finkelpearl and Van Bramer to proactively ensure the public won't get left out of any conversation about art in their neighborhoods in the future. They've penned Intro. 742-A, a bill which was signed into action by Mayor Bill de Blasio on June 2, and requires that at least one public meeting be held for each Percent for Art project going forward.
And now that the journey from the foundry to the street is nearly finished, how is Meromi feeling about his first experience making public art? "I wish I could do only this," he told us. "I think I'd do it better [next time]."
It was a learning experience for all involved.
"We want to build support for public art," said Van Bramer. "The city is a better place when we all have public art."