As a brand, Loewe has become well-known for its leather goods and bags touted by "it" girls and street style stars, ever since creative director Jonathan Anderson took the helm in 2013. The Puzzle bags and precocious elephant-shaped crossbodies have become objects of desire, despite their high price points. The bags go for $1,290 for the smallest, with the price inching higher and higher, as the bags get larger or the material gets fancier. The average Puzzle bag comes with a $2,450 price tag. Similar to other luxury brands, like Celine or Chanel, these goods rarely go on sale—so Loewe's first outlet in the U.S., located at Woodbury Common, is a pretty big deal.
The small shop, located just across from the brand new Acne Studios outlet, opened this past weekend. You'll find bags, wallets, clothing and accessories for both men and women, at a steeply discounted rate. And yes, they even have signatures of the brand, such as the Puzzle bag, the Flamenco Knot bag and the Barcelona bag.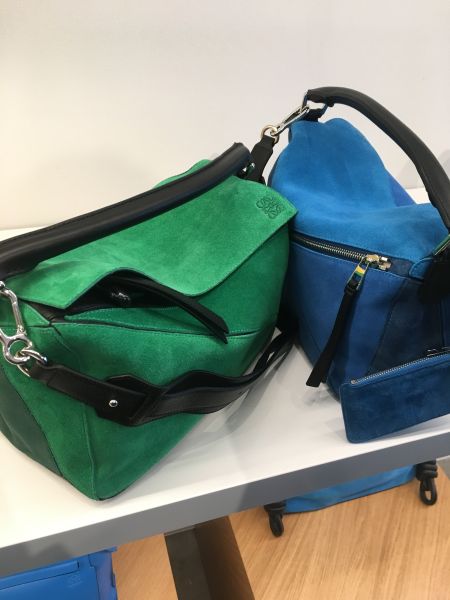 A limited edition Puzzle bag in white, black and white from the Spring 2016 runway was selling for $1,700, down from its regular price of $2,450, while suede renditions of the classic style were selling for around the same discount. A scarlet hued Flamenco flap bag retailed for $1,175 down from $1,950 and a pair of gorgeous heeled leather boots with tricolor stripes on the toes were unmarked in terms of price, but when I asked a sales associate, he told me that they were going for a mere $340. If you're not looking to spend over $1,000 on bags, the outlet was also selling some of the label's T Pouch clutches for a little over $500.
You might just find the biggest discounts in the most unexpected places. At the back of the store is a rack of ready-to-wear clothing for men and women. A gorgeous oversized leather bomber jacket from the fall 2015 collection was marked $1,350, down from its original price of $4,490. Not cheap, but certainly an amazing discount that you'd be hard pressed to find elsewhere, even during sale season in Manhattan. Another metallic pleated dress, from the same collection, was going for $975, originally $3,250. There were also some sweaters and belts in the lower price range (considering the brand) for a little less than $300.
Madrid-based Loewe has been around since 1846, when it was founded as a leather house in Spain. Despite its recent popularity, there isn't even a standalone Loewe boutique in New York City. To purchase the brand's "it" pieces, you'd typically have to order online or visit a major department store or boutique like Bergdorf Goodman. It comes as a bit of a surprise that the label has chosen to open an outlet in Woodbury, but with almost all pieces slashed down to 40 percent off, we're definitely not complaining. Think of the new outlet as a permanent Loewe sample sale, hidden in the idyllic hills of the Hudson Valley.