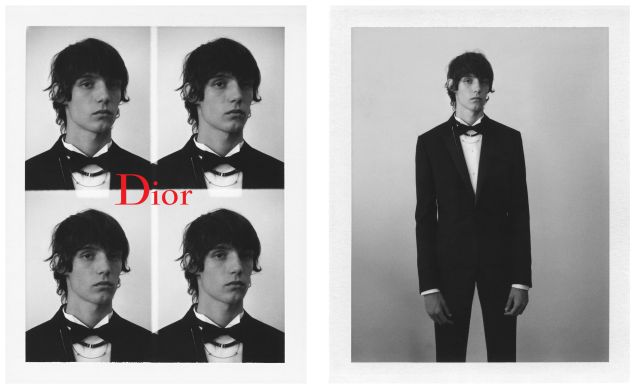 Come Spring 2017, Dior Homme is introducing an antidote to boring formalwear. According to Kris Van Assche, he is "reworking the evening suit by pushing it in more extreme interpretations." The result is The Black Carpet Collection, a capsule that aims to elevate the after-dark wardrobe of men everywhere.
There will be no ill-fitting tuxedos here; the same goes for cringe-worthy satin lapels. Instead, Dior's skinny silhouette reigns supreme and classic fabrics are deconstructed or toughened up with paint splatters or purposeful creases. Basically, these are the suits you want to wear to your artist friend's wedding or any dressy fashion week party, at any city in the world.
"The idea of the Black Carpet was to convey the energy and rebel attitude of the runway collection on a capsule collection of evening wear, while playing with the embellishment codes and the know-how of Dior," said Van Assche on the range. Did we mention that selvedge fabrics are used in the construction of these formalwear pieces? Or that a "scar" is etched into the lapel of a Smoking Jacket, to reveal a black and white scribble underneath?
Though we can't promise that you will actually become cooler by wearing a piece from this collection, we can guarantee that you will at least adopt an air of intrigue. Which we hear is totally in for Spring 2017.