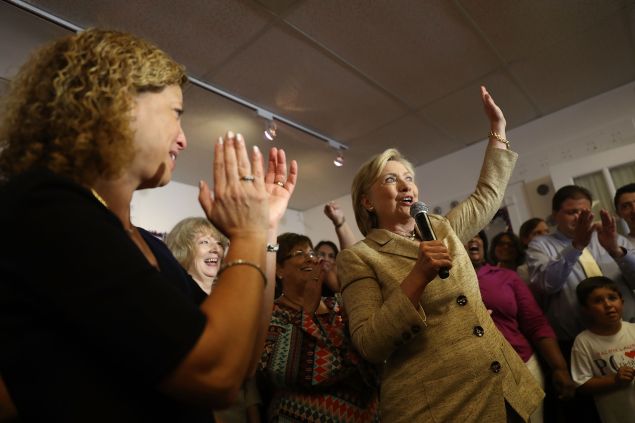 On November 3, WikiLeaks released the 28th batch of emails from Hillary Clinton campaign chair John Podesta.
A glimpse into the foundation of the collusion pact between the Clinton campaign and former Democratic National Committee (DNC) chair Debbie Wasserman Schultz that subverted democracy throughout the Democratic primaries to ensure a Clinton victory is seen in a February 2015 email.
Clinton aide Huma Abedin sent Podesta and Clinton campaign manager Robby Mook a brief transcript of a phone conversation between Wasserman Schultz and Clinton before the latter formally announced her campaign. Though Clinton has claimed she was unsure she would run for president to defend why she was still accepting highly paid speech gigs around this time, both Clinton and Wasserman Schultz knew she was undoubtedly going to run. They both discuss their preferences for the Democratic National Convention and hiring preferences, already planning Clinton's victory lap together before the primaries even started.
In April 2015, Wasserman Schultz told the Sun-Sentinel, "Secretary Clinton, I think is arguably one of the most qualified people—assuming she announces her candidacy—who have ever run for president. I was proud to support her in 2008. Of course, as DNC chair, I will neutrally manage our primary nomination contest, assuming we have one." For the supposed neutral Wasserman Schultz, no one except Clinton would be considered by the DNC as a possible option for the Democratic nominee. Clinton formally announced her candidacy two days after the Sun-Sentinel piece ran.
"Biding my time for now," Clinton told Wasserman Schultz, as recorded in the February email. "Need to hire a CEO. Will run a process and determine that. If you have candidates that are good to look at, let me know and we'll be sure to let you know," Wasserman Schultz told Clinton about hiring a DNC convention CEO. Emails previously released have shown the Clinton campaign had direct influence on several DNC hiring decisions in the early stages of the primary.
It was revealed in separate emails that the debates and the primaries were scheduled to favor Clinton's candidacy. Clinton met with Wasserman Schultz before she announced, after which Clinton staff said Wasserman Schultz was ordered to set up decoy meetings with other candidates to cover their tracks of coordinating with one another.
DNC interim chair Donna Brazile, who threaten to cuss the Sanders campaign out in the WikiLeaks DNC emails released in July, was also implicated in emails which show her violating the DNC charter by helping Clinton cheat before CNN debates and town halls. The mainstream media has yet to hold the Clinton campaign accountable for their role in welcoming Brazile overtly cheating to help them. But that's what the Democratic Party's modus operandi was throughout the Democratic primaries. The only thing that mattered was ensure Bernie Sanders didn't interrupt Hillary Clinton's coronation.