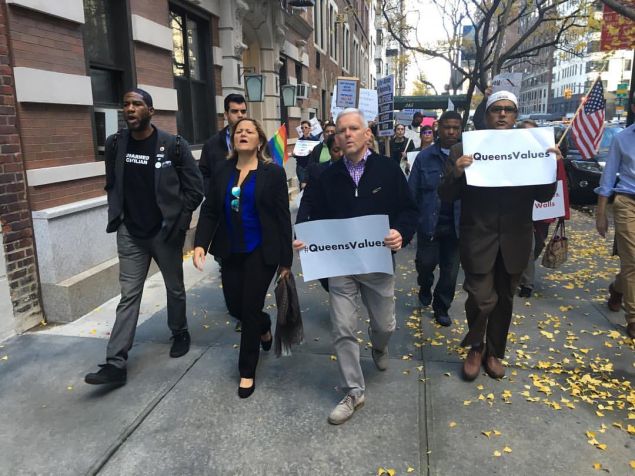 Queens Councilman Jimmy Van Bramer led a hundreds-strong march from the 59th Street Bridge to Trump Tower to send a message that Trump may be from Queens, but his divisive rhetoric toward minorities does not represent "Queens values."
Van Bramer—an openly gay man who recently received a death threat after he publicized the march—was joined by his husband, Council Speaker Melissa Mark-Viverito and Brooklyn Councilman Jumaane Williams. He says Trump may have been raised in Queens, "but he is not in Queens anymore."
"If you believe in the values that I know you believe in, then I want all of you to speak loud," Van Bramer said. "We don't know if Donald Trump is in the tower or in some gold club in New Jersey, but I want him to hear all of you tonight."
The councilman read a statement of "Queens values," which includes the rejection of racism, misogyny, a culture that "tolerates, encourages, even jokes about sexual assault" and anti-immigrant sentiment, including against the undocumented. He also said values include support for the rights of sexual minorities and a rejection of "racist attorney general," a reference to Alabama Sen. Jeff Sessions, Trump's pick to head the Justice Department.
Sessions' nomination for a federal judgeship in 1986 under Ronald Reagan was derailed by allegations that he spoke favorably of the Ku Klux Klan, called an African-American prosecutor "boy" and the NAACP "un-American."
Van Bramer railed against Vice President-Elect Mike Pence's support for electro-shock therapy as treatment for gays. As governor of Indiana, Pence also signed off on a "religious freedom" law that appeared to legalize discrimination against non-gender conforming individuals—that is, until the Hoosier State hastily amended it following mass boycotts last year.
"I can say to the vice president-elect, you will never make me straight," he said to laughter and cheers.
Trump has said he will ban Middle Eastern immigration to the United States and that he would establish a Muslim registry. He also said he would deport 0r incarcerate up to 3 million undocumented immigrants he called criminals.
"People were angry, depressed and feeling powerless," Van Bramer told the Observer after the march ended. "I wanted to do things that brought people together, to make them realize that they're not alone and to remind them of their power."
He also said the NYPD is actively investigating the death threat against him and that he spoke with Police Commissioner James O'Neill yesterday, noting that the Police Department is "very aggressively pursuing leads."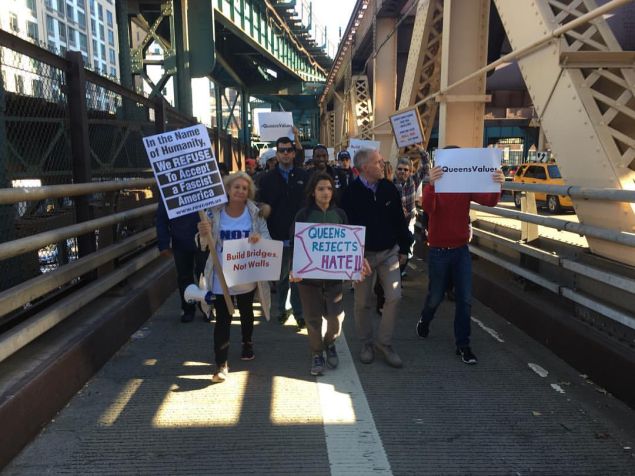 As protesters mounted and marched over the 59th Street Bridge, they chanted "Donald Trump, go away! Racist, sexist, anti-gay!" Unlike an anti-Trump protest from Union Square to Trump Tower held the day after the election, there was no cursing, as Van Bramer advised against it given the participation of children.
But as they arrived into Manhattan after an hour of walking on the bridge, they shouted "Love, not hate! That's what makes America great!" and "Say it loud, say it clear, immigrants are welcome here!" Cars could be heard honking and people videotaped the march.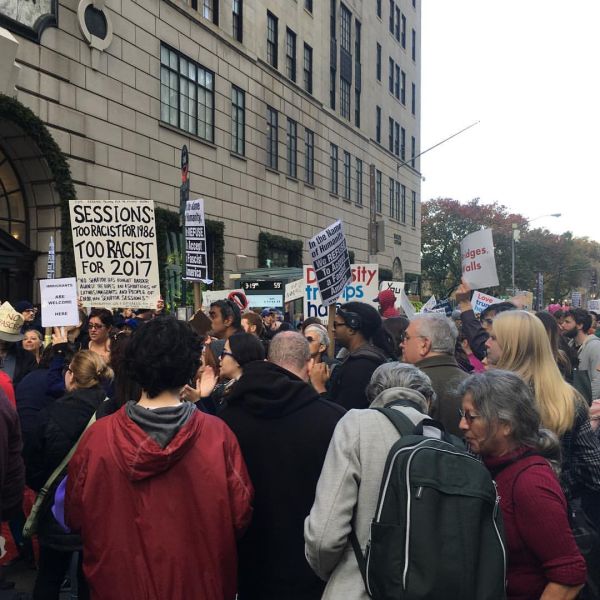 At one point, the protesters chanted, "Build a fence around Mike Pence," mocking the president-elect's plan to build a wall on the Mexican border. One protester could be seen holding a poster with the phrase: "SESSIONS: TOO RACIST FOR 1986 TOO RACIST FOR 2017" and a quote by Illinois Congressman Luis Gutierrez: "No senator has fought harder against the hopes and aspirations of Latinos, immigrants and people of color than Senator Sessions."
They also protested against Trump's appointment of Stephen Bannon, who was once charged in a domestic violence case in 1996 and who ran Breitbart News, a far-right website that flirted with racism and anti-Semitism.
Mark-Viverito, who has been very vocal in the aftermath of Trump's victory on Twitter about her distaste for the president-elect, told the Observer that she came to offer support.
"I believe in justice and equality, inclusion, diversity, those are all things that administration of Trump is not supportive of and he's demonstrating by the appointments," she said. "I'm really not gonna stand for it, I'm not gonna be quiet about it."
And she believes Trump does not represent Queens values, describing present-day Queens as diverse.
"We support that, we believe in that and that is not what his campaign and his platform was about," Mark-Viverito said. "So he may be of a Queens of another era but he definitely does not reflect the Queens of today and the values of the Queens of today."
Comptroller Scott Stringer said before the march kicked off that his son was shocked by Trump's triumph.
"I told him that Donald Trump had won and he knew very clearly what that meant when he said, 'How does the bad guy become the president?,'" Stringer said. "And we have to say to all of our children that we are going to march with you and defend your future. We are not gonna back down."
Disclosure: Donald Trump is the father-in-law of Jared Kushner, the publisher of Observer Media.