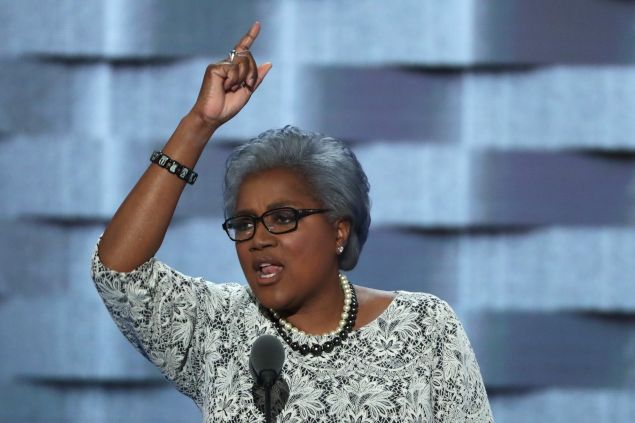 Donna Brazile's leaking of presidential debate questions to the Clinton camp is not the first time the Democratic strategist has played CNN in pursuit of her own objectives. As a correspondent for the network, I was privy to her effort to manipulate CNN's news coverage of the 2008 Democratic presidential primary race.
A tip had come to CNN from an extremely reliable and well-placed source. I was told by the Washington editors one morning late in 2007 that  Al Gore has been seriously considering entering the race for the presidency and is close to joining the Democratic primary field, which included Senators Barack Obama and Hillary Clinton. My assignment was to check out the tip. Since losing to George W. Bush in the tightly contested election of 2000, Gore had stepped away from politics and become a very wealthy businessman. If true, this would be big news.
"Who's the source?" I asked.
"We can't say."
"Come on."
"Can't say. Check it out."
I started digging, reaching out to Gore, his business partners and every Democratic official, donor, and fundraiser that I could think of.  It was very late in the game, and to get in, Gore would have had to connect with big money Democrats to support and fund a presidential race, especially since other candidates had already nailed down their backers.
Not surprisingly, Gore's office issued a denial. I called Brazile, who had been Gore's campaign manager in 2000, leaving a message when told she wasn't available. Top Democrats and fundraisers I reached all had pretty much the same reaction: "I know nothing of that." "He hasn't said that to me." "First I've heard of it." "Doesn't sound right." There was not a hint of Gore even considering a run from people who should have known.
"I need to know your source!" I demanded of the Washington editors, "Because it looks like we don't have a story."
"Call Donna Brazile."
"I have."
"Call her again. She's it."
I dialed Brazile, one of CNN's regular commentators, but again she didn't take my call. A half hour later I called once more, telling the receptionist I simply had to speak to her immediately. Brazile got on the line, only to say, "I've got nothing to tell you."
It was clear the "tip" was a hoax. The Democratic operative, who was not managing another Democrat's bid for the presidency,  was trying to use CNN to float her former candidate's name back into the race, playing a political game at CNN's expense. Donna Brazile did not respond to my request for comment for this article.
Manipulating the media is a big part of what political strategists do in their effort to further their party, politicians and policies.  They are not journalists who are devoted to digging up the facts and reporting them accurately.
Far more troubling than Brazile's efforts to plant a false story and tip off the Clinton camp about upcoming debate questions, is the fact that all the cable news stations, including CNN, grant a very substantial chunk of their air time to political operatives whom they pay, people like Brazile who have their own agendas, which often have little to do with the truth. Would it be shocking to learn that other political strategists have tried to gain advantage from their side jobs as television commentators?
Today, much of the "news" coverage on news stations is dedicated to paid commentators who share their biases and spin the facts to their advantage, while dozens of talented journalists at the networks sit on the sidelines, unable to get on the air to report real news. Not only does this hurt the credibility of TV news, but it's also a disservice to Americans who rely upon journalistic organizations for reliable information. When Americans are misinformed, our democracy suffers. This is what happens when news networks turn into opinion networks.
Let the Brazile incident be a learning moment. TV news executives need to put more of their reporters back into the game, in the field and on the air. The purpose of journalism is to inform the public, not to distort the facts and certainly not to mislead the public. News networks should use commentators sparingly and allow their journalists to reclaim the airwaves.
Allan Chernoff was CNN senior correspondent for 11 years and reported for CNBC, NBC News and MSNBC. He is CEO of Chernoff Communications.