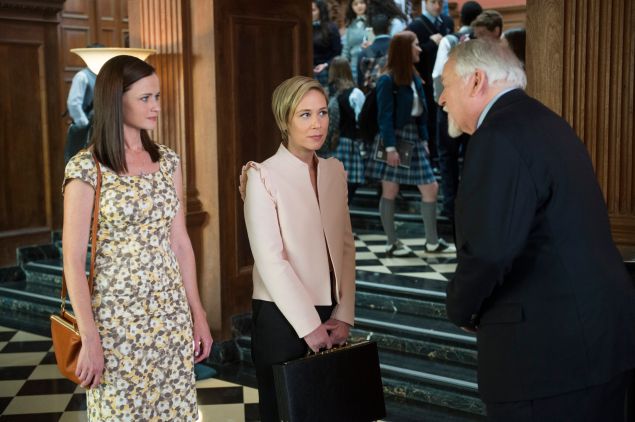 Welcome to our TV Fashion column, where TV Ate My Wardrobe's Emma Fraser discusses the trends in television apparel. This week: Paris Geller is back in Gilmore Girls: A Year in the Life, and she is dressed like a boss. 
Power dressing comes in many forms and the ways in which women dress to exude their position in the workplace has been an area of focus I have returned to on multiple occasions this year. Whether it is statement necklaces in Westeros or the courtroom, a bold red outfit or strong lipstick, pussy bow blouses to mimic a male counterpart or aspirational fun business attire there has been a lot on offer in this department. Now comes Paris Geller in one of the most talked about revivals of 2016; she is experiencing a lot of success in her career (but less so in her personal life) in Gilmore Girls: A Year in the Life.
Last week I looked to the fashion mishaps of the early to mid '00s that many character suffered on Gilmore Girls and a few dodgy hats aside, 2016 is far kinder on the outfit front. Maybe I need to check back in ten years from now to truly assess, but for now let's chalk this up as a win and one of the style standouts is Paris. Paris has always been standout on the character front and her presence in what is overall the weakest episode of the bunch ("Spring" if anyone is wondering) turns Rory's career crisis into much needed Paris time.
The pair returns to Chilton in "Spring" to speak to students about their respective career paths and how Chilton helped them get to where they are. For Rory this is another chance to be reminded of how her writing career has stalled, but she has a good rapport with the students and this makes the suggestion of becoming a teacher a smart one and not the smack in the face Rory takes it to be.
Paris is incredibly successful and the boss of Dynasty Makers; a surrogacy clinic which boasts clients such as Neil Patrick Harris and almost Lorelai Gilmore. She has the wardrobe to match and while Lorelai's business threads feature every bold pattern under the sun in dress and blouse form (which makes perfect sense for this character) and Rory's got the freelance clothing of someone with a rich ex/not quite boyfriend who lives in London – hello Burberry wool trench – Paris is all clean lines and muted colors. The one area where bold pattern flies free is with Paris' scarf choice; thankfully the thin scarves of the mid-00s have been replaced by wide knits which seem a lot more equipped to keep the chilly temperatures at bay.
When we first encounter Paris in "Winter" she's got on a super sleek black jacket that wouldn't look out of place on Alicia Florrick and subtle cowl neck sweater which mirrors this Yale newspaper sweater delight. We evolve with fashion, but certain styles will always call to us and for Paris it is a cowl neck. White is a predominant part of Paris' wardrobe (see Olivia Pope as another influence) and this exudes power. The one aspect of Paris' style evolution that really pops is Liza Weil's How to Get Away with Murder super sleek shorter haircut and chopping it all off definitely feels like something Paris would have done as she climbed up the fertility doctor ladder.
One thing Paris always seems like she has is oodles of confidence, but deep down we know Paris can be as insecure as the rest of us. She has high expectations and when things don't go quite according to plan it can cause a pretty big spiral. Romantic relationships pre-Yale was one source of contention; first when she fell for the terrible Tristan and then when her Harvard application rejection coincided with losing her virginity. Even though they couldn't get Chad Michael Murray back (maybe he was too busy with his new romance novel) we get to see the side of a blonde haired dude and Paris runs for the nearest bathroom to escape from this specter of the past. More to the point why would Tristan be asked to speak at the school he didn't even graduate from? Maybe it is not even meant to be Tristan and rather this random blonde guy is rattles Paris when she thinks it is Tristan (although Rory also seems to think it was him too).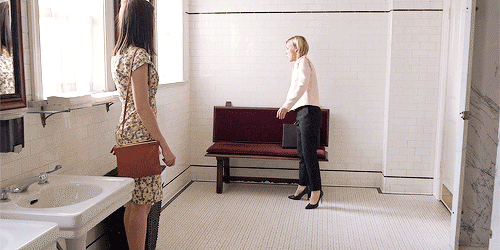 Rory follows and a bathroom meltdown ensues with Paris using her stiletto heel to forcibly shut the door barring anyone else from witnessing this crisis of confidence. It is a pretty incredible and dramatic way to signal this restroom is occupied and a physical act that is pure Paris. Costume designer Brenda Maben could've gone full power suit for Paris, but there is a vulnerability that is present in her choice of soft pink jacket. Her stiletto blocks the door, but the shoulder ruffles and pastel number reflects Paris' heart. She can reduce kids to tears with her tone, but old insecurities can present at any point especially when revisiting the place she ruled and faced some of her stiffest challenges.
An appearance from Madeline and Louise wouldn't make much sense on the talking to kids from Chilton scale (see also Tristan) nor would it cause Paris to continue her spiraling. Francie is another story and when she was on the school council she purposefully caused a rift between Paris and Rory which ended in a dramatic fencing duel. Francie's presence in this bathroom scene reminds of this falling out and she represents why Paris is carting around an empty briefcase as a symbol of her powerful position; she thinks she needs an accessory to show off her stature when really her outfit and LinkedIn profile is doing that for her already.
This level of vulnerability and crisis can also be chalked up to her impending divorce; at the moment her career is her success story. These feelings of fear and loneliness relate back to her Tristan crush, her friendship insecurities and her current relationship status; "I'm still just Paris Geller, the amazing insignificant invisible girl." High school really does have a way of bringing all those old negative feelings to the surface and this bathroom is pure 2003.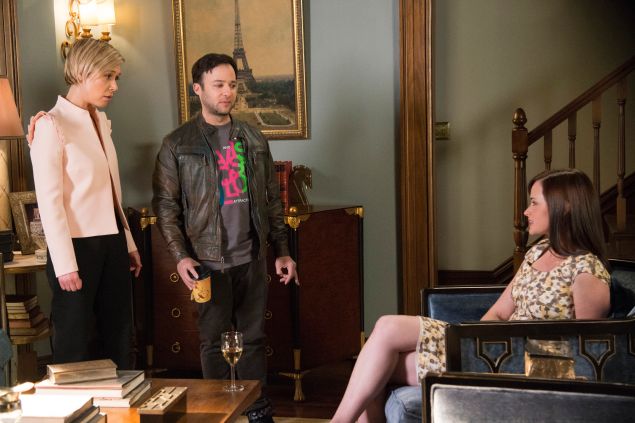 One other noticeable thing about this scene and seeing Rory and Paris side by side is how much Paris has changed over the last ten years whereas Rory is very much stuck in the past. Yes Rory's dresses are slightly more sophisticated now in a nod to her jet setting lifestyle, but she very much looks like Rory of the final season. This is also in part down to Alexis Bledel having a Dorian Gray situation going on and because Paris has had a dramatic hairstyle change it instantly gives her character a fresher look.
Rory's storyline feels very much like a continuation of where Amy Sherman-Palladino left her at the end of season 6 and the blanks in between have not really been filled in. My one main criticism about this revival is that Rory's storyline would be more sympathetic if she was 22 and not 32; because of Bledel's youthful appearance as well as the character's stunted personal growth it is hard to think of her as someone in her 30s even though we keep getting reminded of this fact.
Back to Paris and while she is only in half of the Year in the Life episodes her presence is strong just like her new updated power wardrobe. Paris Geller, you will never be insignificant or invisible.
Emma Fraser is the creator of TV Ate My Wardrobe and spends most of her time writing about TV, fashion and costuming; Abbi and Ilana's Broad City style, the wigs on The Americans and Mindy Lahiri's pajamas are just as vital as talking about '90s, '00s teen shows. Emma has a MA in film and television, and she probably holds Angela Chase responsible for this path. You can find her on Twitter @frazbelina.