If you're one of the many people who have tried a kombucha drink at one point (perhaps in an effort to be healthy) but spit it out immediately, don't despair. Kombrewcha is a company that wants people to actually enjoy drinking the fizzy, fermented beverage that boasts probiotics and yeast (don't worry, though, their product doesn't taste, or look, like it sounds). In fact, the co-founders of Kombrewcha want people to choose their alcoholic drink over wine or beer. For those tired of calorie counting with a vodka soda in hand, Kombrewcha offers an alternative; but for people choosing light beers, it might not be their ideal refreshment choice.
If you're looking to get truly liquored up, kombucha isn't as alcoholic as other offerings. Still, the 75 calorie beverage is perfect for health-conscious people who want to unwind after a spin class, or enjoy brunch without a mid-morning mimosa hangover.
"I tried kombucha for the first time and thought it was terrible, really dry and sour," co-founder Ariel Glazer admitted from his Williamsburg WeWork space, echoing the thoughts of many who opted for the health-conscious drink and encountered an unfortunate taste. Unlike those other brands, Kombrewcha manages to be flavorful and tasty, largely because it contains two percent alcohol by volume (for comparison, the average beer contains five percent alcohol).
Barry J. Nalebuff was one of the founders at Honest Tea, before he co-founded Kombrewcha. Honest Tea began making kombucha, until they realized it was accidentally becoming alcoholic as it sat on the shelf in grocery stores, because it continued to ferment. "You have yeast, you have sugar, you get alcohol. And that was a big problem," Glazer explained. He then shared a story about 2010 Lindsay Lohan. Back in the day, LiLo was arrested for drinking alcohol, and blamed it on Kombucha. "Or at least, so she claims," Glazer quipped. 
After people (in particular, the FDA) found out their healthy drink was actually getting them a bit blotto, kombucha was recalled. To produce it sans alcohol, companies created sour, flat iterations. Nalebuff had become rather fond of kombucha, and wanted to bring it back, but Honest Tea wasn't interested in going into the alcohol world, so the company did away with kombucha.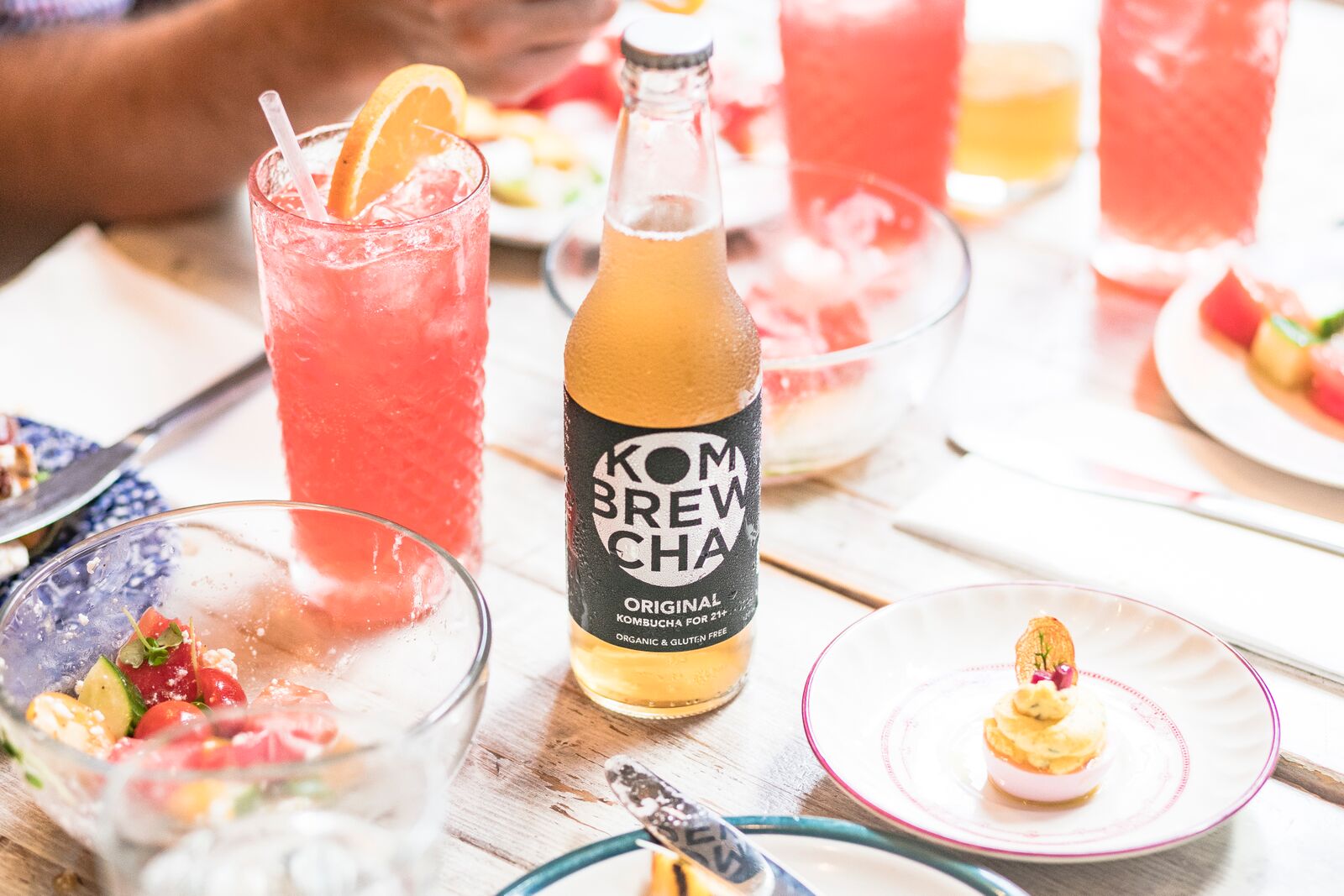 Instead, the pair branched out to start Kombrewcha, and knew from the beginning their product would need to contain alcohol to maintain its taste. "Through this process, we saw that there's a huge opportunity in the alcohol world where you just don't have low alcoholic or any healthy alcoholic beverages that taste good, and are low calorie," Glazer said. After all, the people who are choosing light beers aren't usually fitness fanatics, and there are only a few cocktails without calories. As people become more obsessed than ever with cutting out everything unhealthy from their diets, including alcohol (unfortunately), Kombrewcha is ready to step in with an alternative.