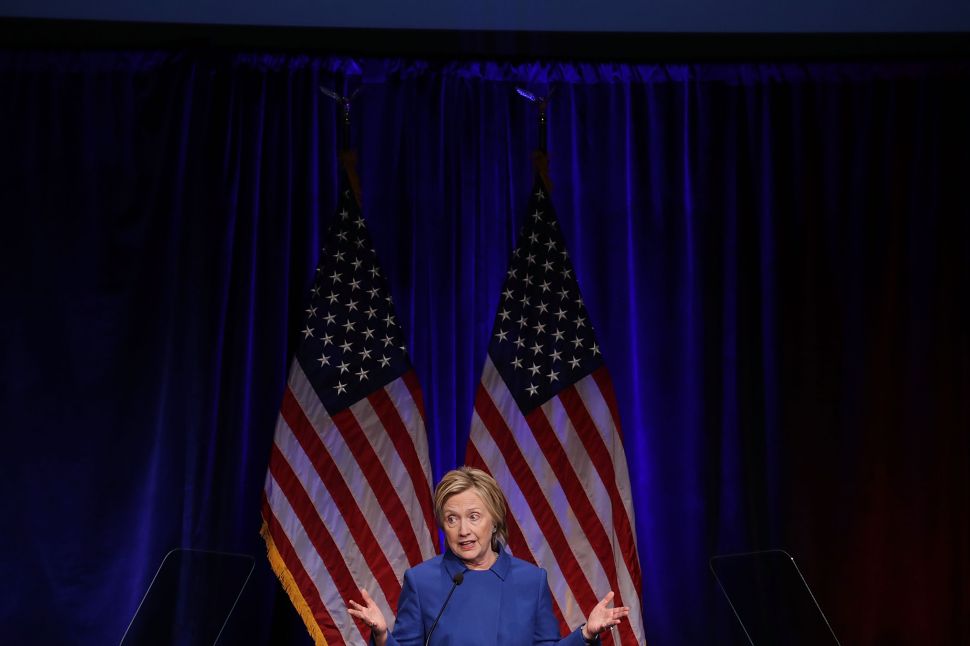 Some Hillary Clinton supporters are really starting to lose it in response to Donald Trump beating their candidate in the presidential election.
Trump hinted throughout the election that he would lose because the thing was rigged. Democrats were indignant and alarmed by this sentiment. "Donald Trump refused to say that he'd respect the results of this election. That's a direct threat to democracy" Clinton tweeted in October. But post-election, many Clinton partisans are pushing to challenge the election results.
Vocalizing disdain for a Trump presidency is one thing. But the #AuditTheVote movement and movement to push the electors of the electoral college to switch their votes to Clinton goes beyond protesting—so much for the Michelle Obama's rhetoric "when they go low, we go high."
A Washington Post-ABC News poll that found 33 percent of Clinton supporters didn't believe Trump was the legitimate winner of the election. Without any citing any evidence, Op-Eds, tweets, and sweeping speculation has been cited from Clinton supporters claiming that the Russian hackers who allegedly obtained emails from the Democratic National Committee (DNC) and Clinton campaign chair John Podesta could have also hacked voting machines in order to tip the election in Trump's favor.
"Maybe all the polls weren't wrong. Maybe Russian hackers didn't stop with the DNC," tweeted NBC Legal Analyst Lisa Bloom.
New York Times Clinton drone Paul Krugman doubled down on the conspiracy theory that FBI Director James Comey had a secret alliance with Russian leader Vladimir Putin to help influence the election in favor of Trump.
Sarah Kendzior, a blogger for Blue Nation Review, a Clinton propaganda site owned by David Brock, has repeatedly claimed with popular support on Twitter that voting machines were hacked by Russia, without providing any actual evidence. Kendzior fear mongered in an Op-Ed for Globe and Mail, and on her Twitter account that Trump's presidency and its transition into the White House are symptomatic of an authoritarian fascist regime transition. She has claimed that CNN, The Associated Press and MSNBC have been compromised by this regime, and that recent tweets from the CIA suggest either they are sending out "an SOS" or "they're on board with the new reich."
Petitions surfaced from Clinton supporters to forgo an election audit, and petition electors of the electoral college to cast their votes for Clinton in what can only be described as a coup attempt. One such petition reached nearly 20,000 signatures before MoveOn.org removed it from their website. A petition on Change.org to do the same has reached over four million signatures. "We are calling on the Electors to ignore their states' votes and cast their ballots for Secretary Clinton," states the petition.
Andrea Chalupa—the sister of DNC research staffer Alexandra Chalupa—claimed on social media, without any evidence, that despite Clinton conceding the election to Trump, the voting results need to be audited to because Clinton couldn't have lost—it must have been Russia. Chalupa hysterically tweeted to every politician on Twitter to audit the vote because of Russia and claimed the TV show The Americans, about two KGB spies living in America, is real.
Thousands of Clinton supporters have retweeted and share Chalupa's baseless conspiracy theories. Yet these were likely the same Clinton supporters who told Bernie Sanders fans to get over it when actual evidence surfaced that the DNC rigged the primaries for Hillary; or when actual voter discrepancies occurred, as when 126,000 voters were mysteriously purged from the rolls during the New York Democratic primary. There was no outrage coming from these Clinton supporters then. And to underline their lack of serious principles, they ignore other injustices that don't benefit their pro-Clinton narratives, such as the protests against the Dakota Access Pipeline.
These calls to audit the presidential election votes aren't based on a desire to expand and protect democracy: They are attempts to delegitimize the election results so Clinton can be president instead.
Democrats should start heeding the advice of Sanders instead of panicking and making up stories. "When you lose the White House to the least popular candidate in the history of America, when you lose the senate, when you lose the house, and when two-thirds of governors in this country are Republicans, it is time for a new direction in the Democratic Party," Sanders said during a speech on November 17. The Clinton campaign depended on using Trump to scare voters into supporting Clinton. This only worked in blue states to boost turnout, while swing states that Obama had previously won switched support to Trump.
Instead of introspection and assuming responsibility for propping up a flawed, scandal-ridden presidential candidate with unappealing centrist policies, delusional Clinton supporters are reiterating the same damage-control tactics and scapegoating they utilized throughout the 2016 presidential election. Clinton wasn't cheated out of the presidency. The campaign's own staffers attributed Clinton's loss to a combination of negligence and arrogance. Democrats lost the election and failed to recoup majorities in both houses of congress, while losing more seats in state legislatures across the country, because they seek partnerships with corporations and wealthy donors instead of with working and middle class Americans. 
Disclosure: Donald Trump is the father-in-law of Jared Kushner, the publisher of Observer Media.