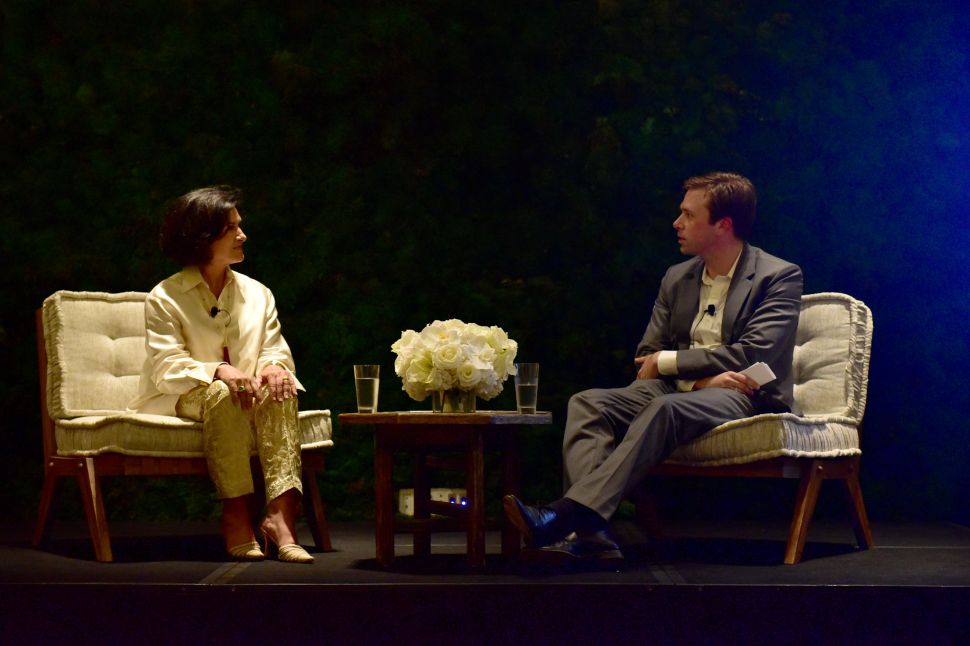 "The Fifth Avenue Tiffany store is the Eiffel Tower of New York," world-renowned jewelry designer Paloma Picasso said without hesitation at last night's festivities at the 1 Hotel South Beach. The sprawling, beachfront property had been taken over by Interview Magazine and Tiffany & Co. to celebrate the 35th anniversary of her eponymous brand. "I think there's a lot of respect," the Switzerland-based jewelry scion said of her longstanding partnership with Tiffany & Co. "To me, when I first went to New York and discovered the store, I thought, 'This is the place I would like my jewelry to be.' A number of years went by, because I was very young when I first saw the Tiffany & Co. store, and it finally happened. The conversation between Tiffany and I has been going on for many years, because they give me a lot of freedom, but also the best craftsmanship I could ever dream of."
Following the much anticipated interview, which was attended by Pierre Bergé, artist Chloe Wise, director Victor Kubicek and a whole brood of Brant family members including Dylan, Kelly and Christopher Brant, the event unfolded into an outdoor cocktail festivus where the woman of the hour's own name was emblazoned along the bottom of the hotel's oceanside lap pool—just one of three on the property. 
Despite her auspicious arrival, it was, in fact, Picasso's first visit to Miami Art Basel. "I've been coming to Art Basel since Basel started," she said with a laugh, referencing the overseas art fair held every June in Basel, Switzerland. "From the first day that they started it here in Miami we've received the invitation, but we're busy, we have to do other things, but we finally made it this year."
The evening also marked the informal debut of Picasso's new range of wares, which the woman herself touted throughout the evening. "I'm wearing some of it," she said, jingling her gold bangles, which will debut next year at Tiffany & Co. stores worldwide. "These bands are linked together, but they move about in a nice way and actually make a really nice sound that, of course, you can't hear over the music tonight. It's a very reassuring sound, and I think jewelry along the century has two reasons to be. One is ornament, and the sense of empowerment that it gives you, and the other is the talismanic quality that it has. It really becomes apart of your life." 
Following the poolside cocktail, 1 Hotel & Homes South Beach invited lucky guests to an evening American jazz pianist Eric Lewis, known widely as ELEW, in 1 Homes Penthouse Suite 1610.