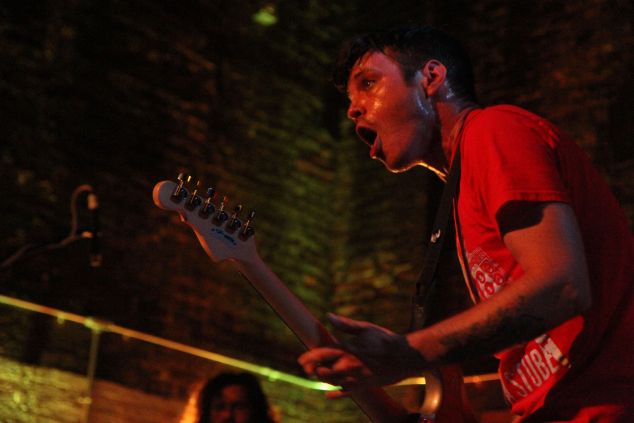 Hours before the first band he ever signed returns to Brooklyn, Dan Goldin joins me for a beer. As the co-founder of Brooklyn's Exploding in Sound Records, Goldin extended his network of friends and bands he loved from Boston, provided them with a place to release music, and helped fortify them with the attention they deserved. And as a fan, he's beyond excited to see that first band, Pile, play down the street later.
But as a stalwart figure in New York's DIY community, I'm interested to learn why he continues to soldier along with the label as its roster grows ever more expansive, more costly, and more time-consuming. How has Exploding in Sound succeeded in the fragile, fickle independent music atmosphere when bands are breaking up every day? (R.I.P. Krill)
"All the bands are bands I'm a big fan of," he says. "We've never really signed a band because we think they're gonna do well. Some days it seems like a better decision than others, when we have too many challenging releases in a row that aren't bands with any real audience. But that's why we started this label, to promote bands that we care about who were tossing the record out there with no one paying any attention beyond a local scene."
That local scene—Boston, circa the 2000s when Goldin went to Northeastern—thrives off a community that many folks think is dead: the tape-trading, couch-surfing culture of indie rock.
Underground bands will play in-studio for Emerson Radio's WECB or WERS. Boston Hassle is going strong. And because of Boston's heavy population of college kids and its relatively small size compared to other U.S. cities, the DIY scene remains an un-ignorable bellwether of the country's larger musical tides.
"The lesson learned there is, don't work in the music industry."
"I think it's like that anywhere where the scene isn't soaked up by people trying to 'make it,' " says Goldin. "In any smaller town the DIY scene still thrives because it needs people in order to sustain itself, and people are aware of that and appreciate having their own pocket community."
This scene goes hand in hand with Goldin's fan-first approach, and it's paid off for the bands, even if not for Goldin himself— EIS released a Speedy Ortiz EP before Carpark Records picked them up, all Palehound albums before Heavenly Records picked her up for UK distribution, and a Porches EP before Domino Records came knocking. In this sense the label has served as something of a talent incubator, and a success.
"It's been nice that a lot of those bands have gone on to bigger labels," says Goldin. "That's a testament to what we're doing, that these bands have gone onto bigger and better things. Domino is definitely better than Exploding in Sound. I don't like their roster as much, but it's a bigger and better label—they have more money, more resources, they can do better for an artist."
Goldin admits he doesn't make money off of EIS, but remains enthusiastic nonetheless; it's this fan-first approach that keeps the community thriving. He's also a freelance publicist, which allows him to work on EIS press campaigns in tandem with his other clients. But the label actually started while he was working an administrative job at a mechanical engineering firm.
[youtube https://www.youtube.com/watch?v=M68GkrZQbZw&w=560&h=315]
"When I got that job I realized I could start the label because I wasn't constantly broke anymore, although I am now, again, constantly broke," he says with a laugh. "But for the time being I wasn't. The lesson learned there is, don't work in the music industry."
It's the music industry, looking in from the outside, that might see Exploding in Sound's roster and gravitate toward that "post-hardcore" label championed by bands like Fugazi and Unwound. Sonically, there's a connection there in bands like Kal Marks. But simply calling EIS "post-hardcore" is a tremendous disservice to its eclectic roster. Even the crunchier bands like Pile and Ovlov are genre-benders, folding Americana, noise, and good old rock 'n' roll for good measure. Leapling make catchy, dreamy art-pop. Baked maintain a dancey, psychedelic pulse.
So is the feasibility of the DIY touring circuit, the music swapping and the couch surfing and the bottle passing, really as endangered as Jon Fine wrote in Your Band Sucks? "I don't necessarily agree with that," says Goldin. "He's also a pretty grumpy, miserable dude."
No, the van-traveling life is suiting these folks just fine. As we walk down to Pile's show at Villain, the line outside and the packed crowd inside confirms this. Not bad for a freezing Sunday night.
"We sound like Aerosmith, Dropkick Murphys, Mayor Menino…" front-man and guitarist Rick Maguire told me two summers ago, evoking Boston's finest. "We hadn't been interested in having anyone put out our records until we met Dan. He said, 'I'm gonna start this label, I'm a fan, I wanna work with you guys,' and we thought, 'O.K., we'll try it out.' It was great because we were both trying to navigate through this whole thing together."
"Those EIS nights happen on their own at this point, without me having anything to do with it, which is cool."
The whole line-up turns out to be solid that night.
EIS' Jackal Onasis packs the room in early with their grungy, shoegaze vibes. DFA's Guerilla Toss, also friends with Pile from Boston, get things rowdy with a Zappa meets no-wave energy, and front-woman Kassie Carlson does a dead-on Nico impersonation when they cover "All Tomorrow's Parties". The whole night feels like a bunch of friends getting together to rock out with each other's songs, and in Williamsburg, that's not something you see too much anymore.
"It's been nice, a lot of our bands have toured together," says Goldin. "It's a very supportive community. Those EIS nights happen on their own at this point, without me having anything to do with it. Which is cool."
Then, at their only Brooklyn show of the year, Pile take the stage for close to an hour and a half, playing old favorites like "The Browns" and "Prom Song" alongside six powerful, new tunes like "Rope's Length" from their new album that's out next March.
The crowd exists as a microcosm of all the sounds Pile fold together—bald, middle-aged metalheads in leather rocking out alongside young crustys, a girl wearing costume jewelry dancing with a heavyset man in a Knicks hoodie. It's a scene free of pretension and ego, which again, is pretty tough to find in Williamsburg.
"We're not out looking for buzz bands," says Goldin. "We're working with bands that have real, actual fans, that like 'em because they like 'em, not because it's cool to like 'em. I think that helps build a very honest fanbase. When they're no longer a buzz band, the same people are still interested."