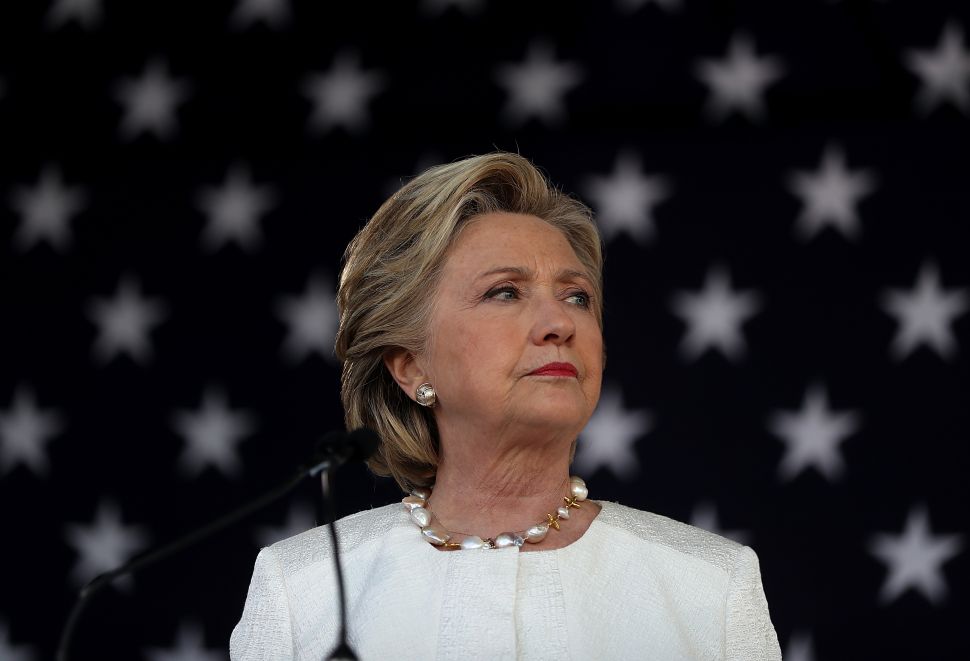 On Tuesday, July 5, 2016, Hillary Clinton won the FBI primary.
On Friday, October 28, 2016, Hillary Clinton lost the FBI general.
Who knew the biggest October surprise would basically occur in November?
Before late last week's stunning announcement, made in the form of a letter from FBI Director James Comey to Senate Judiciary Committee chairman Chuck Grassley and Ranking Member Patrick Leahy, Hillary Clinton was on a glide path to the presidency, on track to win 320 electoral votes and a national victory of 5-7 points.
Within minutes of the letter's existence being reported, which announced a "reopening" of the FBI investigation into Hillary Clinton's email practices and potential private possession of classified information, the media feeding frenzy was underway.
Here's one phrase that no political candidate ever wants to hear: "You're under FBI investigation."
It's bad enough on the rare occasion that it happens at all.
It is unimaginable that a major party nominee for President would be notified of this ten days before a presidential election.
The damage to Clinton must be considered in two ways: PR and legal.
The PR damage to Clinton's campaign in incalculable.
As the news broke, it became immediately clear that Clinton would be on defense for the remainder of the campaign, unable to dispense with this story, unable to control events and unable to answer questions about a situation where details remain unknown and where the FBI. Neither Clinton nor her campaign or legal team, are in control.
Most importantly, this story shined a bright light on Clinton—and away from Donald Trump.
Turning national attention away from Trump was truly important.
This election is the first time in American political history that both major party nominees for president are viewed more unfavorably than favorably. Fully two-thirds of all voters are voting against the other candidate, rather than in favor of their candidate of choice. Accordingly, when either one of these unpopular candidates is in the news for a sustained period of time, the other candidate naturally benefits.
That is what is happening across the country with less than a week to go.
A race that was already tightening nationally and in the battleground states continues to tighten further.
One example: the ABC News/Washington Post national tracking poll had Trump down 12 just nine days ago. Yesterday it had him up one point—13 points in Trump's direction in nine days.
Trump now appears likely to win not just Georgia and Arizona, but Ohio, Florida, Iowa and Nevada. If he can also win North Carolina, where President Obama will campaign on Saturday, that will bring Trump to 265 electoral votes—just five short of winning the presidency and four short of kicking the election to the Republican-dominated U.S. House.
This new reality explains why the Trump campaign is throwing late "Hail Mary" passes to New Mexico, Wisconsin, Michigan and Colorado, with the hope that one of those states, if not New Hampshire or Pennsylvania, can take him from 265 to 270 or more.
Right now Trump has the wind at his back.
The Clinton campaign faced a vexing problem on Friday when this news broke. What do they say? What do they do? How do they respond?
They reacted hysterically by first claiming the FBI letter only went to Republicans (it went to both parties), then they charged that such an announcement was a "violation of the Hatch Act," which states that government offices cannot be used for political purposes. But even that claim is ridiculous because not announcing this news would also have been perceived as advantaging one party over another. FBI Director Comey was damned if he did and damned if he didn't.
Then they trashed James Comey. Personally. They recruited former prosecutors to attack him. They directly questioned his motives and integrity. After spending months praising him, they turned on him.
This leads us to Hillary's other problem: legal.
If Hillary Clinton loses on November 8, no one will care much what happens with this investigation.
If she wins, everyone will care.
The Clinton campaign's vicious attacks on Comey must have tripled his resolve to see this through.
Those attacks undoubtedly caused unnamed FBI sources to leak to The Wall Street Journal that four FBI offices are currently investigating the Clinton Foundation for corruption and pay to play practices.
Hillary's legal problems have only just begun—and they have nothing to do with Wikileaks, or Russia, or Trump, or Republicans.
They have everything to do with her using terrible judgment to selfishly set up a private server for government emails, which resulted in the illegal private possession of classified information and made government records highly susceptible to foreign hacking. Then she deleted 33,000 emails and used "BleachBit" to permanently delete them. Then she lied about it for over a year, as FBI Director Comey testified under oath to Congress.
These are the facts.
All outcomes are now possible in a way they were not a week ago. Trump could win. Hillary could still win and then be indicted or impeached next year. Short of that, she will be under FBI investigation for weeks, if not months or years, which will consume her time and make national reconciliation near impossible.
Indeed, this November surprise was the biggest of them all.
Disclosure: Donald Trump is the father-in-law of Jared Kushner, the publisher of Observer Media.
Matt Mackowiak is syndicated columnist, an Austin-based Republican consultant, and a former Capitol Hill and Bush administration aide.