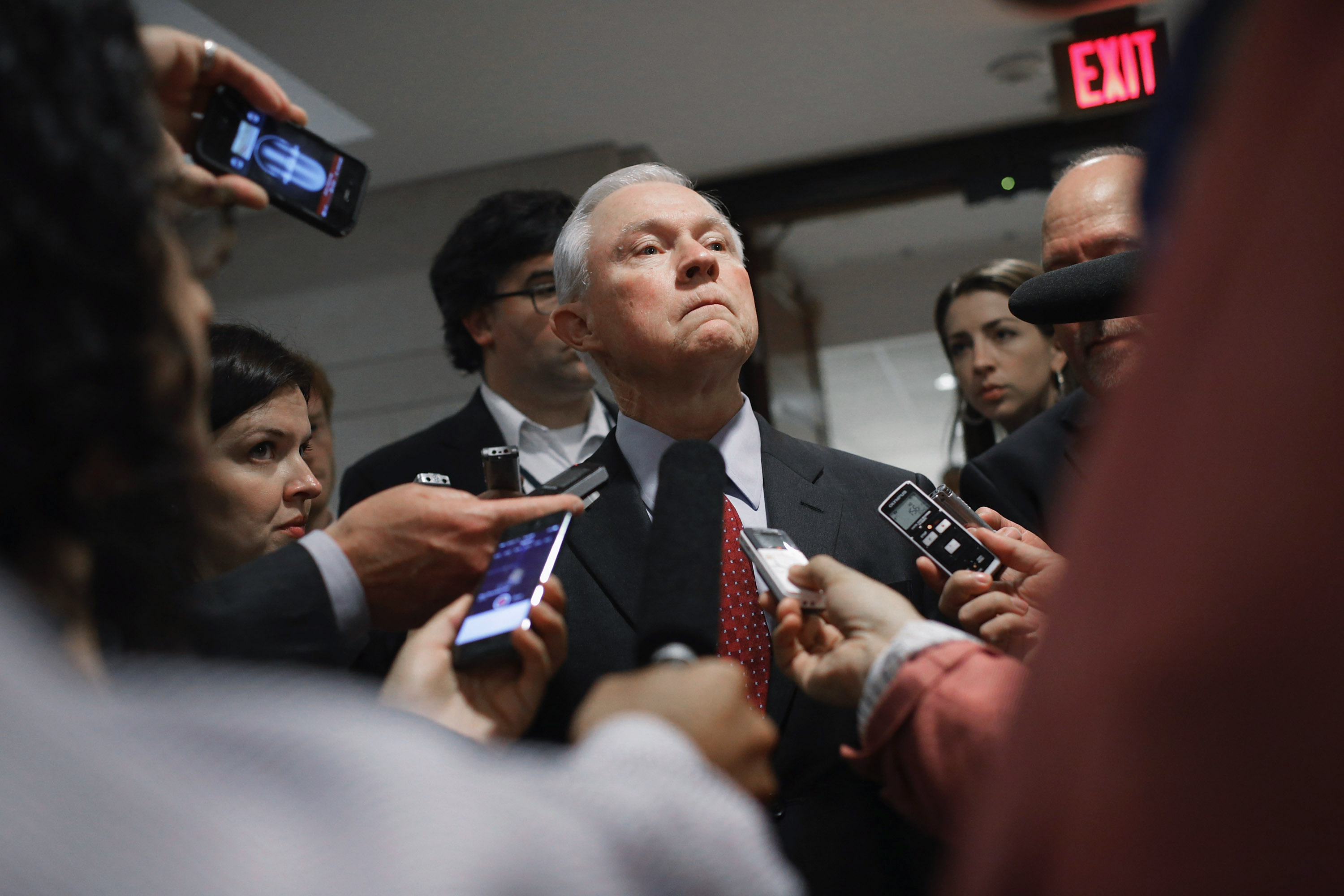 The Rev. Al Sharpton excoriated President-elect Donald Trump's selection of Alabama Sen. Jeff Sessions for U.S. Attorney General in a fiery speech at the Harlem Headquarters of his National Action Network—warning the incoming commander-in-chief and his Cabinet picks "better worry about me."
Sharpton recalled how allegations that Sessions had spoken favorably the Ku Klux Klan, called a black prosecutor "boy" and called the National Association for the Advancement of Colored People "un-American" derailed the Southerner's nomination for a federal judgeship in 1986 under Ronald Reagan. The controversial civil rights leader paralleled those proceedings before the Senate with his own activism at the time in Howard Beach, Queens, where an Italian-American mob had chased a black man into a deadly collision with a car on Cross-Bay Boulevard—and Trump and his father's legal battles against discrimination suits.
He contrasted this with the record of former Attorney General Eric Holder and current Attorney General Loretta Lynch, respectively the first and second African-Americans to lead the Department of Justice, and their work probing police departments and combating restrictive voting laws.
"Thirty years later the same Donald Trump nominates this man Sessions to succeed Loretta Lynch and Eric Holder as Attorney General of the United States," Sharpton railed, noting the Justice Department investigation of the killing of black Staten Islander Eric Garner is still underway. "All of that will now be handed over to a man who jokes about the Ku Klux Klan and calls black federal prosecutors 'boy!'"
The NAN head declared it was "fighting time" and reminded the audience of his rally planned in Washington D.C. on January 14, ahead of Dr. Martin Luther King Jr. Day and Trump's inauguration. He also lashed out at Trump's selection of Breitbart News executive chairman Stephen Bannon—who has advertised his affinity for the racist, anti-Semitic "alt-right"—to a top White House role.
"The appointment of Bannon, who ran the Breitbart, and the appointment of this man to be attorney general, Mr. Sessions, shows that there is a clear path to the far-right and the suspension of rights," Sharpton declaimed, mocking the president-elect's calls for national unity as hollow. "Whatever trick you playing, we're going to fight every step of the way."
Sharpton demanded that the 48-member Senate Democratic Caucus, led by Sen. Charles Schumer, attempt to obstruct the confirmation of Trump's Cabinet choices—much in the way Republicans stalled the appointment of Lynch, and blocked the ascension of President Barack Obama's Supreme Court pick Merrick Garland. Under current filibuster rules, 60 votes are needed to close discussion of most matters.
"We are going to have to make sure that those we elected run these people in the confirmation hearings over every grill they can," he said, drawing raucous applause from the audience. "We cannot sit by and allow what we have built under Holder and Lynch to just end without a fight! I might not win every fight, but you gonna know you was in a fight if you mess with me!"
Sharpton ended by comparing the election of Trump to that of Richard Nixon, Reagan and George W. Bush. History was proof, he argued, that presidents pass and progress continues.
"I took the toughest blows and I'm still standing. I'm not scared of Trump! He better worry about me! I done fought the Trumps before," he said. "This ain't my first rodeo Donald! Shoot your best shot! But if we made it through Nixon, and we made it through Reagan and we made it through Bush, we are now veteran fighters and we're going to make it through you!"
"I don't care how many Sessions you throw. We won't back up! We won't back down! We won't turn around," he continued.
The president-elect and the African-American leader were not always foes. A report last year in the National Review—a conservative publication hostile to both men—revealed the pair had collaborated in the past to promote boxing matches in Atlantic City.
Trump's team did not immediately respond to requests for comment. It did send out a press release this afternoon noting that West Virginia Sen. Joseph Manchin, a Democrat, has already committed to supporting Sessions' confirmation.
Disclosure: Donald Trump is the father-in-law of Jared Kushner, the publisher of Observer Media.