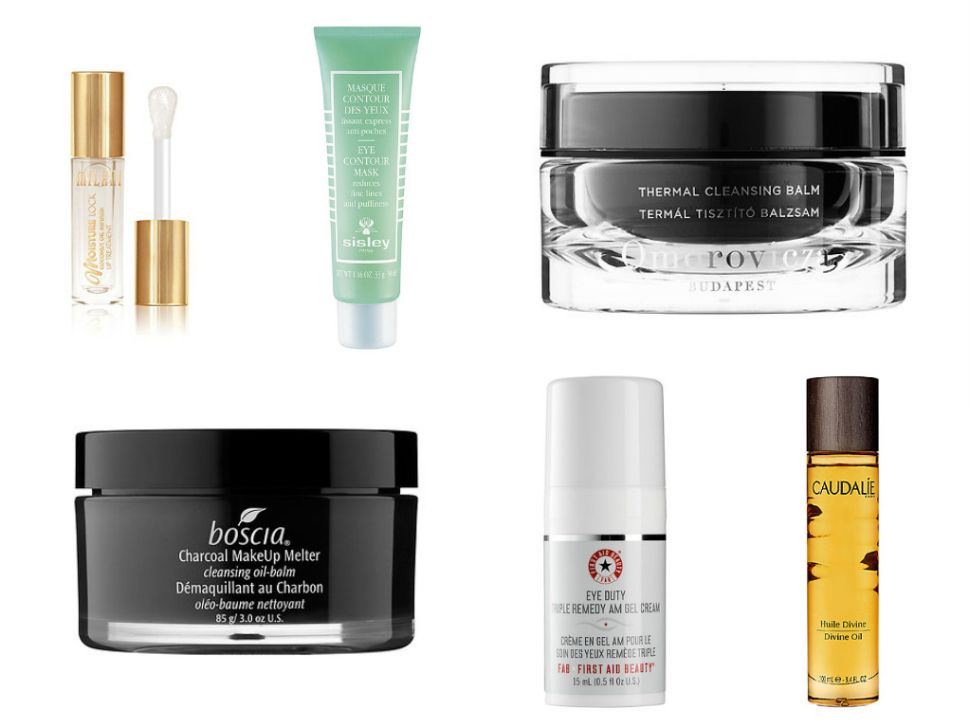 Just as the likes of Zara have become expert at creating affordable versions of the hottest designer looks, lower-end beauty brands can excel at producing cheaper duplicates ("dupes") of costlier products. Often, the more affordable options surpass the luxury originals.
Such is the case with Milani Cosmetics Moisture Lock Oil Infused Lip Treatment range ($8.49). These easily absorbed, fragrant oils give immediate relief to dryness, hydrating with a sheer tint of color that you don't need a mirror to apply. They're also a dead ringer for Clarins Instant Light Lip Comfort Oil ($25). The Milani version has a slight edge with packaging in that it is less prone to cause splatters than the costlier option—and you can buy nearly three of them for the cost of one Clarins oil. Also preferable is the way the small amount of lettering on the Milani cylinder wears off so quickly, leaving you with a chicly minimalist glass and gold tube. Clarins' bottle is cluttered with marketing type for an unexpected drugstore-brand effect.
More vast is the price differential between Sisley Eye Contour Mask ($145) and First Aid Beauty Eye Duty Triple Remedy AM Gel Cream ($36). Both are brilliant at reducing puffiness, plumping out fine lines and hydrating the facial zone where tiredness shows most dramatically. But the First Aid Beauty product is more practical, as it can be used twice daily and doesn't need to be removed prior to makeup application like the Sisley mask does. First Aid Beauty's peptide-stuffed product also doesn't leave skin so overly moisturized that makeup won't stay put, as is the case with the Sisley version even once it's been rinsed away.
Even wider is the price gap between two of the most enjoyable cleansers available. Few cult beauty products are as revered—or expensive—as Omorovicza Thermal Cleansing Balm ($175). While it will remove makeup, that would be a tragic waste of a balm filled with beneficial (and extremely costly) ingredients. At just $32 for roughly the same amount, Boscia Charcoal MakeUp Melter Cleansing Oil-Balm can be used as a makeup remover without guilt. That said, it's just as beautiful and beneficial as Omorovicza's balm, and can be more wisely used as a morning cleanse or second cleanse in the evening. While the ingredients used in the two products are not the same, the texture, consistency, color, and pleasure involved are on an even plane. Still, most of us are likely to be stingy with a super-costly cleanser and fail to use enough, so the Boscia is more practical. The Omorovicza is definitely holiday wishlist-worthy, though.
One of the hottest beauty categories this year has been oils. As consumers learn that even oily and acne-prone skin can benefit from  using oils, and as more brands put multipurpose versions on the market, demand is rising. Caudalie Divine Oil ($49) has been a pioneering product in this space. It's an appropriately French-smelling oil for face, body and hair from the Boredeaux-born brand that inspires slavish devotion in its fans. With a heady mix of grapeseed, hibiscus, sesame and argan oils, Caudalie's multitasker is one you'll use up in no time if applying with abandon.
But OGX Hydrate + Repair Argan Oil of Morocco Miracle In Shower Oil ($8.99, now on a buy one, get one 40 percent off offer) is just as pleasurable to use, in or out of the shower, from head to toe. The OGX product is no more a "miracle" than Caudalie's was sent from God, but it holds its own on hair, face and body. Its fragrance is a bit brighter than Caudalie Divine Oil, and OGX's oil blend is more basic, but the instant absorption and lasting hydration it gives would be a bargain at twice the price.
Jackie Danicki created one of the first and most popular beauty blogs in 2004, and has consulted some of the world's most iconic brands on digital content strategy and innovation. Jackie blogs at burnedoutbeauty.com, and you can find her on Twitter, Instagram, and Snapchat as @burnedoutbeauty.