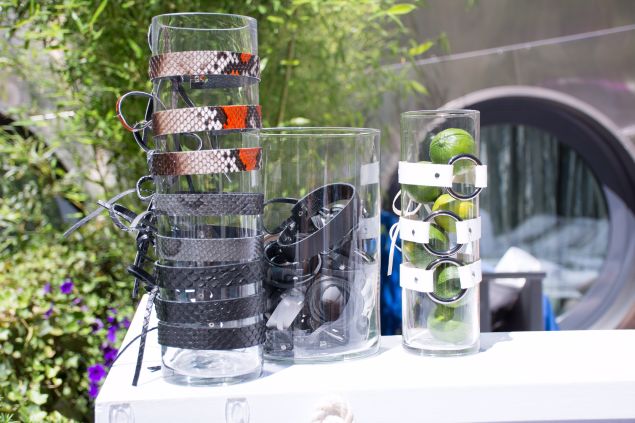 FrameworK founders, Abe and Erin Lichy and Robyn Davidson recognised the growing trend for handbag and accessory customization and decided to answer the call: "People [want] to be expressive and do things the way they want to do them," said Lichy, the CEO of new luxury accessory brand FrameworK.
The concept is simple: Pick one of the FrameworK designs—a tote, a clutch, a choker—then personalize it through individual choices of color, tassels, studs and monograms. The FrameworK girl wants to put her stamp on her belongings, sometimes literally: Many customers choose to imprint their initials on their purchases. "They can embellish it to the point where they really make it their own, which is really the fun part of all of it," Lichy explained.
The brand is direct to consumer, selling exclusively online and through their trademarked Custom Bars. Products are released every few weeks, instead of in seasonal collections. And all production is done in New York, where the founders are from.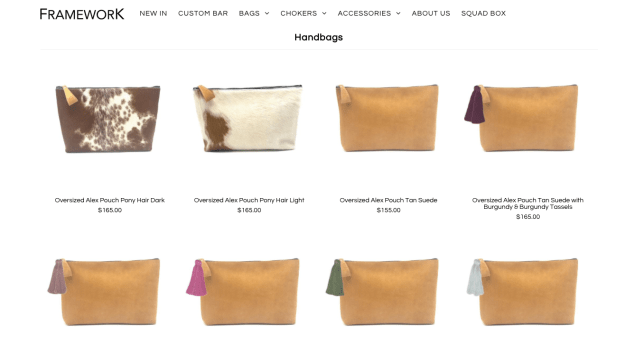 It took some time to perfect this formula, with the team trialing ideas under the first incarnation of the brand, Erin Dana. Abe and Erin Lichy were on their honeymoon in 2012 when they first discussed Erin's dream to launch a line of handbags. While it didn't take long to make it a reality, things didn't run so smoothly at the start.
"We ended up in China, where you're doing the six-months-out thing and selling it to boutiques at wholesale," Lichy told us.  "We realized, as a young brand especially, that if you don't have the buying power to order the minimums that are required to produce in China, it's difficult to sell wholesale because your margins just get killed."
In October last year, he joined the brand full time as CEO, and few months later they brought Robyn Davidson onboard as chief marketing officer. Between the three of them, FrameworK was born out of Erin's previous business.
By releasing new products every few weeks, as opposed to in seasonal collections, FrameworK is able to consistently give its customers something new.
This meant a complete overhaul of the way the brand functions. First, they decided to work on a more immediate basis.  The team can respond to trends; when chokers became "the thing" over the summer, the brand was able to launch its own take and gain a lot of traction in the 18- to 25-year-old market. Production was brought back to New York, with materials sourced from U.S. distributors and within the city itself, where possible.  "Erin and I are both born and raised on the Upper West Side, and Robyn's been in New York for the past 13 years," explained Lichy. "It's very important to us that we're supporting the local economy, that the community is strong."
Another decision was to cut out the middleman. Instead of selling wholesale to retailers, FrameworK sells directly to the customer and can therefore offer more affordable prices within the luxury market, which conveniently appeals to its millennial demographic. This move also opened the door to the brand's biggest signature: the Custom Bar.
Providing the same customization options as online, the Custom Bar allows people to see and feel out their choices before getting their perfect, personalized accessory. "We had a client who saw a choker that we made, and she wanted to put that same color python on one of our pony bags, which is a combo that we hadn't offered yet," recalled Lichy. The idea proved to be inspired. "We made it, and it looked really awesome, so we're now going to be offering that."
This is the kind of collaboration FrameworK is all about. They quickly realized their products were particularly popular with groups of young women, due to the custom aspect.
To address this, the brand introduced Squad Box, a group-gifting platform. Consumers can reach out through an online application and are connected with a real person, who guides them through the different options available. So far, the platform has proved particularly popular with bachelorette parties, sororities and brides who want to ask their friends to be bridesmaids with a gift. And it works for the average millennial too: "A lot of times we have groups of girls who are coming as friends and they have a cute hashtag or something like that that they want to do," added Lichy. Like a "friends forever" tattoo but with leather goods.
Ultimately, the brand wants to appeal to today's young women—and eventually young men, as FrameworK aims to extend into men's products. Lichy is also excited to scale up their permanent fixtures beyond the Upper East Side: "I think it's something that the public can expect to see many more of over the next year, in different cities; Los Angeles, Miami, Chicago, Dallas…a bunch of others."