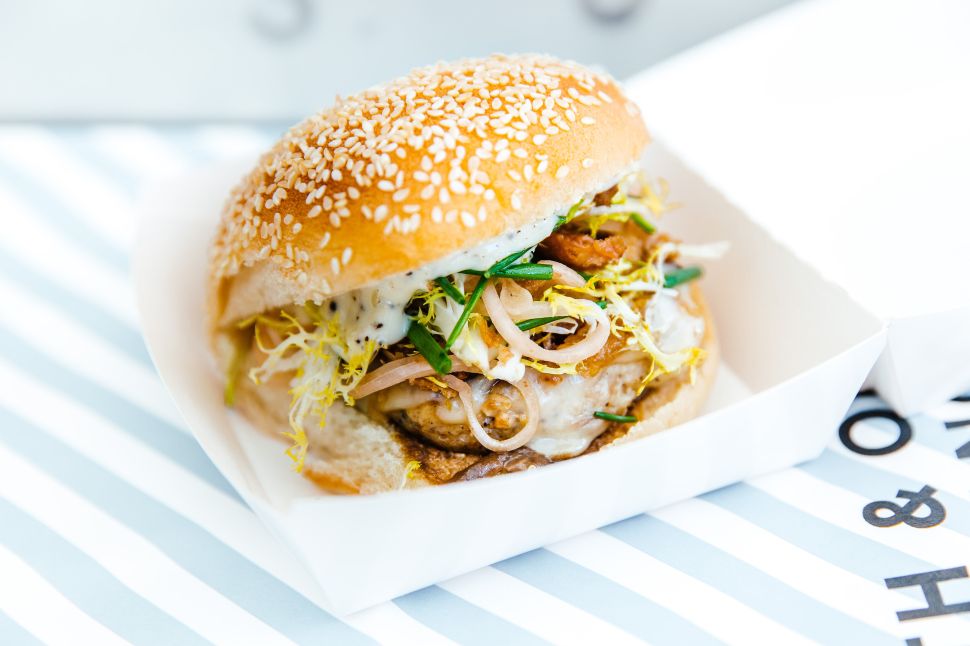 Koreatown in Los Angeles is the best place in the country to eat bulgogi, bibimbap and bo ssam, but late last Friday night I went there in search of a burger. A chicken burger. From a food truck.
The NoMad Truck, which New York chef Daniel Humm and Will Guidara have launched as a way to build their West Coast brand while they work on next year's opening of their brick-and-mortar NoMad in Downtown L.A., debuted to huge lines at the Desert Trip music festival last month. Thankfully, says NoMad project manager Brandon Laterveer, the Paul McCartney, Who and Rolling Stones fans at the festival were civilized and patient. And the NoMad crew was ready. They were told to be prepared for 375 portions each day. They sold 500 hot dogs (Vice Munchies has called this the world's greatest hot dog) and 500 chicken burgers on just the second Saturday of the festival.
Of course, this is Daniel Humm, who also runs Eleven Madison Park with its three Michelin stars, four New York Times stars and No. 3 ranking in The World's 50 Best Restaurants list, so the bacon-wrapped Humm Dog has black truffle along with celery relish on its griddled bun. The NoMad chicken burger is adorned with truffle mayo, frisee and pickled shallots. This is what Humm is known for doing at The NoMad: taking accessible, commonplace food and masterfully adding layers of refinement and nuance and luxury.
Humm and Guidara are smart operators. They know Los Angeles is different and more casual than New York, so they're bringing their food to the streets of L.A. At $9 for the hot dog and $10 for the burger, this food isn't cheap, but it's totally within the range of gourmet trucks in L.A.
I remember that when New York's NoMad opened in 2012, I ate the restaurant's whole-roasted chicken for two, stuffed with foie gras, black truffle and brioche, five or six times in maybe two months. (I'm guessing the expert record-keepers at The NoMad might know the exact numbers.) But now that I've been in L.A. for a few years, I can't imagine indulging like that on the regular: It seems too rich, too pricey (it's now $89 in New York), too over-the-top to be part of a dining rotation.
But that's fine: I'll enjoy it on the occasional times I partake and I can also just eat at the NoMad Truck over and over again because I'm also enamored with the $6 tomato salad (with peaches, almonds and ricotta salata) and the $6 milk-and-honey soft-serve.
The milk-and-honey soft-serve was a reminder that L.A. in 2016 might just be the best place and time to exist.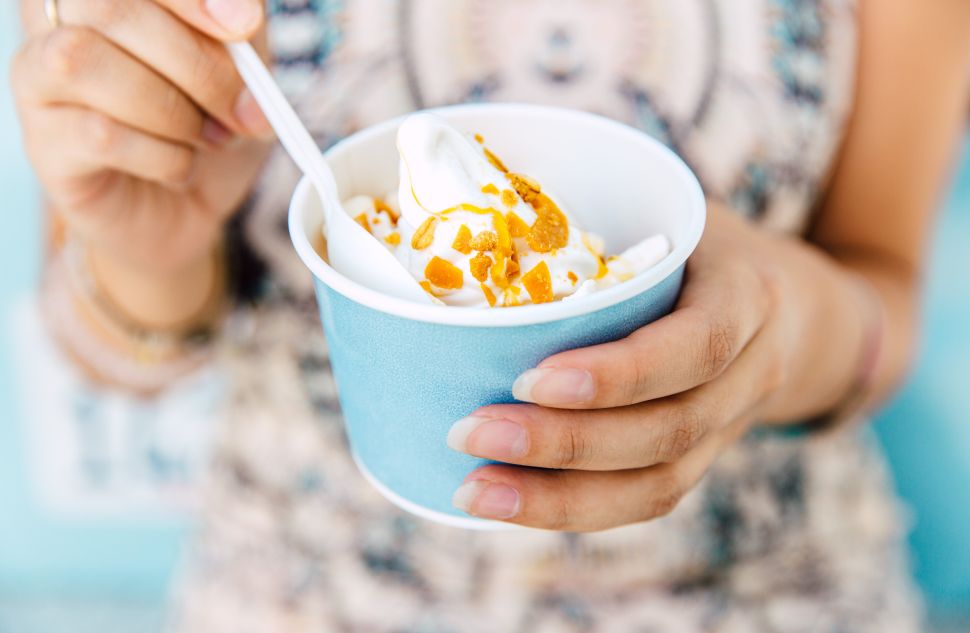 So back to Koreatown on Friday night. The NoMad Truck was there, slinging its rarefied street food from 9 p.m to 2 a.m. As the night got later, the crowd outside the Line hotel where the truck was parked got bigger and livelier and more buzzed. The Line, which like The NoMad is a Sydell Group development, is, of course, home to L.A. street-food king Roy Choi's Pot and Commissary restaurants. So the NoMad Truck, as part of a series of collaborations with top L.A. chefs, also has a Choi chicken-dumpling burger on its menu.
The NoMad team is working hard to become part of the L.A. community: It's already parked in front of Ludovic LeFebvre's Trois Mec, and Humm, Guidara, executive chef James Kent and director of operations Jeffrey Tascarella all headed west to launch the truck and have eaten together at restaurants including Thai mainstay Jitlada. Laterveer and chef Ashley Abodeely live in L.A. now and are excited to try more tacos and Asian dishes and learn about different neighborhoods. As Laterveer says, what better way to discover the city than to have a truck that takes food around Los Angeles? The original plan was to have the truck running until the NoMad hotel and restaurant opened downtown, but things have gone so well that the truck could be around much longer than that.
With cool siblings like The Line and Sydell Group's forthcoming Freehand hostel and Broken Shaker bar downtown, as well as the support of much of L.A.'s culinary community, Laterveer and Abodeely might quickly realize that they're newcomers who happen to have the keys to so much of the city. Smorgasburg, where we encountered Choi with his Locol truck on Sunday, is one prime spot you shouldn't be surprised to see the NoMad Truck in the near future.
The Line is where you'll also find (if you know where to look) the Houston Brothers' Break Room 86, a bar you enter through a vending machine that's actually a secret door if you can first negotiate your way past the gatekeeper manning an unmarked side entrance at the hotel. This is the moment in pop culture where an '80s-themed lounge that opened in 2015 seems ahead of its time. Like the Black Mirror San Junipero bar, it looks like 30 years ago and you might want to return every single week.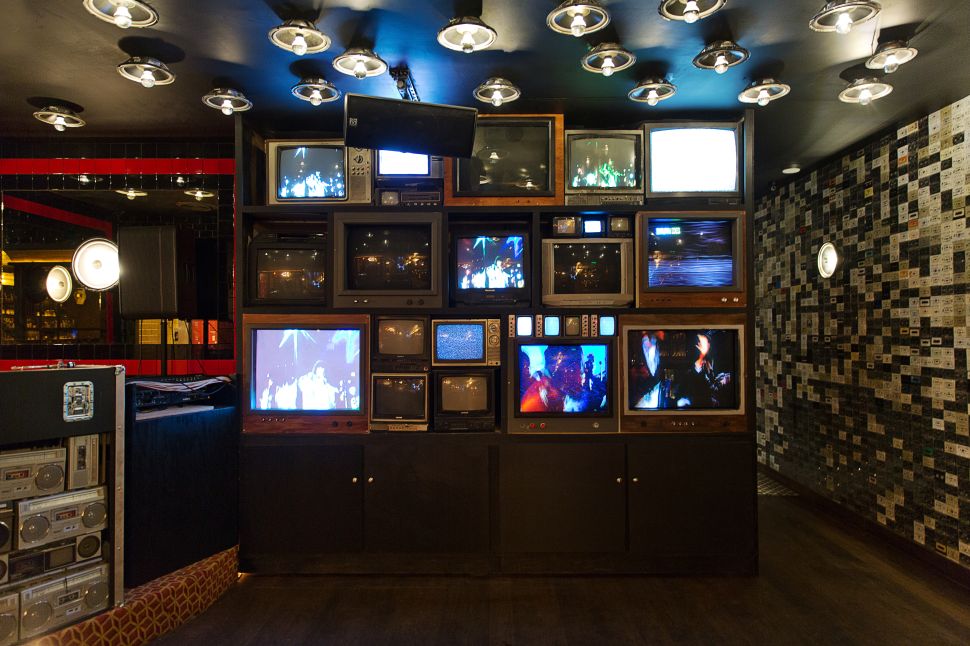 We went to Break Room 86 on Friday in between eating dinner at the NoMad Truck and, well, eating dessert at the NoMad Truck. At Break Room 86, as always, we found old-school video games like Centipede and Pac-Man, vintage fonts, walls decorated with cassette tapes and album covers, and a phone booth that's an entrance to a karaoke room. But this wayback machine, with Max Headroom videos playing on its old TV screens and Billy Ocean, Madonna and Duran Duran blasting on its speakers, also has Avery Underhill's mixology-forward cocktail riffs like the Smooth Operator (with bourbon, amari blend, L'Orgeat, cherry-vanilla bitters and orange oils) and the Dusty Bottoms (with Vida mezcal, apple brandy, yellow chartreuse, fresh lemon and allspice). There's also an outdoor stand with boozy Coolhaus ice cream sandwiches, which you could build your regularly scheduled dose of pleasure-seeking around. Like San Junipero, this place is an elaborate dream of an escape.
But our nightcap, after Friday night had turned into Saturday morning, was back outside the hotel at the NoMad Truck. The milk-and-honey soft-serve topped with bits of honey-oat shortbread and honey brittle along with milk meringue and drizzles of buckwheat honey was a reminder that L.A. in 2016 might just be the best place and time to exist.