Welcome to our TV Fashion column, where TV Ate My Wardrobe's Emma Fraser discusses the trends in television apparel. This week: Looking back on Gilmore Girls' style hits…and many misses. 
Gilmore Girls debuted in the fall of 2000, but my journey into Stars Hollow did not begin until the end of 2015 when I started watching the majority of seasons–a gaping hole in my teen TV viewing library–as Netflix's Gilmore Girls: A Year in the Life revival quickly approached.
Coming to this show fresh fifteen years after the first episode aired also makes it a great time capsule for certain trends from the early to mid '00s; yep we made a lot of mistakes, particularly in the cut of our jeans. We are currently in the midst of a '90s nostalgia trip with pop culture and fashion looking to this period for inspiration, but does the arrival of projects like the Gilmore Girls revival mean the following decade is not that far behind on the recycled style front?
As with any era of clothing fresh eyes offer a different perspective often wondering what the hell we were thinking and other periods have bold patterns, lurid colors and over the top silhouettes to chalk up to collective bad decisions. The defining garments of the first half of the new millennium don't really have any strong ridiculous factors (well maybe how low rise everything was) and watching Gilmore Girls through a 2016 lens as someone who is only a couple of years older than Rory Gilmore is like flicking through photos that reside in various shoeboxes (so thankful for no social media during my school/university days). Clothes were just a bit middle of the road serviceable to terrible; nothing too offensive (except the aforementioned low rise trend) or particularly inspiring. It is like we entered the new millennium and decided that fine was fine.
Rory plays it pretty safe throughout and when she goes to college her wardrobe looks like a slightly updated version of Felicity Porter's and if the two shows had been in the same universe then these two would've probably been very good friends. Sweaters are a staple and other than the odd off the shoulder/cowl neck that feel very much of this time, Rory's cable knits are pretty timeless.
Certain accessories standout for how pointless they are like the really thin scarves collection she wore at Yale that will do nothing to protect against the cold Connecticut winters; Rory might as well be wearing a piece of string around her neck. Also featuring in this category of items that didn't really serve their purpose ten plus years ago are those tiny shoulder bags which can barely fit change, lipstick and a flip phone. Maybe you can squeeze your keys in.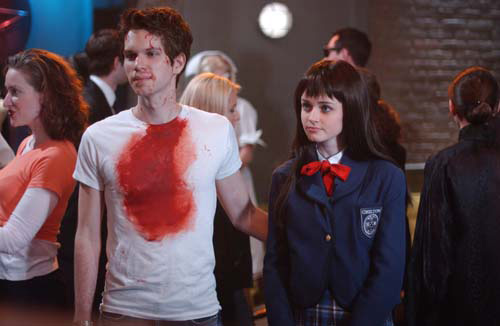 One thing Rory is always good for is dress up whether it is going full 1950s housewife for Dean in season 1 (the moment where I became Team Anyone But Dean), repurposing her Chilton school uniform for a Tarantino themed party or going full Swinging London complete with terrible British accent for Logan's leaving party. She is nothing if not resourceful and while most of season 7 is pretty forgettable the idea of throwing a 2002 themed party in 2007 tickled me. Everyone with their Uggs and Nelly/Pink dance moves at the ready.
Season 7 Rory is also willing to get chunky bold pink highlights which feels like a very 2007/pre-graduation crisis of confidence thing to do. Plus other than going from long hair to a sleek bob, Rory really hasn't done the teenage rite of passage extreme hair change thing. Look to best friend Lane for her very brief dalliance with purple hair before she realized she wasn't ready to tell her mom about her real passions that remained hidden under her floorboards until season 4.
For the Christina/Britney/Paris fashion influence look no further than Louise and Madeline who were last spotted on spring break wearing cowboy hats, bikinis and partying up a storm. Louise and Madeline were inexplicably tight with Paris despite their lack of shared interests, but this dynamic was always a fun one that sadly did not survive the college transition. Without this pair I would've forgotten water gel bras were ever a thing and that plucking outside of your designated brow line will make you look surprised for a month.
For a big dollop of the first part of this decade was not great for clothes look no further than Lorelai Gilmore. Lorelai has fun with clothes as can be chronicled by the amount of bedazzled and animal-featuring T-shirts. If this Gilmore revival was a few years earlier she would definitely be sporting a "Pugs not Drugs" top or tote. Lorelai's casual wear has a whole lot of whimsy and boot cut jeans to match with the latter thankfully getting banished into the fashion ether (for now). For ultra comfy wear Lorelai even sported a pair of Juicy Couture sweats making her the most '00s and confusing the hell out of her mother as to why she had this word written across her butt.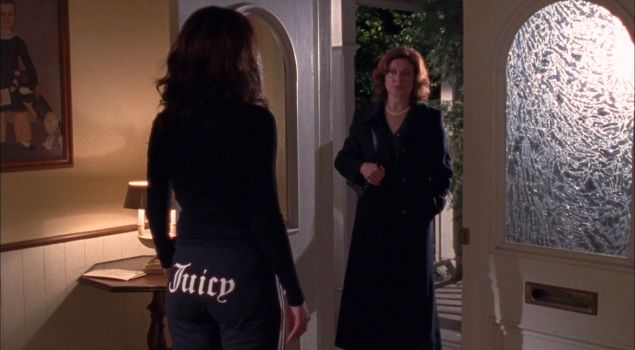 Friday night dinner attire for mother and daughter leaned to dresses with the rare appearance of smart pants with sparkly tops. Cute summer dresses for Rory are often in rotation and things get more preppy as the seasons go on, while Lorelai favors the kind of low cut look that drives her mother crazy. I have a feeling we will see some kind of shoulder cut outs that seem to be everywhere right now on Lorelai in the new episodes; other cut out aspects of earlier outfits paved the way for this trend.
As the seasons progress Lorelai's work attire improves as satin blouses and pencil skirts are switched out for wrap dresses. This is a style that looks great on Lauren Graham and its timeless appeal is what makes it an iconic dress type. Plus the wrap dress doesn't need to stick to plain block colors and you can do a lot in terms of pattern while maintaining a business impression; it allows Lorelai to express herself while giving off successful inn owner vibes.
The belted part of a wrap dress also become a place to hang her hot pink Motorola Razr in the season 6 episode "I Get a Sidekick out of You" because she was going to get a phone call and wrap dresses don't tend to have pockets. It was something that should not be repeated, prop contrivance or not. This is also the episode that reminded me of how much I wanted a Sidekick phone because 2006.
On this phone evolution note it is going to be weird seeing Rory with an iPhone (or near approximation) even as I lusted after her color Mac clamshell over 10 years after they became obsolete. In the same way that certain clothing trends stand out so do the technological advances with the trip to the video store becoming very much a thing in the past; now Gilmore Girls is airing new episodes on the platform that has replaced the video store.
Some things very much stay the same and while Lorelai's style gets a Rachel Antonoff sweater – very tempted to buy this – and Kate Spade dress upgrade in 2016 there is no way Luke is ditching his signature plaid shirt and backward baseball cap. Luckily for all of us and Luke he was never embroiled in the Von Dutch trucker hat blip of the last decade. Plaid shirts don't tend to go out of style and the plaid dress leanings of My So-Called Life are very much part of the '90s wardrobe nostalgia infiltration. I wonder if Luke still has his matching plaid sheets, pillow cases and bed spread.
So while I am more than thrilled about the return of Lorelai, Rory and the rest of the Stars Hollow faves if we can keep this '00s revival to just TV shows and not fashion then we will all benefit. Well, everyone that doesn't have shares in Uggs or Juicy Couture.
Emma Fraser is the creator of TV Ate My Wardrobe and spends most of her time writing about TV, fashion and costuming; Abbi and Ilana's Broad City style, the wigs on The Americans and Mindy Lahiri's pajamas are just as vital as talking about '90s, '00s teen shows. Emma has a MA in film and television, and she probably holds Angela Chase responsible for this path. You can find her on Twitter @frazbelina.