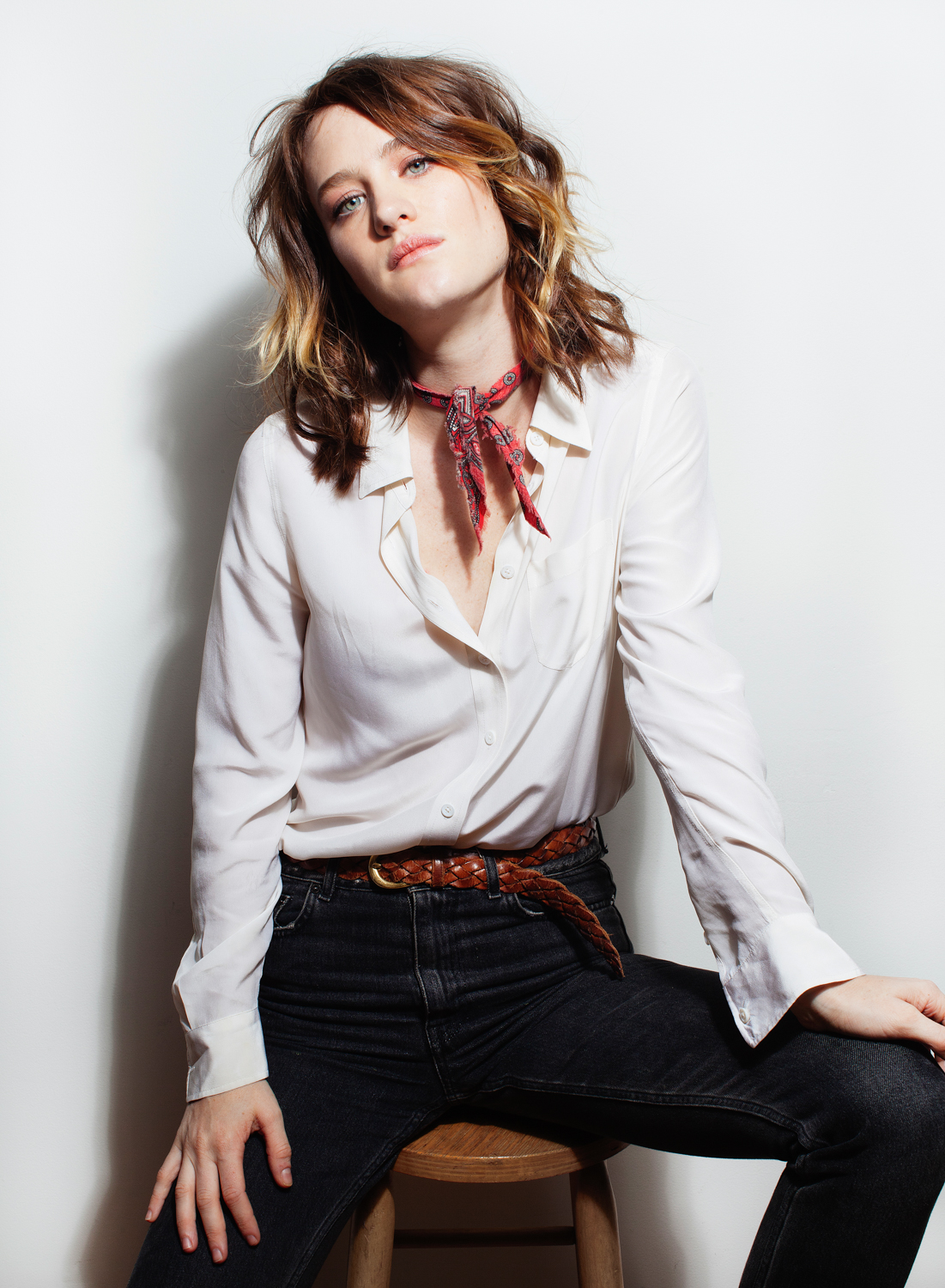 "People say I look like Laura Dern. And—I don't believe it, but I always want to believe it because it makes me feel prettier than I actually feel—Robin Wright," Mackenzie Davis says and laughs. "She's just got a hell of a jawline."
We're talking doppelgängers in the lobby of the Bowery Hotel in New York City. With its potted palms, wood paneling and medieval stone fireplaces, the vibe is something between Colonial-era men's club and golden-age Hollywood hot spot that you'd expect to only see in black and white.
Considering her latest film, Always Shine, our discussion about celebrity lookalikes seems more or less appropriate: The film centers on friends Anna and Beth—both blonde, pretty girls trying to be actresses—who have been pitted against each other for roles and attention.
Davis is perhaps currently best known for her role in the episode of Black Mirror called "San Junipero," a heartbreakingly sincere love story that almost immediately became the internet's favorite episode of the anthology show. For the record, Davis believes in the happy ending interpretation of the episode: "I really think they ended up together. I think the most obvious version of the story is true. I also don't even see [the twist option] until the finished product. I miss out on like 100 percent of the symbolism until people tell me about it.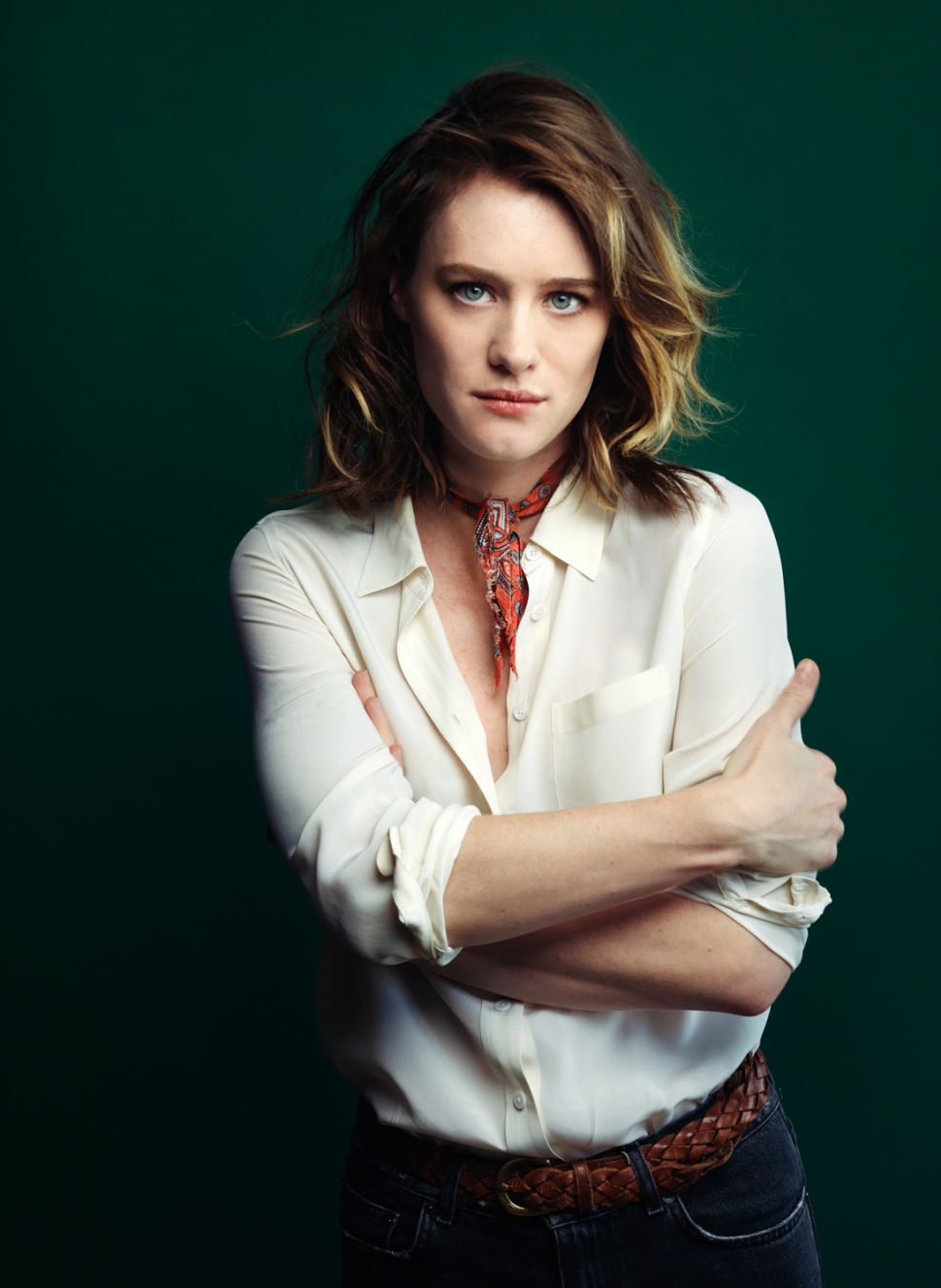 "It's funny the projects that really resonate with people that you never expect," says Davis, who also stars on AMC's slow-burning Halt and Catch Fire and appeared, almost unrecognizably dressed down, in the mega-hit The Martian ("the old girl-with-the-glasses trick," Davis jokes).
Another Hollywood item on her résumé: playing the love interest to Miles Teller in the Zac Efron rom-com, That Awkward Moment. "I was the cool best friend who didn't know she was hot and let him get away with anything," Davis says, grinning slyly.
"I really resented that, coming out of theater school, I was fed this idea that what I did wasn't important—there were a million people like me, and I should be thankful if anyone offers me any job and not be discerning at all. That always felt—even though I was like, insecure about ever working, and I was 24 and never had a job and didn't know if this was ever going to work out—I knew that I wouldn't be happy with just any career. And it wasn't about the level of visible success; it was more about the quality of stuff."
Either way, Davis is about to get plenty visible: The actress was just cast (coincidentally alongside lookalike Robin Wright) in the upcoming Blade Runner sequel.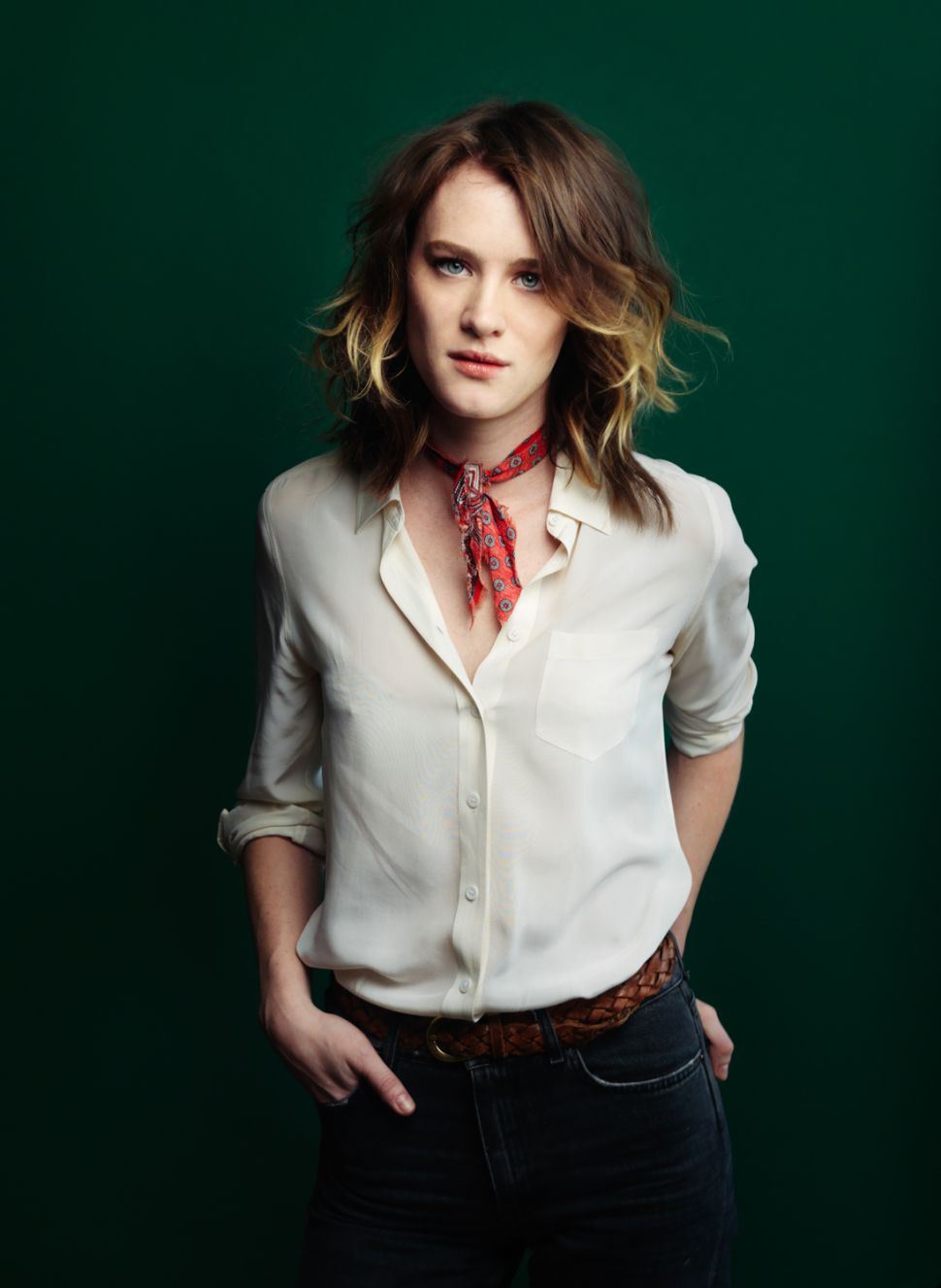 After graduating from McGill University in her homeland, Canada, Davis studied at the Neighborhood Playhouse in New York City. "I got really, really so lucky. I graduated from theatre school, and then three months later I got cast in a small movie called Breath In." Davis played one of the film's four leads, along with Amy Ryan, Guy Pearce and Felicity Jones. "[Director Drake Doremus] had just come from doing Like Crazy, which won the Grand Jury Prize at Sundance. He had so much momentum behind him, and just by casting me, I sort of got anointed in this way that let me skip so many steps. I really don't know what would have happened if I didn't get that job. It gave me access to agents and being seen by casting directors and having people let me into the room. If I hadn't had that, I don't know how I would have gotten that sort of access."
Davis' talent for the subtle and the devastating is on full display in Always Shine. With symbolically significant shots and a deliberate, foreboding pace, the film has been rightly compared to other psychological thrillers that are willing to examine the peculiar relationships between women.
"There were a lot of movies from the 70s I referenced a lot at the writing stage of the movie, with my husband, and with my cinematographer," says director Sophia Takal. "And Persona was one I think I explored a bit more with my editors. But 3 Women by Altman was another big one—I watched it like 40 times while I was thinking about the movie. Robert Altman made another movie called Images that inspired me a lot visually and also with the score. And Cassavete's movie, Opening Night."
In their rehearsals for the film, Davis and Caitlin FitzGerald worked with Takal not only to understand their characters but to also understand the cinematic legacy in which the film would live.
"I got to Big Sur a week early to rehearse with Sophia and with Caitlin to build our characters' relationship through a lot of improv and other exercises," Davis says. "In that time, Sophia had us watching movies and walked us through a lot of her references: 3 Women was very important—Sophia actually bought the same lens they used in that film so we could mirror their long zoom shot."
Always Shine deserves praise for its attention to the details of its filmmaking, but it, well, shines in the nuances portrayal of aspects of female insecurity that so often go undiscussed.
"There were certain movies that were about women, but I felt like they weren't getting at something essential about what it was to be a woman," Takal says. "And usually they were written and directed by men."
As Davis puts it: "The film is definitely about female competition, and how that competition is bred out of an environment where we have all of these external sources telling us that there's a right and a wrong way to be. And if you see someone being the 'right' version of a woman—deferential and meek and maybe shy, and just delicate, performing this very easy form of femininity—and you see her receiving dividends from that, it feels like a language you never learned."
She continues, "I have this indelible memory of coming to New York and staying with a friend of mine who's this really beautiful girl. We went out for drinks, and we ended up with this actor who asked us to get drinks with him and his friend, and we went to the Boom Boom Room, and I just wasn't getting any attention from them. I was sitting at a table alone while they were all at the bar, and I watched her body move in this balletic, unbelievably seductive beautiful way, just while she was talking, articulating her spine and her limbs. And—" Davis laughs getting the words out—"I cried. And I just left. I felt so sad all of a sudden, seeming someone be fluent in a language I never learned, and I wanted to know the secret to so badly, but I could only misfire."
This is a thing I noticed early on in speaking with Mackenzie Davis: For a girl who is blonde and fashionable and beautiful—who could be casually referred to as a "starlet," that media catcall for young actresses—she is brilliant in her language. I wanted to diagram her syntax on those fractal graphs we used in eighth grade. I wanted to jot her metaphors down in my notebook with three underlines so I could quote them in a different context later. In a brilliant performance, a gifted actress is able to express something about humanity that you always knew but could never articulate. Davis does it every third sentence.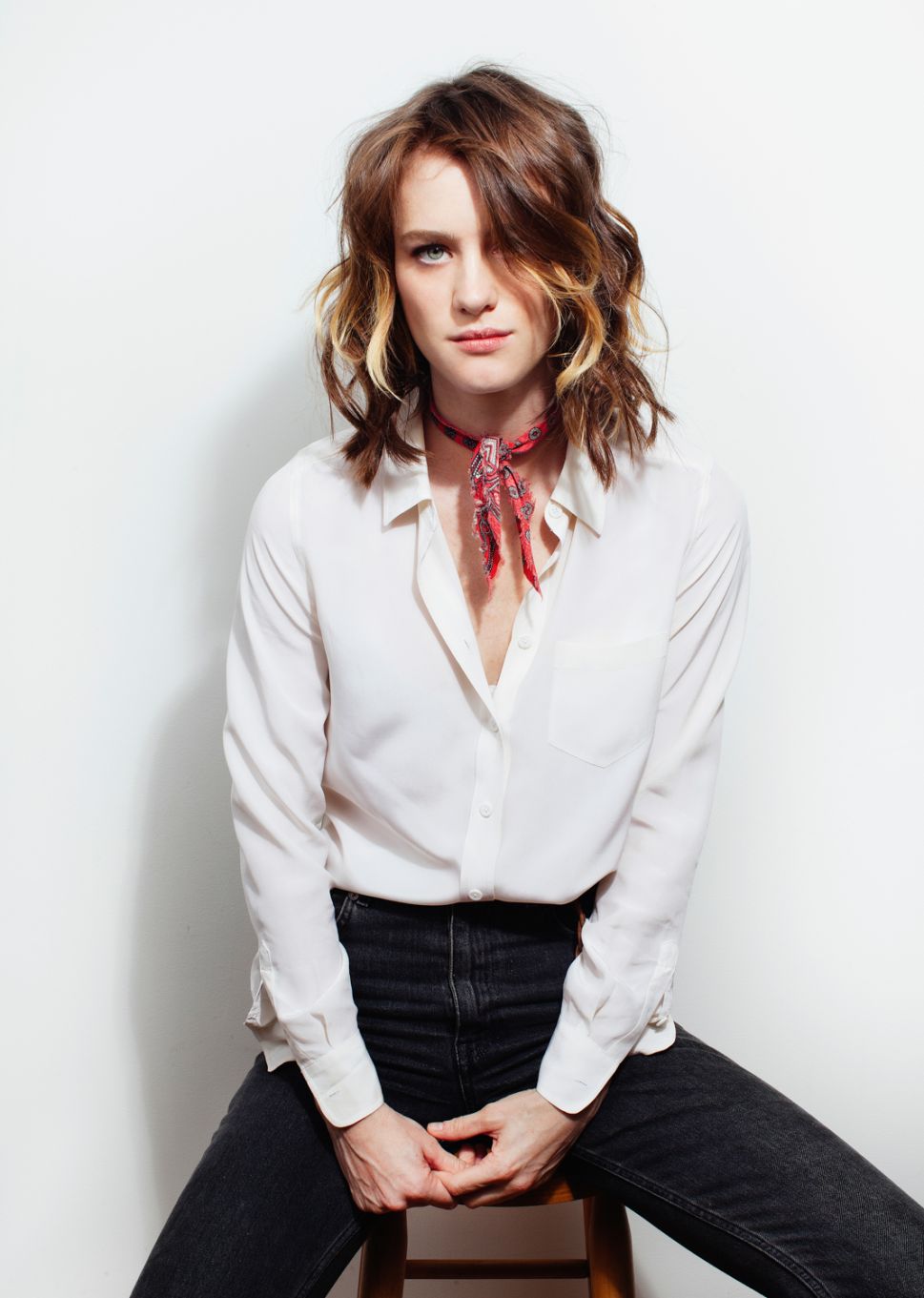 "It feels so oppressive. It's so hard to see that and know that you're wrong in some way, in the way that you articulate your femininity, or forget to articulate your femininity, and you're just immediate and loud and messy and aggressive. It's not until you get external feedback that it's not desirable that you have to reflect."
The most recent representation of the complexities of female friendship in popular culture came in the form of the Neapolitan novels by Elena Ferrante. "It felt almost invasive how articulate she was about these very internal feelings of jealousy and competitiveness in a female friendship that have never been given a stage in any serious way that hasn't been branded 'chick-lit' or something meaningless and trivial," Davis says about the Italian series. "And it felt so exposing—to have her talking about this thing that felt like a secret reality for you—but also so gratifying to have someone think it was important enough to talk about."
A note to Hollywood, on behalf of women: We are hungry for stories that show us on the screen. Show us ugly and complicated and jealous and petty. Show us terrified. Watch Always Shine, and take note because, yes, sometimes the environment of toxic masculinity that we've been taught since birth to navigate by instinct alone can feel like a quiet and devastating horror movie.