Besides is a 56 year-old woman living in Uganda who has had a lot of setbacks, according to a testimonial posted on the website of GiveDirectly. The non-profit is organized around making charity as simple as possible by giving poor people money, with no strings attached. When Besides enrolled in GiveDirectly's program, which gives African people like her about $1,000 in local currency over the course of a few payments, the GiveDirectly field worker who signed her up asked her about her life so far. She told this story:
The biggest hardship I faced in life was the theft of my only bull which I bought as a calf and grazed for two years. All my hope was in it. It has been haunting me throughout whenever I get a problem.
Paul Niehaus, a co-founder of the charity, told the Observer last week in a phone call that his organization wants to give potential supporters in the developed world a more well-rounded picture of the people they can support. GiveDirectly's field officers collect qualitative feedback from the people it supports as they enroll and after receiving cash transfers. On a new section of their website called GDLive, the public can read that feedback from recipients as soon as it hits the organization's servers.
Tomorrow, many people are expected to observe #GivingTuesday, looking for places to give money after getting through the initial rush of holiday shopping. "We have seen consistent double-digit, year-over-year growth in online donations on #GivingTuesday," Mike Gianoni, CEO of Blackbaud, said in a press release. The company provides cloud services to non-profit organizations. "In 2012 we processed $10.1 million in online donations, and last year's donations hit nearly $40 million," he added.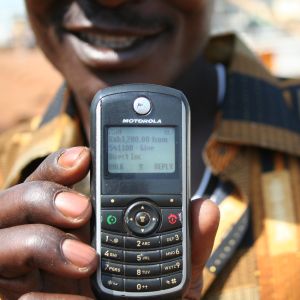 Just in time, GDLive debuted on November 17. According to the GiveDirectly website, field officers sign people up with an in person interview, which includes giving them a phone. In Africa, most payments are settled using mobile devices. The field officers translate and input interview responses on site.
As enrollees receive their payments, field officers call them to follow-up. Since her intake, Besides has received her first transfer, $112. Her follow-up interview just appeared on GDLive this morning. She said she used it to buy a solar panel in order to spend less money on heating fuel. She also bought some food, telling her interviewer, "We as a family had nothing to eat."
The $1,000 in transfers correspond to about one year of income for the typical African household, Niehaus explained. We spoke to him previously after YCombinator announced its intention to start a basic income program in the US. The charity has since announced its own basic income experiment in Africa, set to launch in 2017. Niehaus said they had raised $23 million toward the program so far.
Participants on GDLive come through the organization's original program, which ends its support after that $1,000 has been paid out. "We're not editing or curating the feedback to make sure it's happy, or fits a narrative," the organization's Chairman, Michael Faye, wrote in the GDLive announcement, so visitors shouldn't be surprised when they see irregular spelling or formatting in responses (we cleaned up some simple mistakes in the transcription of Besides' quote).
The three most recent stories on the site, as of this writing, all concern purchases made for a permanent home. Two come from people who have only received their first, smallest payment, allowing them to make some initial building material purchases. Another respondent has completed her house, using her second payment.
Users of the website can create a login and then follow specific people on GDLive. When they get a new update, users receive a notification to see their latest news and follow along. It is not, however, a sponsorship program. A donor could not, for example, offer to cover Besides' final payment. "There's no link between your donation and GDLive," Niehaus said.
Till now, GiveDirectly has reported back to its supporters using hard evidence from randomized control trials, finding that $1,000 in direct cash transfer yields $270 in increased income and $430 in increased assets, versus the average of a similar population that did not receive cash transfers. "Numbers are great," Niehaus said, "but they don't make the best conversation starter."
By seeing real testimonials from specific people making specific purchases, such as to pay school feels or to buy land, it helps potential supporters to see the recipients as individuals. Niehaus said, "It's an experiment in seeing if that generates more of these conversations."
He said, "The core question we meant to answer is: Who are these people?"