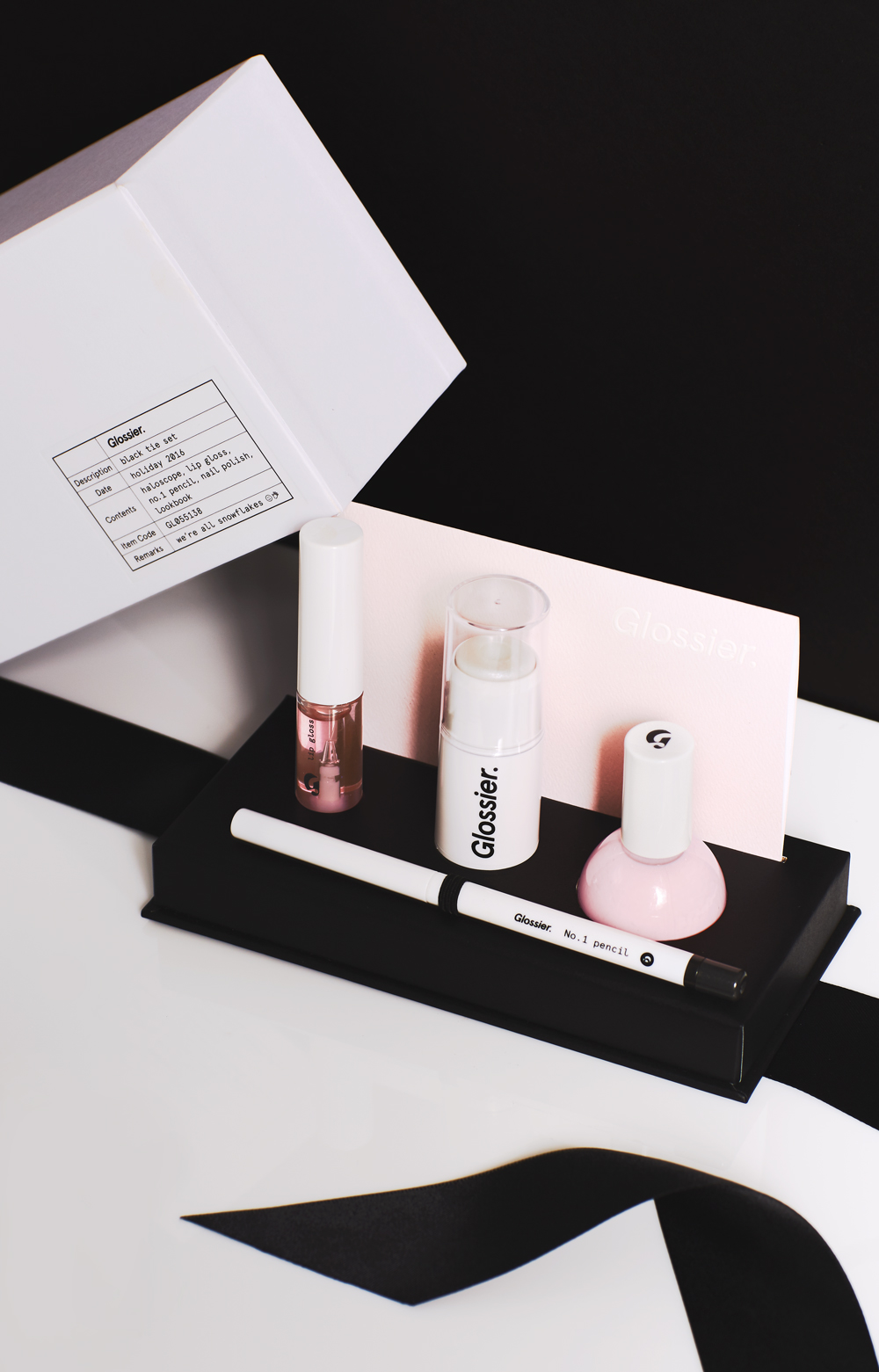 Today, Glossier launches its Black Tie Set, their 2016 "take on the holiday party look." It's a set of four items for $50, and it comes in a predictably minimalist white box with a black-tie inspired ribbon.
There is nothing surprising about Glossier's idea of black tie holiday makeup. Imagine the Glossier girl. Now picture her going to a New Years Eve soirée. That's exactly what the Black Tie Set is: A cat eye for impact, a sheer, shine on the lips to mark an occasion, almost-imperceptible highlighter that's more stolen Moon Juice crystals than a Kardashian's face, and of course, those nails. It is at once nostalgic for an era of simpler, pre-Instagram makeup, and decidedly modern. After all, for a Glossier girl, effort should be unnecessary, or at least well-concealed.
None of the four products in the "Black Tie Set" is reinventing the beauty wheel. (Quick note on other Glossier options: The cleanser, IMHO, is the star of the collection thus far, especially when it comes to bringing something different to the table. Boy Brow, while a truly excellent product, is not without predecessor.)
The holiday kit follows in much of the same vein. First up: a globular shaped nail polish, aptly called Glossier Pink. It's a little throwback-y in packaging and concept, though it capitalizes on #millennialpink, a shade the brand deserves credit for popularizing. Plus, it offers a refreshing departure from the emerald and navy that has been trending for a few years now. I plan on bringing it to my next mani.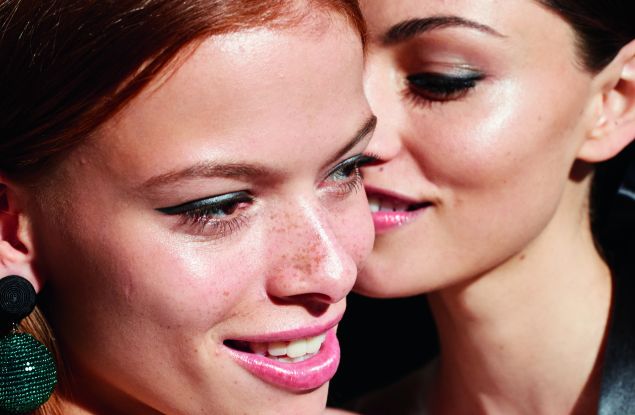 Next up: an eyeliner pencil—No. 1 Pencil in Graphite—a gel pencil with a smudger and sharpener, and also Lip Gloss. Glossier has not reinvented eyeliner, nor lipgloss. In fact, a few months ago, Sonia Kashuk also sought to reignite the simple clear gloss of the '80s, in her Knockout Beauty collection. Millennial-driven line The Estée Edit has one too—marketed to make your teeth look whiter in contrast to its shine.
Finally, Haloscope, Glossier's take on highlighter gets a new shade—Moonstone. Like the others, it is indeed infused with its namesake crystal and features a moisturizing core. The creamy texture glides on easily and all you need is some easy finger smudging to get that coveted ethereal glow.
Glossier is a testament to the power of branding. With the smart way they launch new products, most customers are obsessed with getting their hands on each and every new release, and it should be noted that this one is limited edition. If there's such thing as the epitome of the 2016 makeup mindset, it lies precisely between Glossier's minimalist and affordable must-haves and it's parent site, Into the Gloss's more decadent beauty collecting. Get ready to see this look on "it" girls everywhere this holiday season.