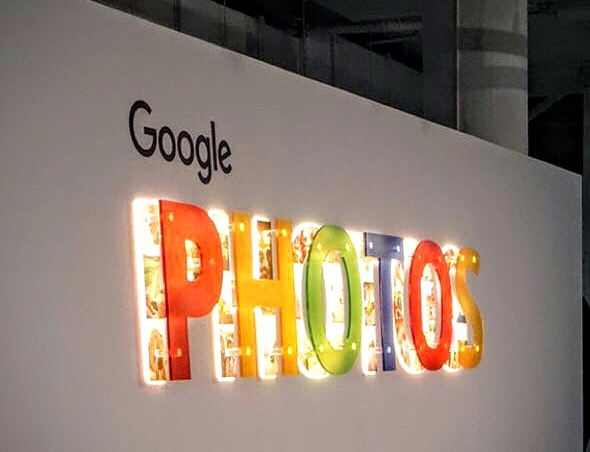 We all have boxes and albums full of old, fading family photos. We also all have about a million digital photos that sit on our phones unedited and unshared, simply because doing so is a hassle. Google (GOOGL) just solved all of these problems.
Today, Google announced a new collection of photo products that make it easier than ever to digitize, edit and share photos. The launch includes a new standalone app, PhotoScan, that allows you to scan your printed photos without glare in seconds—a process that previously took hours with a flatbed scanner or cost thousands of dollars through a service. The company also introduced updates to Google Photos that use machine learning to help you edit both the photos you scan and take digitally with professional quality automatically, or, on your own with more detail than previously possible.
Editing
At the launch event this morning in NYC, Tracy Utley, the product manager for Google Photos Editor, explained the updates to the app's sophisticated auto-enhance feature.
"What we're doing is taking machine intelligence about the content of the photo and then applying photography fundamentals about proper exposure and color," she said. "We're fixing your highlights, shadows and saturation all with one tap."
As she demonstrated on a picture of a dog, we saw the contrast of his coat improve, his eyes made to sparkle and vibrance added to the background instantly when she tapped the photo.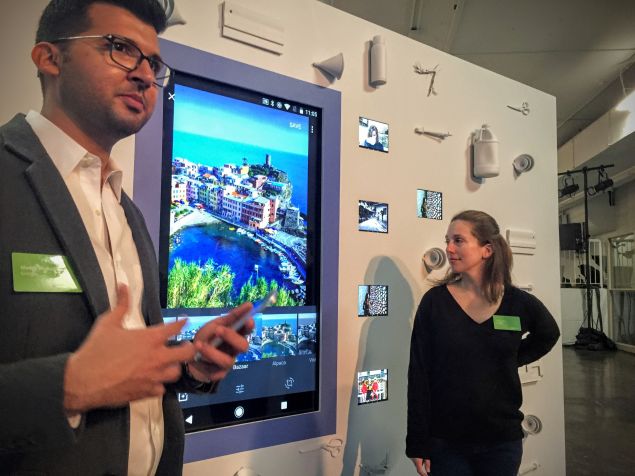 For those that want a deeper edit or just more control, the app also now features a few new editing categories like light, color and pop. Layers have also been added to each of these categories, so you can get as specific as you'd like with your adjustments. One example is "Deep Blue," which lets you adjust only the color blue in photos featuring the sky or the water so the rest of the image isn't oversaturated. Another is "Skin Tone," which allows you to adjust the warmth of skin tones in a photo. With this, you can adjust the saturation of a photo to brighten it up and then use this layer to bring the skin tones back down so they're balanced. This works over a wide range of skin tones.
The update also includes 12 new "looks"(essentially filters) that are unique because, unlike on Instagram, they're also smart. When you apply one of these looks, machine intelligence also corrects exposure and color balance for that specific look, for that specific photo. This way, all of the 12 options improve your photo rather than only a few, and choosing one is just a matter of taste. The different looks are inspired by different genres of photography such as portraiture, fashion and street photography.
Digitizing
For as long as people have been trying to bring their printed images online, it's been a challenge. Julia Winn, the product lead for Google's new app PhotoScan, described the wall she hit after wanting to digitize the old photos she found when she visited her parents last year for Thanksgiving.
"Digitizing these was really hard. I spent two hours sort of trying to get a picture of the picture, and there was always glare even when I moved furniture," she said. "Another option for some people is a flatbed scanner, which can work decently well, but most people don't end up using theirs because it takes forever…The last option is to send your photos to a service and pay them to scan them for you. For my family that would've been over $1,000."
With the new app, available for Android, iOS and Google Chrome, users can digitize printed photos in a matter of seconds. The app prompts you to take four photos (from different angles, so that the glare is in a different place in each) and then automatically stitches them together to create one digital, glare-free scan of your photo. From there you can edit the photos, and the resolution is high enough that they can be preprinted.
Watch how it works in this video:
https://www.youtube.com/watch?v=MEyDt0DNjWU
Once scanned, the app also uses machine learning to organize your photos. You can also easily search by things like person or event. The app can find all of the pictures of a person or event and show them to you at once, even when what's going on in the photos isn't completely obvious. Winn, for example, showed us how PhotoScan grouped together all of the photos from her parents' wedding despite the fact that it was quite untraditional, and the photos didn't depict typical wedding signifiers like a white dress and tuxedo.
Sharing
You can now use Google Photos to make combined albums with friends, similarly to the way iPhone uses can create "shared" albums via the cloud. The difference is that with Google Photo's new sharing, anyone can receive and add photos to the album even if they're not on the app. You can send via text message, email or anywhere you can post a link, and you can do it all in one step from inside the app, so you're spared from clicking in and out of Facebook, email and text messages to send multiple times.