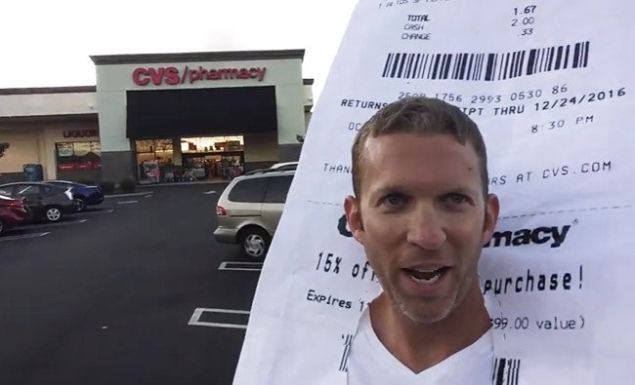 This year's most popular Halloween costumes ranged from Hamilton characters to "nasty women." But one California man may have won the holiday by drawing inspiration from his shopping list.
Jeremy Schneider, a San Diego-based landscape and event photographer, decided to poke fun at CVS' comically long receipts by dressing up as one and going to his local store to see what happened. And luckily for us, he filmed the whole thing:
Schneider wrote in a Reddit post that he got the idea for the costume after he went to CVS to buy a pack of Altoids, and got a super long receipt along with his mints. He then scanned the paper into Photoshop and cut it into 42 individual pieces, which he printed onto 8.5 x 11 inch paper and cinched together with packing tape. Finally, Schneider glued the full size receipt onto poster boards and taped yardsticks on the back to keep it upright.
The whole process took about four hours, and here's what the costume looked like in the end:
Because Schneider scanned the receipt using Photoshop, the ExtraBucks (CVS customer reward) barcode on the costume version could still be scanned as well. So when Schneider bought some Halloween candy after taking selfies with CVS customers and staff, the cashier scanned his body and he got his rewards points.
Admittedly Schneider was not the first person to use CVS' paper monstrosities as inspiration—another redditor did the same thing last year. But since he was the first to bring his costume into the real world (with a working bar code, no less) it's pretty clear Schneider gets the edge.