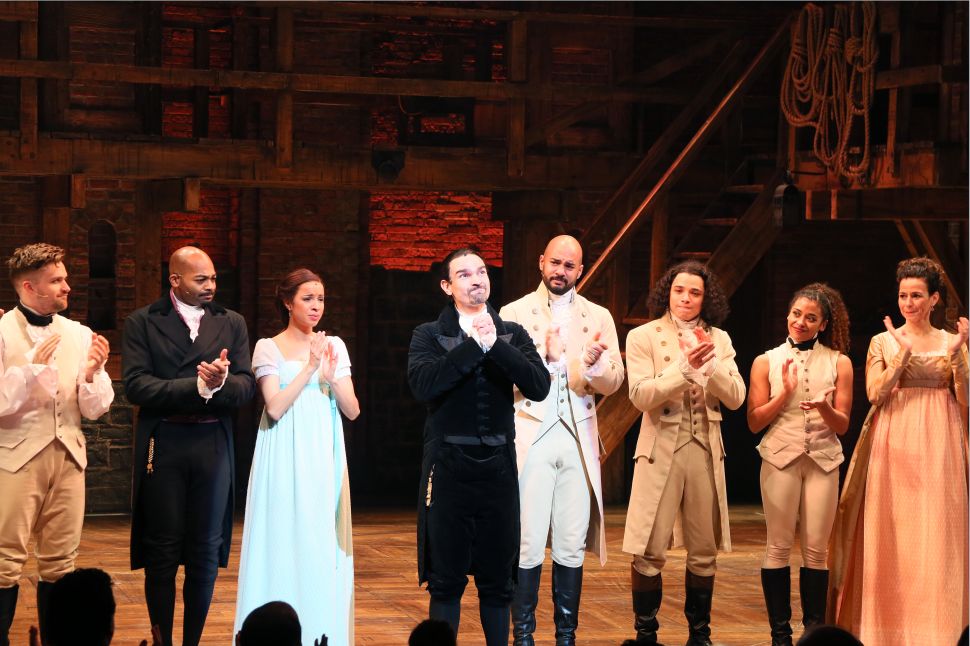 Last night, historian Ron Chernow looked out at the crowd packed into Sardi's, and began to rap. "How does a bastard, orphan, son of a whore and a Scotsman / dropped in the middle of a forgotten / Spot in the Caribbean by Providence, impoverished, in squalor / Grow up to be a hero and a scholar?"
As the featured speaker at the dinner preceding the annual Actors Fund dinner to benefit theatre professionals who have fallen on hard times, Chernow described the fateful meeting in Brooklyn Heights during which Lin-Manuel Miranda uttered those first few couplets and quatrains and said, "Ever since I've been reading your biography of Alexander Hamilton, I've been dreaming in hip-hop and telling the story of your characters in my head."
The actor-writer was then starring in 'In the Heights,' and Chernow, the peerless biographer and self-described "hip-hop ignoramus," didn't know what to make of it. He invited the budding playwright to his Brooklyn Heights apartment and they talked history. And they talked and talked and talked, both of them as prolix as their shared subject. Chernow was convinced that the young visionary had a little bit of Hamilton himself to him when the playwright explained that the rhymes would be coming so quickly that his lead character would actually utter more words than King Lear or Macbeth.
The world is a better place for that unlikely friendship having formed. And our city is a better place for the efforts of the charity that was supported last night, as it is every year, with a benefit performance in which all the actors, producers, musicians and everyone else donates the proceeds from the hottest show in town to a charity that hands a best-in-class 87% of its proceeds to its intended beneficiaries.
Steve Kalafer, the Oscar award-winning film producer who owns a minor-league baseball team and on the side runs about a dozen car dealerships in New Jersey, convened a roomful of his closest friends to go see a special Sunday night showing of the Tony award monopolist. Kalafer actually bought all of the tickets, as well as a copy of Chernow's book for everybody there in order to guilt them into stroking big checks to support a worthy cause. And stroke they did.
The actor Brian Stokes Mitchell, who won the Tony for best actor and is much loved in these parts for his role on The Fresh Prince, has been chairman of The Actors Fund since 2004. He introduced Kalafer, and with a thespian's flair for hyperbole, said that he had been in "one million special Actor's Fund shows and along with opening nights, they're my favorite because the audience really understands what goes into making it happen." While his estimate of the number might have been exaggerated, his account of the enthusiasm the actors would display was not. They killed it.
If it's possible for show as widely lauded as Hamilton to be under hyped, last night's performance of it was all that. (The Observer has gladly taken the wheel of that steamroller of hyperbole from time to time, such as in our profile of Daveed Diggs, the first to play Thomas Jefferson.) Chernow promised in his remarks that, having taken many first-time Hamilton viewers to see it, he has never walked out and heard anyone say it did not live up to its billing. Sunday night continued that noble streak, and it was advanced further when, after the show, its lead made a special final plea to the audience. Javier Muñoz detailed the struggle he faced when he was first diagnosed as HIV positive, and lauded the compassionate, instantaneous assistance he received from the Actor's Fund.
Even as we bask in the impossibly dense lyrical ambush of the 21st century's greatest musical, it was impossible not to see the parallels between Muñoz's story and Hamilton himself. Where the inventor of the US treasury system envisioned a federation in which richer states would guarantee the credit of poorer states, ensuring 250 years ago that America never would face its own Brexit, here was the man playing Hamilton benefiting temporarily from the largess of those more fortunate, getting back on his feet in magnificent fashion, and blowing the goddamn minds of some of those same benefactors. That's American philanthropy at its best, and it's America at its best.