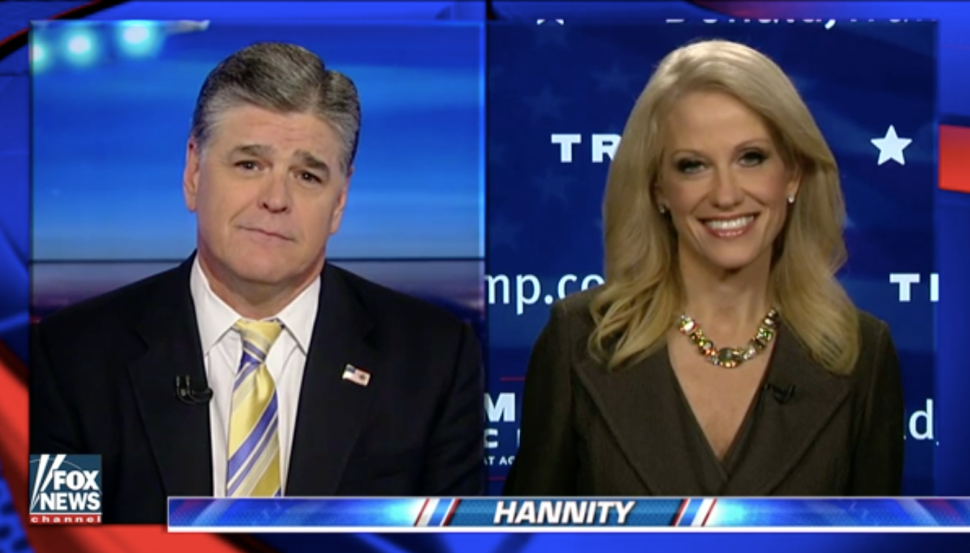 When the overbearing Joe Scarborough takes a day off from Morning Joe, co-host Mika Brzezinski gets a better chance to voice her studied opinions.
Such was the case Thursday morning on MSNBC when the conversation turned to former New York mayor Rudy Giuliani and his public campaign for secretary of state under President-elect Donald Trump.
Brzezinski offered Giuliani her tart advice.
"You don't run your mouth, you don't run your mouth," Brzezinski said. "You run your mouth, you're out . . . Maybe I'm wrong, but I'll tell you right now, if he hasn't been told to stop running his mouth, I'll eat my hat. And he's still running his mouth."
The point may be moot. Since Giuliani's campaign peaked early in the week, his name has been muffled by new trial balloons from Trump Tower suggesting that the State post might go instead to South Carolina Gov. Nikki Haley or even to 2012 Republican presidential nominee Mitt Romney. She visited Trump Thursday. Romney is to meet him on Saturday.
Sharing top billing with the State story Thursday was the report that Trump offered the national security adviser's job to retired Lt. Gen. Michael Flynn.
When the story surfaced Wednesday night, it became the centerpiece of The Last Word with host Lawrence O'Donnell in the 10 p.m. hour on MSNBC.
As he took the news in a telephone bulletin from reporter Kristen Welker, O'Donnell already was speaking with John Heilemann and Mike Murphy about the transition in general.
'Loony liberal crybabies,' Hannity sneered. 'Sore-loser liberals . . . overly coddled generation . . . collective insanity . . . little, pampered, spoiled brats.'
Just as chance favors the prepared mind, so too does it benefit the well-prepared show segment. They easily segued to the Flynn story and the guests offered blunt reactions and warnings.
"Very controversial figure, not just among Democrats," Heilemann said of Flynn. "Has very, very strong views about almost everything."
All discussed how the national security adviser traditionally tries to stay above politics and be an honest broker of conflicting opinions in an administration and that doesn't sound like Flynn.
At the Republican convention, Heilemann recalled, Flynn led the Trump mob in "Lock Her Up!" cheers against Clinton.
Joining the conversation was reporter Ken Vogel of Politico who mentioned how Flynn dined last year with Russian President Vladimir Putin after he was forced out of the Obama administration.
"These are the things that would raise concerns with Republicans, among hawkish Republicans," Vogel said. Back, on the phone, came Welker, who said Democratic Congressman Adam Schiff of California is leery of Flynn.
"I'd be worried about an impulsive president with an impulsive national security advisor," Schiff said, according to Welker.
As the 27-minute, commercial-free segment turned back to the transition in general, Murphy cracked wise about Trump's plan, echoed by his chanting campaign mobs, to "drain the swamp."
"The problem with draining the swamp is you also kill everything that lives in the swamp," Murphy said. "Some swamp life is useful. It has an important role."
The show had a live, newsroom feel, with many interesting people contributing informed commentary on a breaking story for a progressive, liberal network.
The air was much different in the same hour on the right-wing network, Fox News Channel, which showed opposite The Last Word—one of those stale, pre-recorded episodes of Hannity.
In that it was taped hours before, host Sean Hannity offered no clue about the Flynn story, even though Fox was Trump's sanctuary network during the campaign.
Instead of breaking news, Hannity filled the beginning of his show with scorn for Hillary Clinton supporters—especially the females—who cried with disappointment and expressed fear of Trump after he defeated Clinton in last week's election.
Hannity showed their pictures, then kicked them while they were down.
"Loony liberal crybabies," Hannity sneered. "Sore-loser liberals . . . overly coddled generation . . . collective insanity . . . little, pampered, spoiled brats."
Switching off the invective, briefly, Hannity next dipped into his nightly sermon, a treacly recollection about how wonderful his Irish-Catholic ancestors were and how hard he, Sean Hannity, worked at all those blue-collar jobs on Long Island when he was just a young bully boy who didn't need college.
And, finally, Hannity came to the conclusion that the world would be a much better place if more people in it were just like him.
In to support Hannity came Kellyanne Conway, a Trump spokesperson who also wanted to put down Clinton's supporters.
"And, by the way," she said, "what do these people actually fear?"
She meant it rhetorically. But, for the moment, let's assume Conway actually wanted to learn something. So here goes.
Kellyanne, they fear that—in two months—the United States will turn over its nuclear arsenal to a puffy, loud, angry 70-year-old man who is impulsive, vindictive and petty.
Muslim Americans fear Trump's religious bigotry. Hispanic Americans fear his blatant racism. Female American persons fear his fingers reaching for their crotches.
And thanks for asking, Kellyanne.
Except for Fox, the other networks did a good job of following up the story Thursday in the hours before the job offer to Flynn was confirmed by The Associated Press.
On CNN, Jake Tapper reported that Flynn, during the campaign, tweeted fake news stories about how New York Police were investigating Clinton for money laundering and sex crimes, a totally fictitious smear or, as Tapper put it, "a complete lie."
On MSNBC, Katy Tur told MTP host Chuck Todd that she asked a couple sources about Flynn's qualifications and temperament. The answer she got to both questions from both people, she said, was "a hard 'No.'"
Later, on CNN's Anderson Cooper 360, Cooper showed a tweet from Flynn that said "Fear of Muslims is rational . . . the term Islamophobia is an oxymoron."
Although both CNN and MSNBC reported the offer well before 9 p.m. Thursday, that's the first time Fox viewers heard about it because that's when The Kelly File began.
In that it was Fox's only live show in prime time, celebrity news actress Megyn Kelly enthusiastically announced it alongside reporter Ed Henry.
"You just broke this!" she told Henry, who may have made a phone call or sent an email to confirm what AP and everyone else had reported.
Oh, speaking of Kelly: She's been making the rounds of all the networks, selling a new book just before her contract expires. Kelly now tells everyone she was sexually harassed by Roger Ailes, the former Fox News emperor who "got resigned" last summer in a sex scandal.
Ailes, through a spokesman, said he did no such thing to Kelly. Hmmmm. Which one of them is lying? You decide.
Disclosure: Donald Trump is the father-in-law of Jared Kushner, the publisher of Observer Media.