When he was mayor of Tirana, Albania, Edi Rama mandated that houses be painted in bright colors to enliven the dark grey dingy city and create civic spirit in a demoralized place.
Crime declined, even the everyday crime of stealing electricity.
"We got people to pay for the energy they were using," Rama told the Observer. It was a giant step. A decade earlier, houses kept the lights on by connecting illegally with extension cords that crisscrossed everywhere like dark grey Christmas tinsel. Thanks to Rama, Albania, or much of it, chose enlightenment, most literally.
Rama, elected prime minister of Albania in 2013, recently reflected on what he had achieved as the mayor of Tirana and as leader of the Eastern European country at Marian Goodman Gallery, where he has a show up until November 23.
Approachable by the standards of any 6-foot-8 politician, Rama is a painter by training and by profession, and a former teacher at the Art Academy in Tirana. He also played on Albania's national basketball team.
As Rama did with the facades of Tirana, the gallery has brought an entire white wall to life with dozens of his drawings. Those drawings, tending toward colorful biomorphic forms, are doodles, as even he describes them, sketched mostly during meetings, on all sorts of official papers.
It's tempting, but not enough, to view them as Rorschach blot.
On paper, as he says, Rama works from the inside out, as if a landscape coded in color and seen from above were spilling across the page. Another recurring form is the human figure, with celebrations of color adorning massive cloaks.
As in paintings by Gustav Klimt, wild visions are contained in distinct borders. Rama's colors creep across the surface, yet they never smear off the page. If Rama is seeking to escape the working frame, he is still not jumping off any cliffs. His colors are dramatic, but harmonious. If these are his inner thoughts, his constituents should be encouraged. We discover a man of fantasies but also a man of restraints.
Rama's sculptures are his weekend work. "I replaced basketball with sculpting," said the man who once had a formidable jump-shot. "It's the 'three-dimensionalisation' of the doodles—in many ways, it's the same thing." The effect, to this observer's eye, looked like bringing three dimensions to the paintings of Chaim Soutine—Soutine's sagging landscapes, rather than his dead animals. Like Rama, Soutine was an Eastern European who fled to paris to hone his art.
And then there is the city of Tirana, which is as much of a medium for Rama as anything else. A work in progress, as the former mayor would be the first to describe it, Albania's capital has undergone a transformation that few would have expected, considering its grimness after (and especially before) communism fell.
Rama, who'll talk about almost anything, is wary of holding his still-impoverished city up as an example to other politicians. Yet he leads by example, albeit the example of the poorest country in Europe—hoping for entry soon into the European Union. "By my experience, I've seen that one can do more with less," he said. Tell that to the Brexit folks.
The painter, 51, was born with both feet in Stalinist cement. The son of an artist, he grew up in a country that had abolished all religious practice and demolished thousands of churches. Art was decreed to have ended before Impressionism, which was condemned in the Albanian Academy, along with all modern art, as petty bourgeois decadence.
"They asked artists to give up their books on 20th century art, and with all the books that they collected, they recycled the paper to print one edition of our communist party newspaper," he recalled. "So from the ashes of degenerate art was formed an edition to inform the working classes.
"The only book to survive the purge was Leaves of Grass," he noted, "because they sent it to the Department of Agriculture. They thought it was about agriculture. This book was so much read, so much circulated, that it was a like a sacred object."
The closest thing to a nude model in Albania was a student in a bathing suit. "In 1990, someone coming from France asked me. 'Do you make installations?' I was thinking that he was talking about electricity. I didn't know what installation meant in 1990," said the painter.
Even before communism fell in Albania, a year after regimes toppled in the rest of Eastern Europe, Rama wanted to see the art of the rest of Europe. He joined the national basketball team since Albanian athletes were permitted to travel with their teams (and police escorts) to international competitions. On the one day that he was able to break free from security guards during a trip to Vienna, the Kunsthistorisches Museum was closed.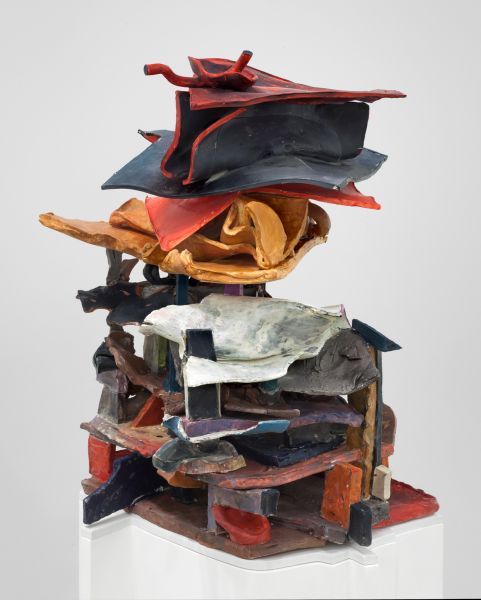 Rama left Tirana for Paris after communism was toppled, but he returned for his father's funeral, where someone proposed—to his mother's chagrin—that he get involved in politics. Eventually, he became mayor of then-tawdry Tirana, where he had a budget that he called "point zero of nothing."
Paint, thanks to the European Union, was affordable. In an act of bravado that has now become legend (and policy), the painter decided to paint the houses of the city in bright colors. As Marx might have put it, the workers had nothing to lose but the grey.
Rama has told this story for more than a decade. The facades of the buildings on one street were being painted orange, "but really orange, like the Dutch football team," he recalled, "in the middle of all the dusty grey."
"There were 200 people in front of the building, there was a traffic jam, and this French guy says, 'this is a scandal, this is impossible, this is EU taxpayers' money, and this color is terrible.'
"When I asked him why it was terrible, he said, 'It's completely outside the EU standard.' "
"I asked him, 'Do you see anything within the EU standard around here?' "
Rama went public with that dispute and took a poll, asking two questions, he recalled: "Do you like the painting of the city, and do you want the painting to stop?"
The results affirmed the project, Albanian-style. "Sixty-three percent of the people who responded said that they liked it, and 80 percent said they wanted it to continue. So even the people who didn't like it said they wanted it to go on." He laughed.
"What we couldn't have predicted were the collateral effects," he explained. "On the painted roads, where tax collection had been at 4 percent, we were now collecting taxes from 90 percent of the people. They were willing to pay because they felt the streets were safer."
Rama followed that project with a greening of Tirana, which involved tearing down thousands of illegal new structures. "We wanted to give people the sense of a city, not simply as a physical space but as a space where they could imagine a future," he said.
"When hope is visual, there's a very strong engine there to work with it and live with it. That's why people reconnected with the city. They started paying taxes and contributing," he noted.
Like the painting of the city, the greening campaign  "was quite authoritarian," Rama admits. "It was anti-democratic, but it was also avant-garde to open that kind of process.
"Tirana has a weakness and the weakness can become our greatest strength. The weakness is that we don't have much national heritage." Thousands of churches and mosques were demolished when Albania proclaimed itself to be an atheist state. Rama played basketball in the interior of a cathedral that had been converted into a gym. Jumping for the ball, he said, "was like jumping toward the angels."
The decision to turn the city green, he said, "was a policy without money, because we didn't have any money." Demolition was cheap, and tearing down illegal buildings gave Tirana back its gardens and parks.
Amid all the shaking, Rama still has time to paint, even to collaborate with his countryman Anri Salas, now a fixture of the French and international Contemporary art scene.
As always, the paintings begin with drawing at meetings—first in black and white, and then in color.
Colored pencils at a government meeting? "The colors came to my desk out of the necessity to indicate the tones of paint for the buildings in Tirana. So I had colors on the table and I used them, but I didn't bring them on purpose to put them in my drawings," Rama explained.
Given the outcome—a more livable country—the colored pencils are tolerated in official meetings and are certainly preferable to the rancid smoke of Eastern European cigarettes. Rama has converted an old Stalinist bureaucratic building into Centre of Openness and Dialogue, which  includes an exhibition space. He also plans a "Faith Park," where all the country's religions will be represented. The prime minister notes that he's a Catholic married to a Muslim, with two orthodox children and a third who hasn't decided yet on a religion.
"We wanted to give people the sense of a city, not simply as a physical space but a as a space where they could imagine a future," he said.
"It's a lesson that beauty and beautiful spaces can make people's behavior change completely," said Rama, whose term extends for another three years.  "I hope that I'll go away before people want me out."