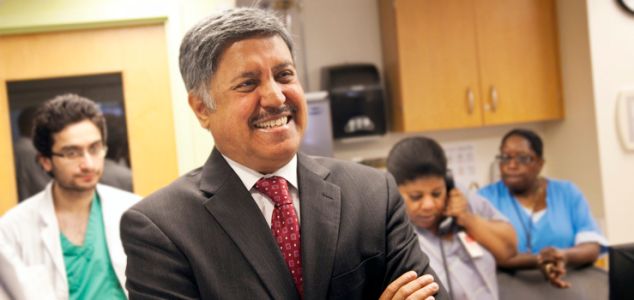 The president of New York City Health + Hospitals—a system battling a $1.8 billion budget shortfall projected for 2020—will step down at the end or this month, less than three years after Mayor Bill de Blasio appointed him to oversee  city's troubled 11 public hospitals.
Raju, whom de Blasio appointed in January 2014, said he will be leaving the position effective Nov. 30, having informed City Hall of his decision in September. According to the Daily News, he is retiring.
"I encourage you to keep striving for excellence and continue to support the journey toward 2020 and transform this health system into a national mode," Dr. Raju said in an email to his colleagues today. "I am tremendously proud to have led this organization and humbled to have been able to work side-by-side with so many who share our values to deliver equitable health care and the promise to help all New Yorkers live their healthiest lives."
The system has struggled with financial difficulties due to declining federal dollars and the cost of caring of the uninsured, who are often undocumented immigrants ineligible for government subsidies. In April, Mayor Bill de Blasio allocated $160 million just to get Health + Hospitals through the fiscal year that ended June 30—on top of the $337 million he put into the 2016 budget in January.
The city also has agreed to forgive $180 million in debt service owed by the system each fiscal year. The de Blasio administration admitted that the injection of funds was necessary to allow the hospitals to continue operating.
In July, Comptroller Scott Stringer announced that subsidies to Health + Hospitals will likely surpass projections by $365 million in fiscal year 2017, growing to $515 million by fiscal year 2020—the results of his annual analysis of the city's $84.6 billion adopted fiscal year 2017 budget.
The de Blasio administration said Dr. Raju oversaw the first phase of Health + Hospitals reforms: improving facilities and service and expanding the patient base, which the city hopes could lead to eventual financial stability.
"The administration is deeply grateful for Dr. Raju's service in developing and launching a transformation of Health + Hospitals that will ensure our treasured public healthcare system continues to provide the best in care to all New Yorkers, including our most vulnerable patients," Aja Worthy-Davis, a mayoral spokeswoman, said in an emailed statement. "Our healthcare system will continue to be led by an experienced healthcare leader well-equipped to continue the work of modernizing public healthcare, making it more patient-friendly and efficient for all New Yorkers."
Dr. Raju, who has more than 30 years of experience working for public and not-for-profit hospital systems, kicked off his career at Lutheran Medical Center in Brooklyn. He then served as the chief operating officer and the chief medical officer at Coney Island Hospital and then as chief medical officer, corporate COO and executive vice president at the New York City Health and Hospitals Corporation.
The India native received his medical degree from the Madras Medical College and was a Fellow of the Royal College of Surgeons of England in the United Kingdom. He received his Masters in Business Administration from the University of Tennessee.
Stanley Brezenoff, served as president of New York City Health and Hospitals Corporation from 1981 to 1984 under the late former Mayor Ed Koch, will serve as the interim head until the city finds a replacement.
Brezenoff, served as president of HHC from 1981 to 1984 under the late former Mayor Ed Koch. He is credited with bringing the system's $1.8 billion yearly budget into line, getting full accreditation for the hospitals, enhancing emergency medical services and bringing personalized care into crowded municipal hospital clinics. He also expanded the psychiatric transfer service unit of the New York City Emergency Medical Service to guarantee that mentally ill individuals had access to the city's health system.
He also was in charge of Brooklyn's Long Island College Hospital in Brooklyn, which under his watch ran massive deficits and ultimately got put up for sale, to the outrage of many in the surrounding community—and from de Blasio, then the city's Public Advocate and a candidate for mayor.