In another life, I was an arts and crafts counselor at a summer camp in rural Pennsylvania. So I can say with some authority that nothing brings people of all ages together like a bottomless supply of glitter glue and miraculously making something beautiful from salvaged twigs and yarn. Scoff at hand turkeys all you want, but several years ago my officemates got together on our lunch break and made them and it was a bonding experience for the ages. In light of recent world events (the election of Donald Trump), many Americans are facing a particularly daunting Thanksgiving dinner with relatives who voted differently on Election Day, and may be in need of a lighthearted activity to reach across the aisle. Here are some art projects to help you and your family work through your feelings and heal political divisions—if only for an hour or two.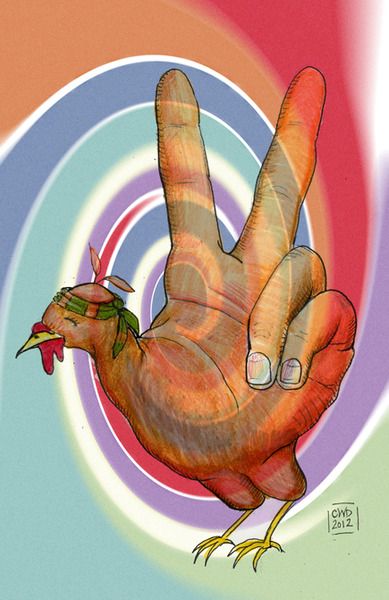 Hand Turkeys
This classic never grows old. Tracing your hand and coloring in the lines to resemble a giant, tasty bird is the perfect way to get your creative juices flowing, see who in your family is a crayon-hoarder and break the ice for conversation. There's no need to dive into talk of politics right away, so for the sake of neutrality avoid giving your turkey a "Make America Great Again" hat.
Thought Leaves
Now on to some healing time. Everyone is having lots of feelings right now. When you're forced to sit around a dinner table with the extended family who live 3,000-miles away for a reason, all those feelings are bound to come to the surface. Instead of starting a shouting match, put the fallen leaves in the backyard to good use and write down what comes to mind: worries and fears and/or inspiring phrases. When everyone's done, add paint or glitter, hang them in the window, or throw them inside this next project.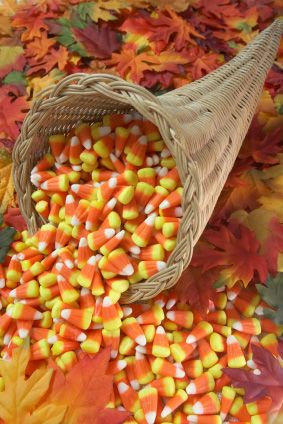 Halloween Candy Cornucopia
There's no way everyone has finished off their Halloween candy by now. Get in the giving spirit and bring your leftovers for a potlock-style cornucopia. Along with your Thought Leaves, add some autumnal-colored ribbons and creative packaging to your contributions to make the horn of plenty festive. Sugar is a sure way to get everyone in a good mood.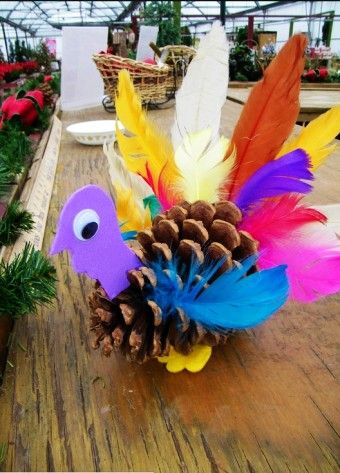 Pinecone Avatars
I have a Mr. Potatohead "How I'm Feeling" magnet on my fridge. Once a week I move a little blue square around the board to a different Mr. Potatohead—Stressed, Happy, Sleepy—to let my boyfriend know how I'm feeling so I don't have to use real words. Decorate a pinecone to reflect how you're feeling: use a palate of blues and grays for Gloomy or reds and oranges for Fired-up. Place your avatar by your place setting so that when dinner inevitably turns to topics of politics, everyone's emotions will already be out on the table—literally.
Wreath of Tolerance
Here's probably the most important team-building exercise you can do with your family this week. In these uncertain times, it's crucial to send messages of openness and understanding to loved ones as well neighbors. Gather everyone's hand turkeys and pin them together to make a wreath for the front door to brighten the block with the colorful contributions of all the aunts, uncles and cousins. Look on the bright side folks, when dinner is eaten, and everyone's hands are covered in colored marker, you'll have either reached new common ground with your formerly estranged kin or you'll have an entire year before you have to worry about talking politics with Aunt Jo again.