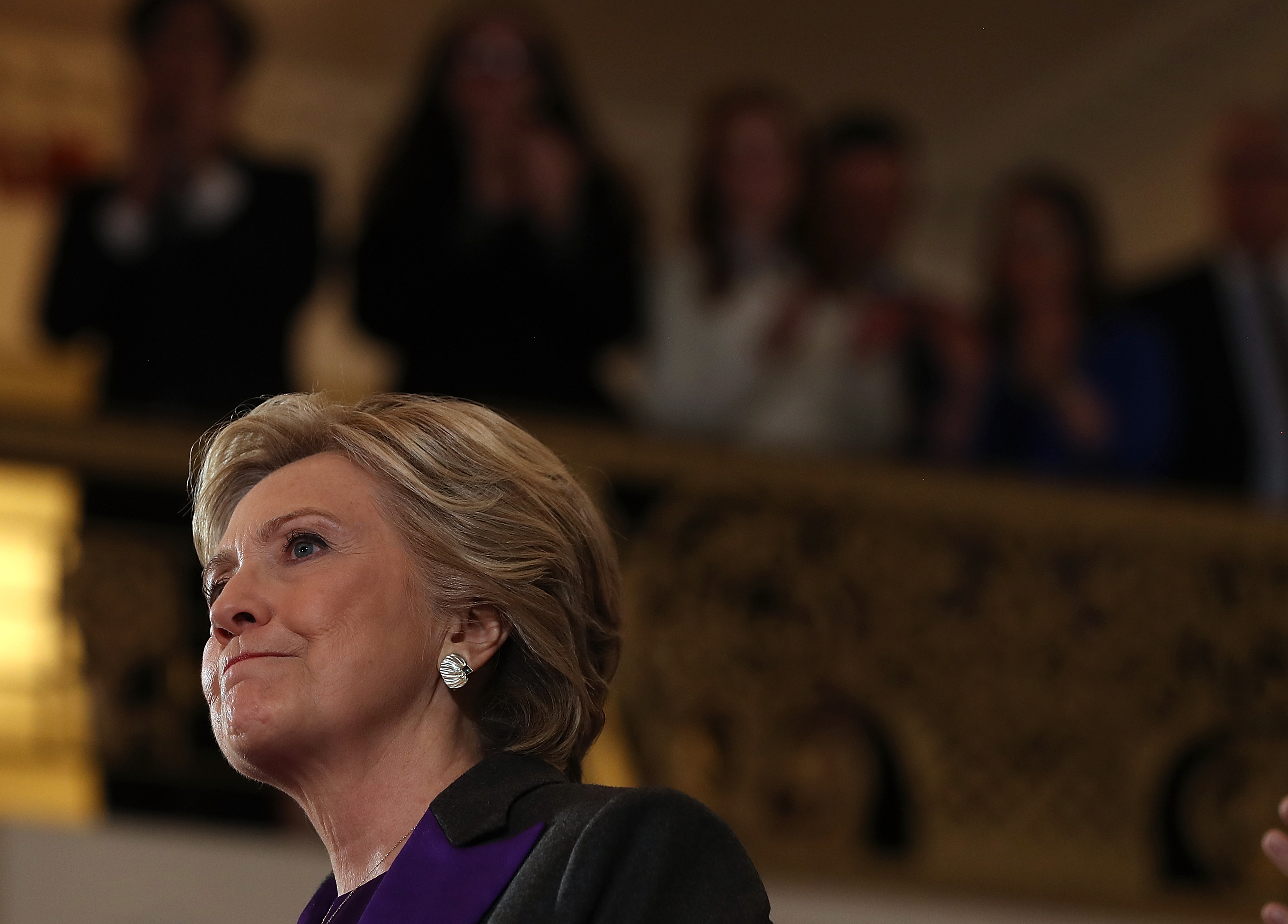 A day after losing an unusual and ugly presidential race to Donald Trump, Hillary Clinton formally conceded to her opponent this morning, but appeared to warn him to respect the fundamental principles of American democracy.
Speaking at the New Yorker Hotel in Hell's Kitchen hours after her originally scheduled appearance at the Javits Center last night was abruptly cancelled, Clinton said she called Trump last night to congratulate him and said everyone owes him "an open mind and a chance to lead." The comment seemed ironic a move given the Republican nominee's claims before the election that he would keep people "in suspense" about whether he'd accept the results.
But she stressed that he needs to be considerate of the rules and values governing the country.
"Our constitutional democracy enshrines the peaceful transfer of power and we don't disrespect them, we cherish it," Clinton said. "It also enshrines other things: the rule of law, the principle that we are all equal in rights and dignity, freedom of worship and expression. We respect and cherish these values, too."
Clinton thanked everyone in the room as they clapped continuously, and as their cries of "we love you" stalled the start of her speech.
She also encouraged people to continue participating in politics, saying that the country "is more deeply divided than before" and asking her supporters to advance the campaign's key causes. Those included efforts to combat income inequality, to stop global warming and to make the American dream "big enough for everyone"—people of all races and religions, men and women, immigrants, LGBT individuals and people with disabilities.
Clinton apologized for losing the election, but encouraged her supporters to be strong and keep going, expressing pride over her campaign, which she called "vast, diverse, creative, unruly, energizing."
"You represent the best of America and being your candidate has been one of the greatest honors of my life," Clinton said. "I know how disappointed you feel because I feel it, too and so do tens of millions of Americans who invested their hopes."
She added that her campaign isn't built around one person—a theme that sounded eerily similar to that of her former primary opponent, Vermont Sen. Bernie Sanders.
"This is painful, and it will be for a long time," Clinton said, garnering laughter from the audience despite the non-positive nature of the circumstances. "But I want you to remember this: our campaign is never about one person or even one election, it was about the country we love and about building an America that's hopeful, inclusive and big-hearted."
Her vice presidential pick, Virginia Senator Tim Kaine, said Clinton still made history and commended her loyalty to her supporters and their commitment to her.
"She has been and is a great history maker in everything she has done as a civil rights lawyer and First Lady of Arkansas, First Lady of this country, senator and secretary of state, she has made history in a nation that has done so many things but has uniquely difficult for a woman to be elected for federal office," Kaine told the audience. "She became the first major party nominee as a woman to be president and last night, won the popular vote by a large margin," garnering applause from attendees.
Hundreds of individuals—mostly journalists but also campaign volunteers and others—were lined up outside the historic New Yorker Hotel in Hell's Kitchen, the queue stretching past the end of the block and onto the next one. A number of supporters were also seen standing across the street waiting for Clinton to arrive.
Supporters shouted "We love you, Hillary!" when she and her husband, former President Bill Clinton, walked out of their car. The couple waved at the crowd, and Hillary placed her hand on her heart and waved it to express her gratitude. Despite a crushing defeat, both smiled graciously. Kaine and his wife, Anne Holton, entered the venue before them.
When the speech was over, Chelsea Clinton left the hotel, smiling and waving at the crowd. She was followed by the Clintons, Clinton campaign chairwoman Huma Abedin, campaign chairman John Podesta and top strategist Robby Mook as a six-car motorcade awaited them.
Two campaign volunteers waiting on line ahead of the speech told the Observer they were stunned by the results, calling it surreal and hard to believe. They had both attended her event at Javits Center, having waited since 7:30 a.m. and leaving the venue thinking that there was still hope—something onto which Podesta was clinging as well when he addressed the crowd at the center last night in Clinton's place.
Caileigh Scott, 32, who volunteered for the campaign in New York, said that the polling data ended up being wrong about the outcome of the race.
"I keep thinking about the debates and it was so clear each time that you had a man who's hateful and a pig and a woman who is qualified and has done homework and is deeply passionate about helping people and knows every inch of policy," Scott said. "And I guess I'm just so flabbergasted that other people saw something else or just didn't care because they just preferred the hateful rhetoric of his message instead of looking at qualifications."
Wade Snowden, a 20-year-old volunteer for the campaign in Wisconsin who had just voted for the first time, was similarly confused as to how voters would reject a "loving, optimistic embracive future of America." He noted that Trump's victory was shocking in light of the fact that Clinton had a stronger get-out-the-vote operation.
"I always thought even if the polling's wrong, our ground game—all the calls we made, all of the canvassing—no one did that for him," Snowden said. "No one did that for him, and I just think that shows how hateful this country is—that this man who had no ground thing, organizing, just easily won."
Disclosure: Donald Trump is the father-in-law of Jared Kushner, the publisher of Observer Media.