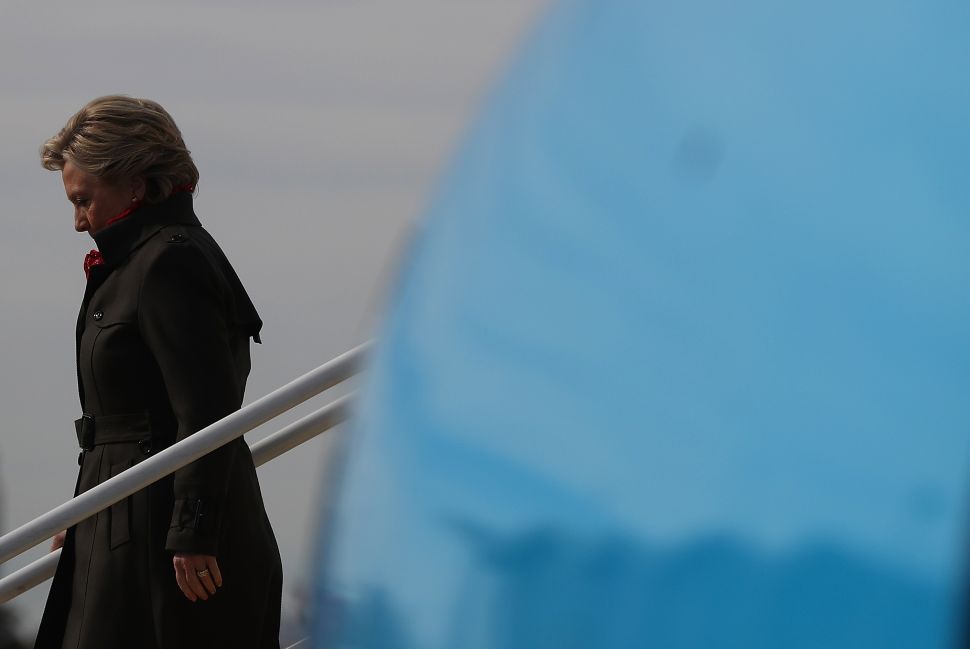 FBI Director James Comey's decision to resume the Bureau's never-quite-closed investigation of Hillary Clinton's criminal mishandling of classified information hasn't sent her to prison—yet—but it has crippled her campaign.
Hillary's lashing and thrashing counter-attacks on Comey and the FBI confirm the deep damage. Her responses are convulsions, not actions. In the debates Hillary tried to sell herself as cool and collected. Comey's one-eighty shattered her mask of composure. Her panic is the tortured panic of a guilty soul.
What will happen next in this most curious election? If you haven't asked that question then the coroner needs to check your pulse. To paraphrase Scott Adams, the odds of something unexpected not happening in this election is exactly zero.
In a crack suspense novel or movie thriller, the fictional events, no matter how outrageous, display a "semblance of truth" and link with "just enough" plausible causality the audience suspends disbelief for the sake of entertainment.
Thrillers in all genres usually have a clock of some sort. The Hollywood classic High Noon builds suspense using tightly framed shots of Gary Cooper's worried face interspersed with shots of ticking clocks. With each tick the witching hour approaches when The Miller Gang hits Hadleyville to exact armed revenge. Make sure you've oiled your six-gun.
The 2016 election has a clock. Presumably the witching hour occurs Tuesday evening, November 8, during prime time when the major television networks call the election. (Unless we have a 2000 redux and a 2016 Al Gore protests and says the election was rigged. Then we go into recount and Supreme Court overtime.)
Team Hillary certainly plotted the 2016 election, and plotted it down to commas and periods. For example, Hillary made the final ruling on having a troll Donald Duck haunt Trump rallies.
Though her decision appears to be a complete violation of federal election laws, it certainly rates as detailed plotting.
According to Clinton operative Nerra  Tanden, (as quoted in a hacked Wikileaks email) Hillary set up her illegal server system because she thought she could evade Freedom of Information Act laws and manage to get away with it.
"Why didn't they get this stuff out like 18 months ago? So crazy," Tanden asked.

"Unbelievable," Podesta replied.

"I guess I know the answer," Tanden replied. "They wanted to get away with it."
In a Greek tragedy trying to "get away" with an overt ethical violation is an act of hubris.
Watch out pitiful human. Commit hubris and you insult the gods. Once you insult the gods, to hell with a logical plot. When you insult the gods you've entered quantum territory where the cat's simultaneously dead and alive and the gods themselves may destroy you. Now anything can happen, from the subtle to the surreal. Why, the committer of hubris might do something depraved like unknowingly marry his mother (ask Oedipus) or, like, she might have her national security crimes exposed by a sexting pervert after she thought her political-media machine and The Clinton Foundation had managed to control or corrupt every potential threat to your presidential coronation—even the FBI.
As for Donald Trump? Plot? What plot? Gut instinct drives his hour-to-hour action. The Donald has re-defined "impromptu" and "wing it" in national politics. Trump has strategic savvy but throughout his career he has benefited from tactical and operational unpredictability. His unpredictability has advanced his presidential election bid and damaged it. The self-damage has been severe. Trump is a case study in unforced campaign errors. But after Comey's flip flop he's within a point of Hillary in several national polls. The world would benefit if Trump could bring selective and disciplined unpredictability to bear in international affairs on behalf of America and its allies. Selective and disciplined unpredictability is an oxymoron—which is why it's another column.
Back to the election. Quite a cast, huh? Except the 2016 election isn't an entertaining novel or  movie—it is a process to determine who will lead the most powerful nation on the planet.
But—but if this election were fiction. If—if it were a suspense novel or a Hollywood thriller. Who among us—be truthful, don't Wage War On Honesty—who would have ever wagered that in the campaign's waning days, in its final chapter, in the last tick tocks—who would have predicted the sudden re-appearance of sexting porn star Carlos Danger (Weiner's porn pseudonym)? From stage left: Carlos Danger descends in medias res, riding a tabloid headline in The New York Post. Carlos Danger—estranged from close Hillary aide and confidante, Huma Abedin—sexts an underage female in North Carolina. Oh, wait, back story. Carlos (or is he Mr. Danger?) was New York's 9th District's congressional rep down in DC from 1999 to 2011. Danger's been up there with the political elites. But blimey, he's sexted a 15 year old. In the course of the FBI's investigation into this pervert the Feebs discover Miss Huma has lots and lots of Hillary's emails on a device Miss Huma shared with her wedded pervert.
Hubris. The gods, or quantum mechanics, ignore plausibility. The FBI  must re-visit Hillary's criminality. Shocking plot twist in spades, or trump cards? Indeed. But you know what's most surprising? Carlos Danger has forced The New York Times and NBC to pay attention to Hillary's criminal character.
* * *
Hillary has committed serious crimes.
Former CIA agent Charles Faddis knows she has. In an article which appeared in The Hill, Faddis wrote:
I have worked in national security my entire life. Most of that has been in the intelligence community surrounded by classified information. For twenty years, I worked undercover in the Central Intelligence Agency, recruiting sources, producing intelligence and running operations. I have a pretty concrete understanding of how classified information is handled and how government communications systems work. Nobody uses a private email server for official business. Period. Full stop. The entire notion is, to borrow a phrase from a Clinton campaign official, "insane." That anyone would presume to be allowed to do so is mind-boggling. That government officials allowed Hillary Clinton to do so is nauseating. Classified and unclassified information do not mix. They don't travel in the same streams through the same pipes. They move in clearly well defined channels so that never the twain shall meet. Mixing them together is unheard of and a major criminal offense.
Yes. For a little over three decades I carried a Top Secret clearance. Faddis tells it like it is.
A previous column describes Hillary's crimes succinctly and with clarity.
He talked smart trash. He sassed Republicans and snickered. The liberal media loved it. Can't catch me, I'm Carlos Danger.
Here's a quick recapitulation:
CRIME 1: The Server Head. Hillary made a calculated decision to establish an off-the-books communication system (rogue email server) that she controlled. The system was designed to evade laws regulating the retention of government documents and thus evade scrutiny and accountability. The document retention laws exist for several reasons. The Freedom of Information Act (FOIA) that mainstream media types claim to love relies on these laws being enforced.
CRIME 2: The Loose Lips Head. Hillary used her off-the-books and non-secure server system to transmit and analyze classified national security information—some of it highly-classified. Even compromised Jim Comey called her treatment of classified information "grossly negligent." The law says gross negligence is criminal. That means Hillary committed a criminal act.
CRIME 3: The Nixon Head.  Hillary and her key aides are guilty of criminal obstruction of justice. They tried to hide evidence the rogue server existed and evidence they routinely mishandled of classified information.  If they thought the server was merely shady, they knew very well their mishandling of classified information was criminal. They ignored requests by State Department information technology personnel to use a secure system. The House Select Committee on Benghazi found evidence Hillary and her aides insistently ignored advice (from many sources, including career government personnel) that they comply with the communication and document retention rules.
*  * *
In early July 2016, FBI Director James Comey flat whitewashed her crimes. Now Comey is the FBI Director who tainted "the Bureau."
Even NPR correspondents report the FBI dissidents are ticked at ole Jim.
I heard from a retired FBI agent who said he originally supported Comey, but subsequent Clinton revelations led him to change his mind. The retired agent told me he believes Comey will be forced to resign, no matter who wins the election. It's an anecdote but FBI retirees are like military retirees. They pass on what the active duty guys can't say unless they resign. Resignation costs their families a regular paycheck.
Comey's October 28, 2016 letter to Congress isn't fiction, but it is a jaw-dropper.
In previous congressional testimony, l referred to the fact that the Federal Bureau of Investigation (FBI) had completed its investigation of former Secretary Clinton's personal email server. Due to recent developments, I am writing to supplement my previous testimony. In connection with an unrelated case, the FBI has learned of the existence of emails that appear to be pertinent to the investigation. I am writing to inform you that the investigative team briefed me on this yesterday, and I agreed that the FBI should take appropriate investigative steps designed to allow investigators to review these emails to determine whether they contain classified information, as well as to assess their importance to our investigation.
So what did the Feebs find on the digital device (or devices) at the home of Anthony "Carlos Danger" Weiner and Huma Abedin?
This we know: the information forced Comey to flip-flop his political arrangement with this boss, Loretta Lynch. In July I called Comey's initial decision a sell out of the rule of law. It was then and remains so. Comey hedged. At the bottom line he said she committed crimes but he was not going to recommend prosecution. Say what? The decision to prosecute was Lynch's decision—not his. Comey took the political heat for a decision that was Lynch's responsibility. Why? He had to know letting Hillary escape accountability for mishandling classified information would damage America's security services, civilian and military, overt and covert. The fix had to be in.
So what happened in the late October meeting that forced Comey to change his mind? In romantic fiction the meeting would be dramatic, with appeals by angry subordinates demanding he salvage the Bureau's reputation. The hard-boiled version would opt for harsh and blunt: Jim, you testified before Congress, under oath. This Weiner pervert investigation has turned up information that contradicts your testimony. If you don't put the new stuff out there Jimmy, it's your neck.
A character-driven novel might raise another possibility: Comey has a guilty conscience and as the meeting progresses he thinks, damn, I signed on to be an officer of the law, not a crooked bureaucrat. And the Clintons corrupt every institution they touch…
"They force others to cover for them to maintain Democrats in power, and thereby make those defenders complicit." (William A. Jacobson,  legalinsurrection.com)
Yes, Jim, that's the Clintons.
*  *  *
You want an explanation for the unexpected, in fiction and reality? Look to character.
High Noon's most jolting plot twist is the peacenik wife's decision to shoot a bad guy in the back. The bad guy's gonna do what bad guys do—ambush the marshal. But the peace-love lady loves her husband, Marshal Will Kane. And she won't let a good man die if she can prevent it.
Grace Kelly's on screen performance brilliantly sells her character's complexities. In Hadleyville's violent world her character has the courage to assert her pacifist Quaker principles. But what's the courageous woman going to do during the showdown? Unlike Jim Comey, the man she loves is willing to die for the rule of law. Character conflict; her principle, his principle. Gee, that's quaint—but the Miller Gang consists of killers armed to the teeth. She decides to stand by her man. The scene: she's behind a bad guy with a gun who is one second from bushwhacking her man. And glory be she's got a gun.  Bang. The bad guy takes a bullet. Out in the street, Gary Cooper has a fighting chance. The last bad guy grabs her as a human shield but she claws him. Bang. It's over. Armed love conquers all?
*  *  *
From High Noon we drop to The Lowest Cesspool.
Carlos Danger (Anthony Weiner) once held high political office. He talked smart trash. He sassed Republicans and snickered. The liberal media loved it. Can't catch me, I'm Carlos Danger.
Carlos Danger is also a pervert who sends naked pictures of himself to underage females.
Thanks to Democratic presidential candidate Hillary Clinton's criminal deceit and his wife's (Huma Abedin) complicity, after Carlos left office in disgrace he still had access to classified  national security information.
Let's review key incidents in The Lowest Cesspool. The pervert digitally exposes himself to 15-year-old girl. How vile. The cops investigate. Good. But oh the irony. The perv's exposure incidentally exposes the Democratic Party's presidential candidate as a crook and serial liar. The pervert's estranged wife may face perjury charges. The pervert is cooperating with the FBI because he's a coward and a punk and he'll cop a plea to save his arse.
Unlikely plot twists? Not all that surprising, given the crooked characters. No need for Greek gods to dispense justice.  Crooked characters do crooked things. At some point they take a crooked step and fall. Even crooks who think they can design a centralized and cost-effective national healthcare program, the kind of megalomaniacal crook who thinks she can foresee every contingency, a crook who thinks she can control the narrative just because she has ABC and NBC and CNN and The New York Times in her pocket—even a crook with that kind of power eventually trips up.
Hillary didn't see Carlos Danger coming, did she?
Disclosure: Donald Trump is the father-in-law of Jared Kushner, the publisher of Observer Media.
Austin Bay is a contributing editor at StrategyPage.com and adjunct professor at the University of Texas in Austin. His most recent book is a biography of Kemal Ataturk (Macmillan 2011). Bay is a retired U.S. Army Reserve colonel and Iraq veteran. He has a Ph.D. in comparative literature from Columbia University.