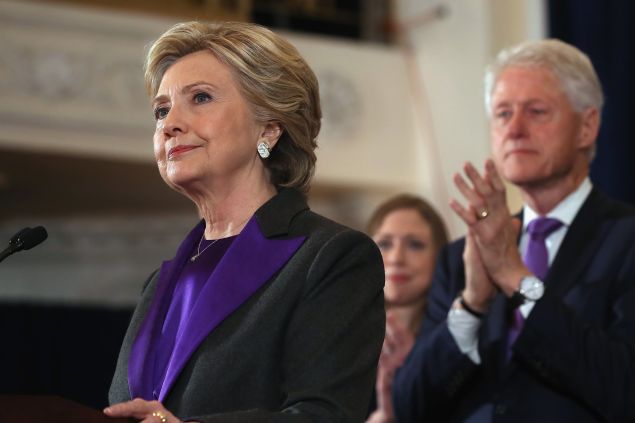 Hillary and Bill Clinton both chose to wear purple accents for her concession speech.
Bill's tie matched Hillary's top and the lapels on her dark gray jacket. It was a startling look, more—cue the airport tannoy—"Cabin crew to the check-in desk!" than potential president and first gentleman. Free from the possibility of upsetting anyone, they can now choose to wear whatever they want, so they went for the full funeral ensemble and the most regal, even papal, of shades.
Of course, the real reason for the Clintons' purple accents was to highlight the hope of a joining together of red and blue across the country. Others can comment on that intention, but the overall effect fell flat, the military overtones unavoidable. It might have been nice to see them both in cozy sweaters or something a little bit more human. It could even be possible that this overly rigid control of Clinton's outfit choices throughout the campaign did not help her. The much lauded pant suits were occasionally more Chairman Mao than Madam President. The candidate's kindness of spirit and human warmth seemed to be crushed by the restrictive, boxy clothing she was permanently confined to. She looked amazing in the shocking pink Ralph Lauren dress at the Al Smith dinner in New York, in October—powerful, beautiful and strong.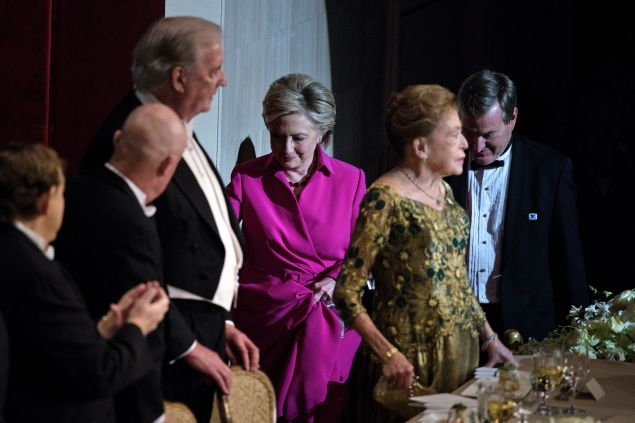 The everyday pressure of life on the campaign trail meant that Clinton's team had to go for an easy, sensible wardrobe option for her, but this came at the expense of personality. Perhaps, ever-image-conscious aide Huma Abedin wanted to keep Clinton's fashion personality, or lack of it, in check. "For God's sake don't let anyone see her in those jeans!" could have been the cry going out behind the scenes every day, for all we know. Anyway, it is very easy to conjecture about this now—not to mention to be sexist. Because had Donald Trump lost, we would not be analyzing his suits or choice of ties this morning, even though there is lots to say. So, this is the final word on the Clinton wardrobe. Over and out.