https://www.instagram.com/p/BK6gDYugETY/?taken-by=apl&hl=en
It's no easy feat to be accepted into the CFDA. Designers must fill out forms, receive recommendations from industry insiders and, of course, impress the major decision-making members.
So when APL, a sneaker label, received the CFDA's accreditation, it was reason for celebration. The brand was founded in 2009 by Adam and Ryan Goldston, identical twins who were college athletes, playing football and basketball at USC. "We aren't the tallest guys in the world, so we wanted to create a shoe that could make you jump higher," the wrote to the Observer via email. "We conceptualized our first sneaker, the Concept 1, in our dorm room and in 2010 it became the first shoe to ever be banned from the NBA for providing the wearer with an 'undue competitive advantage.'" Needless to say, since the day APL jogged onto the scene, they've been tagged as a brand to watch.
APL, by the way, stands for Athletic Propulsion Labs. As you might guess, their name alludes to the fact that these knit kicks are more than just pretty sneakers. Or comfy shoes to wear while running errands. They happen to actually be pretty technical, but they still come in metallic, pastel and neon iterations. The Goldstons have registered a number of U.S. and foreign patents for their various footwear inventions. For example, their patented Propelium cushioning promises to "maximize energy generation," while also being comfortable and supportive. And each TechLoom shoe is created from a single piece of woven, seamless fabric that offers support, breathability, flex and strength, where needed.
"Certainly our patented technology speaks for itself, but we also wanted to join it with style and performance as well. We strive to create products that let the design, technologies, materials, and colors tell the story, not big emblazoned logos," the Goldstons said. Their smart combination of performance and fashion has landed them collaborations with brands like Creatures of the Wind. Perhaps more importantly, it has placed them in the good grace of the Kardashian/Jenner family.
Nearly every member of the family has posted on Instagram or Snapchat an image of their APL collection. Seriously, their support has sparked headlines such as "The Kardashian Family's Favorite Sneakers: APL." As the sisters (and mom Kris) are known as fashion plates, but are still dedicated to grueling fitness regimes, their adoration of APL makes sense. Which sister owns the most APL styles? Khloé and Kourtney, the Goldstons postulate. "Their support is unbelievable…Their support has been fantastic for us because it comes from a real place, they truly love the product and that's why they always wear it," they wrote.
The CFDA's support is also a major moment for the brothers. "We have felt for a long time that fashion is becoming more casual and performance-focused in terms of the textiles, the fits and the technology, and that performance was becoming more fashion-focused…The fashion industry has been very supportive of our brand and an important part of our business," they said. While performance sneakers might not enthuse any average fashionista, APL LUX certainly will. This range is handcrafted in Italy, by renowned footwear artisans and rafted from suede and leather. They feature intricate details such as quilted exteriors, laser cut logos and waxed cotton, making them much fancier than a plain old Nike.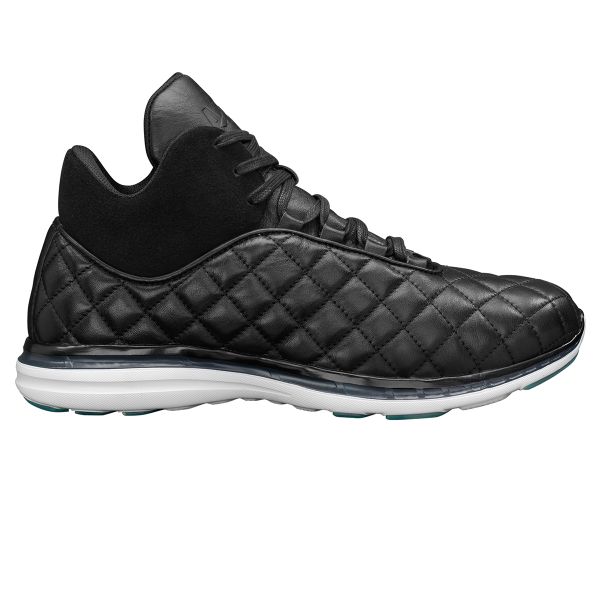 But hold on, what ever happened to their shoes that were banned by the NBA? First of all, they were banned for their Load 'N Launch technology, as it apparently offered an "undue competitive advantage." Player were given a vertical boost in the shoe's compression springs, but apparently the assist was just too great for the NBA to allow. However, as the saying goes, any press is good press. The APL duo agrees that the statement applies in this case. The day the news broke about the ban, it was the number one news story in the world; within 10 days, there were 1 million articles written about it.
"It changed the course of our business and gave us the platform we needed to promote and build our brand," said the Goldston's. And now, as fashion darlings, Kardashian favorites and still go-tos for amateur and professional athletes, APL keeps building and growing.